Type 2. Video Speed Controller Browser Extension
Browser extensions are various for browsers are diverse. As there are hundreds of extensions for Chrome, Firefox, Safari, Opera, Edge, etc., we only choose highly-praised video speed manager extensions for Chrome here to give you examples. Here we will take Video Speed Controller extension for Chrome as an example to give you some reviews plus a how-to-use guide. Thus, you can use the same way to find a proper extension for your Firefox, Opera, Safari, Edge, etc.
Offered by igrigorik and coming with 1,000,000+ users, the Video Speed Controller extension is the top choice you can choose to control the speed of your video on YouTube, Vimeo, Facebook, Twitter, and any websites that hide the HTML 5 video function. By using this extension, you can adjust video speed at will like speeding up, slowing down, rewinding and advancing any HTML 5 video with quick shortcuts.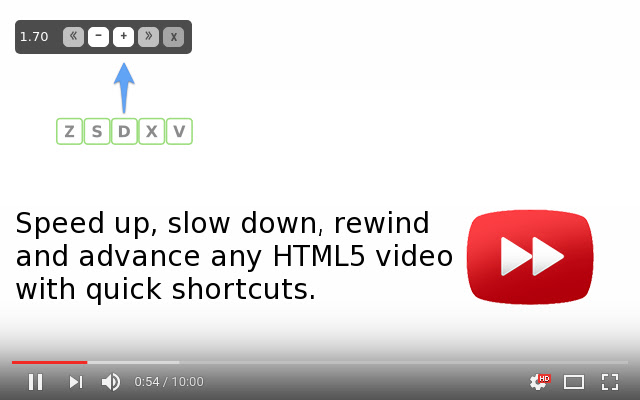 How-to-steps: Search for "Video Speed Controller" with Google on Chrome > open the webpage (it should be the first search result) > click on "Add to Chrome" button > after installation, navigate to any page that offers HTML 5 video and you will see the speed indicator in the top left corner of the playback window > click on the button to speed up or slow down your video from 0.07x to 16.00x. Or, simply use the keyboard.
- S - decrease playback speed.
- D - increase playback speed.
- R - reset playback speed.
- Z - rewind video by 10 seconds.
- X - advance video by 10 seconds.
- V - show/hide controller.
Notice: The overlay will stay hidden in normal situation. If you hover the mouse over the video, it will show up. By clicking on the Video Speed Controller extension on the Chrome tool bar, you can go to "Settings" to customize the settings manually like changing the decrease/increase speed, the rewind/advance number, preferred speed, etc.
However, nothing is perfect. It has been reported that this video speed manager is imbued with coolnewtabtheme malware and stops working on new Facebook occasionally. Besides, if the extension controls don't appear on your video, chances are that your video is not a HTML 5 video but a flash video. You can try to disable the Flash plugin in the browser (In a new tab, navigate to chrome://settings/content/flash > disable "Allow sites to run Flash" > restart your browser and try playing your media again). If you want to control speed of local videos, you need to grant additional permissions to the extension (In a new tab, navigate to chrome://extensions > find "Video Speed Controller" extension in the list and enable "Allow access to file URLs" > open a new tab and try to open a local file, the controls should show up).