4 Types of Video Speed Controller Download Free
Posted by Kaylee Wood | Last update: August 17, 2021 | 5 Min Read
You may have heard of Video Speed Controller, an extension for Google Chrome and Firefox. If not, you can find full review about it here to help install it on your browser and then play videos in different speeds. Or, are you uninformed and just ransacking the internet to find a proper video speed controller to help control your video speed? Whatever, you will stop here. Besides reviews about the popular Video Speed Controller extension, there are also introductions to other video speed managers that you can refer to according to your needs. With the help of the browser extension, online tool, video editor or video player software, you can have different speed management to different video contents like tutorials, documentaries, lessons, lectures, etc. videos. Play a video faster or slower, or just turn a video into fast motion or slow motion video at will.
As there are about 4 main types of video speed controller, we will try our best to list all of the good ones for you to choose from. Plus, each type we will choose an example to show you how to use such a tool to change video speed.
No.1: 5KPlayer - Video Player with Speed Control for Mac/Windows
Commonly, we have at least one media player on our computer to help play videos and music. If your video player comes with speed control function, you can reach your favorite frame at will. Here we will take 5KPlayer as an example to show you how to change video speed during playback.
5KPlayer, as a 4K UHD video player with speed control, can let you speed up or slow down video playback with various speed choices: x2.0, x1.5, x1.2, x1.0, x0.8, x0.7, and x0.5. You can fast forward an iPhone video recorded with slow-motion mode, and also slow down something important. In addition to that, it also features an edit ability which you can use to do some simple editing to your video for further processing. For examples, turn video into fast motion or slow motion video, cut video, rotate video, change the volume, change the color of the video (saturation, contrast or brightness), etc.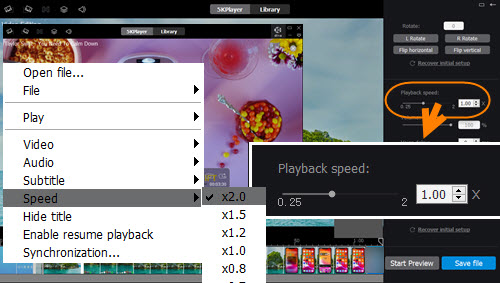 The Best Free Video Player with Speed Control
Speed up & slow down video playback.
Turn videos into fast motion & slow motion videos.
Various speed choices: x2.0, x1.5, x1.2, x1.0, x0.8, x0.7, x0.5.
Totally free. Compatible with Windows 10 & macOS.
1. Control Video Speed during Video Playback with 5KPlayer
Step 1. Free download 5KPlayer on your Windows or Mac computer, install and launch it.
Step 2. Choose a video to play with 5KPlayer, be it MP4, FLV, MKV, or 4K, 1080p, 720p, etc video.
Step 3. When the video is playing, right-click on it and choose "Speed" to change video speed.
Step 4. Choose the speed mode you prefer. x2.0 (speed up), x1.5 (speed up), x1.2 (speed up), x1.0 (original), x0.8 (slow down), x0.7 (slow down), x0.5 (slow down).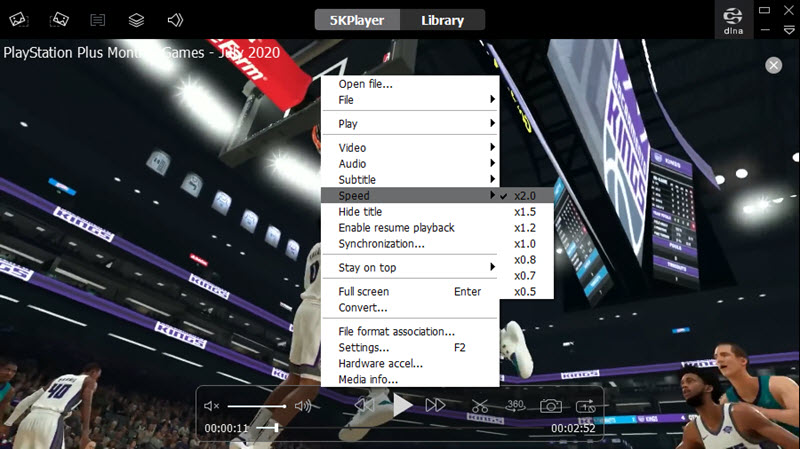 2. Make a Video Fast Motion or Slow Motion Video with 5KPlayer
Step 1. As you have owned 5KPlayer on your computer, just use it to play a video you want to change the speed.
Step 2. When the video is playing, click on the "scissors" icon on the playback bar to access 5KPlayer "Video Editing" window.
Step 3. In the right part, choose the speed you prefer by inputting a number or simply using the slider. You are allowed to choose a speed ranging from x0.25 to x2.0.
Step 4. Click on "Start Preview" to preview the video to ensure the speed is what you need. Also, you can adjust the video speed during the preview.
Step 5. After the above steps, you can click on "Save file" to output the modified video.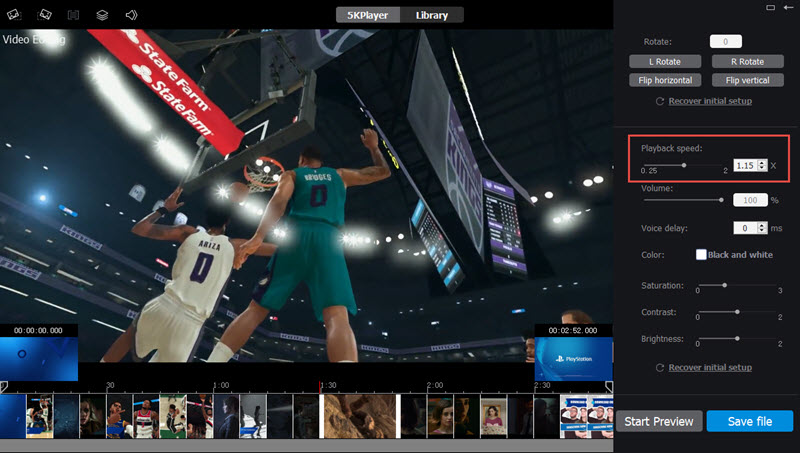 No.2: Video Speed Controller - Speed Control Extension for Browser
Browser extensions are various for browsers are diverse. As there are hundreds of extensions for Chrome, Firefox, Safari, Opera, Edge, etc., we only choose highly-praised video speed manager extensions for Chrome here to give you examples. Here we will take Video Speed Controller extension for Chrome as an example to give you some reviews plus a how-to-use guide. Thus, you can use the same way to find a proper extension for your Firefox, Opera, Safari, Edge, etc.
Offered by igrigorik and coming with 1,000,000+ users, the Video Speed Controller extension is the top choice you can choose to control the speed of your video on YouTube, Vimeo, Facebook, Twitter, and any websites that hide the HTML 5 video function. By using this extension, you can adjust video speed at will like speeding up, slowing down, rewinding and advancing any HTML 5 video with quick shortcuts.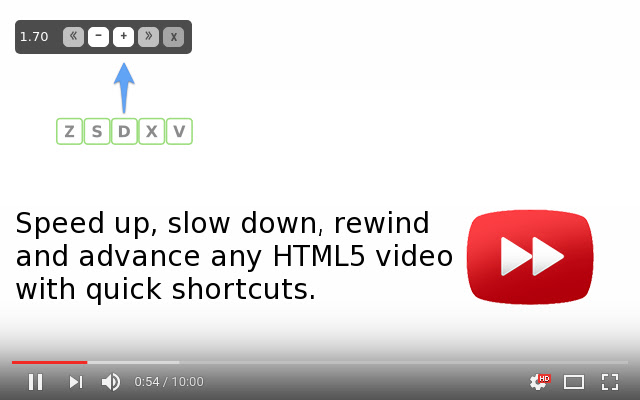 How-to-steps: Search for "Video Speed Controller" with Google on Chrome > open the webpage (it should be the first search result) > click on "Add to Chrome" button > after installation, navigate to any page that offers HTML 5 video and you will see the speed indicator in the top left corner of the playback window > click on the button to speed up or slow down your video from 0.07x to 16.00x. Or, simply use the keyboard.
S - decrease playback speed.
D - increase playback speed.
R - reset playback speed.
Z - rewind video by 10 seconds.
X - advance video by 10 seconds.
V - show/hide controller.
Notice: The overlay will stay hidden in normal situation. If you hover the mouse over the video, it will show up. By clicking on the Video Speed Controller extension on the Chrome tool bar, you can go to "Settings" to customize the settings manually like changing the decrease/increase speed, the rewind/advance number, preferred speed, etc.
However, nothing is perfect. It has been reported that this video speed manager is imbued with coolnewtabtheme malware and stops working on new Facebook occasionally. Besides, if the extension controls don't appear on your video, chances are that your video is not a HTML 5 video but a flash video. You can try to disable the Flash plugin in the browser (In a new tab, navigate to chrome://settings/content/flash > disable "Allow sites to run Flash" > restart your browser and try playing your media again). If you want to control speed of local videos, you need to grant additional permissions to the extension (In a new tab, navigate to chrome://extensions > find "Video Speed Controller" extension in the list and enable "Allow access to file URLs" > open a new tab and try to open a local file, the controls should show up).
No.3: VideoProc - Video Editor with Speed Control
Video editors are prepared for those who want to add some effects to their videos so as to upload to YouTube, TikTok, Instagram, etc to get likes. Among them, some like Adobe Premiere Pro CC are suitable for professions, and some like VideoProc are friendly with the inexperienced. As you only need to change the speed of your video, we therefore take VideoProc – the simple and lightweight video editor as an example to teach you how to create a fast motion or slow motion video.
Step 1. Free download VideoProc on your computer, install and launch it.
Step 2. Click on "Video" icon on the main UI of VideoProc.
Step 3. Drag the video that you want to change the video speed to VideoProc.
Step 4. Click on any icon under the thumbnail of the video like "Effect", "Watermark", "Cut", "Crop", "Rotate" and "Subtitle".
Step 5. In the new pop-up window, click on "Audio & Video". Here, you can change video speed from "Playback Speed" option.
Step 6. After choosing your video speed, click on "Done", and then choose "Run" to complete the process.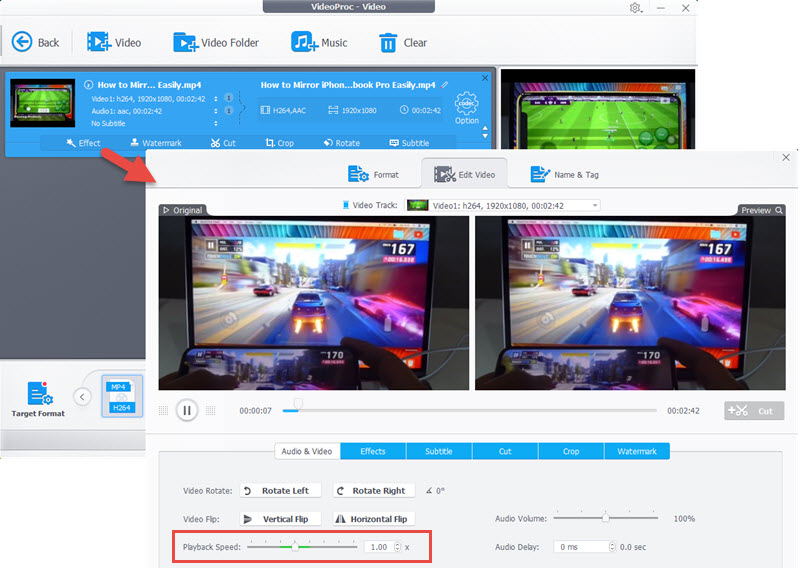 Besides video speed control, you can also use VideoProc to add effects to the video (Grayscale, Negate, Noise, Mirror, CMYK, Lens Correction, Vignette, Tinted, Edge, Emboss, Vintage, Painting, Sharpen, Blur and Technicolor), add subtitles, cut or crop the video, add watermark like text and image to the video, volume up/down the video, mute the video, rotate/flip the video, and sync audio video.
No.4: Clideo - Online Video Speed Controller
The online video speed controller is very convenient to use on different platforms including Android, iOS, Windows and macOS at will without downloading any software. The Clideo Change Video Speed online tool makes it possible for you to speed up and slow down video from 0.25x all the way to 2x speed. You can choose files from Google Drive, Dropbox or simply input the video URL to this online tool and then change the video speed.
However, you need to upload video, change video speed and then download the video. It is indeed quite complicated and time-consuming especially when the network is weak. Besides, you'd better not close the website all the time, otherwise the upload or download process will stop immediately. Worse still, though most of the online tools acclaimed that they only store your files for just 24 hours before they are wiped out completely from their servers, it is not sure anyone has accessed to your files.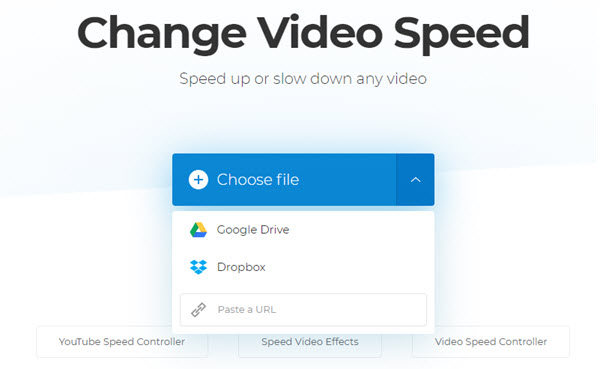 Wrap up:
Hope these 4 types of video speed controller could help you control video speed when you are watching offline movies, playing online videos or editing videos. Choose the best video speed you desire.