How to Create Bookmarks in a Video for Easy Access Later?
Posted by Kaylee Wood | Last update: January 28, 2021 | 3 Min Read
"Is there any video player which can bookmark in video at various places?"
With video bookmark function, you can save parts of a video for easier access later. Especially for long movies, documentaries or net class recordings that need retrospections again and again, you can bookmark locations and start playback at where you left or choose whichever part to start. Hence, the best bookmark video player is introduced here to help mark videos for highlights.
Bookmark a Video with Best Free Bookmark Video Player
In the latest version, 5KPlayer added a Bookmark Manager to help add bookmarks to a video. Not just bookmark the last track, 5KPlayer also allows for custom bookmarks as many as possible in the middle of a video. Besides, you can keep the bookmarks forever, and remove them whenever you want.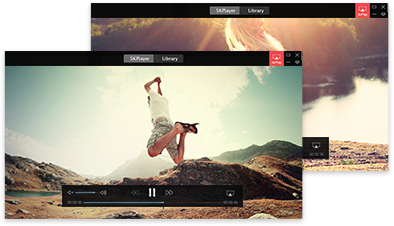 How to Create Video Bookmarks with 5KPlayer?
Detailed information about 5KPlayer's Bookmark Manager:
Mark certain parts of a video or audio file;
Create bookmarks in video at various places and at several spots;
Keep the bookmarks all in one place;
Name the bookmarked videos with descriptive names;
Keep the bookmarks forever, and remove them at any time;
Also allows for resume playback.
View bookmarks as thumnails.
How-to guide:
Step 1. Free download 5KPlayer, install and launch it on your computer.
Step 2. Open up a video that you want to bookmark with 5KPlayer.
Step 3. When the video is playing and when it reaches the part you want to bookmark, click on the "Bookmark" icon on the progress bar.

Step 4. Name it. It would be better to add some descriptions for easy understanding.
Notice: Please name your video with a recognizable name and descriptions as you may have different videos to bookmark.
Step 5.
Click on "Add bookmark" to save the part.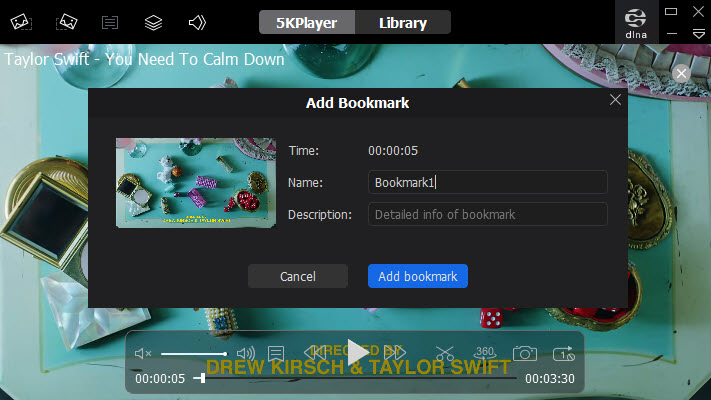 Step 6. To start from what you left last time, simply right-click on the video and choose "Bookmark", and click on the part you have bookmarked.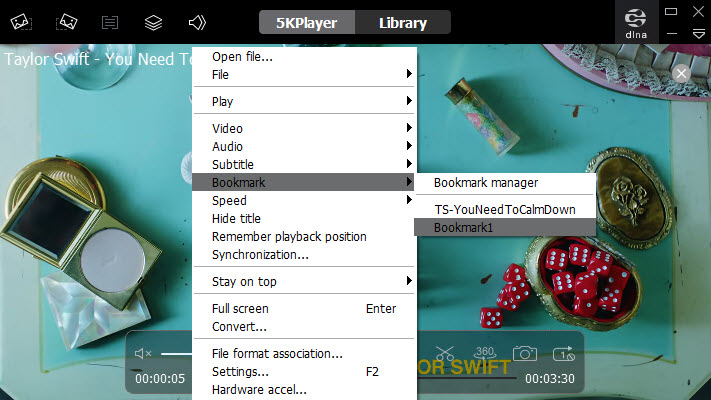 Step 7. To clear or edit the bookmarks, you can choose the "Bookmark Manager" for that purpose.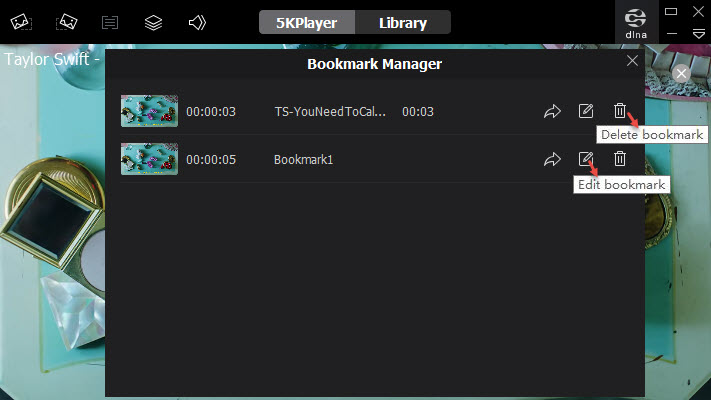 Now, you can play videos and movies as many as possible, and still remember the position and continue later precisely.
Other Bookmark Video Players Free Download
Besides 5KPlayer, there are also many other well-known media players that own the ability. BTW, including 5KPlayer, all of them allow you to restart the playback where you left off last time with a resume playback feature.
1. PotPlayer
How to: Open a video with PotPlayer > right-click on the video and choose Playback > Chapter/Bookmark > Add Bookmark.
Cons: You can't add any descriptions to your bookmarks.
2. VLC Media Player
How to: Open a video with VLC > click on Playback on the top bar > Custom Bookmarks > click on Manage or you can simply tap the Ctrl+B to pop up the Edit Bookmarks window > in the new popup window, just click on the Create button to add bookmarks to your video. Also, find the Bookmarked video in Custom Bookmarks.
Cons: However, VLC custom bookmark is not a permanent operation. When you close the software and then play the same video, you have to add bookmarks to the video again.
3. Media Player Classic
How to: Play a video with Media Player Classic > when your video plays at your favorite part, click on Favorites on the top bar > click on Add to Favorites > click OK in the new pop up window. Also, find the bookmarked video in Favorites.
Cons: No edit function.
4. KMPlayer
How to: Play a video with KMPlayer > right-click on the playing window and choose Bookmarks/Chapter > choose Add to bookmarks.
Cons: You can't name the bookmarks, which means it is very hard to find out the specific part when there is a list of bookmarked videos.
5. GOM Player
How to: Launch GOM Player and play a video with it > right-click on the playing video and choose Playback > Bookmarks > Create Bookmark (N).
Cons: You can't name the bookmarks or add any descriptions.
After comparison, 5KPlayer outshines others for easier operation and rich features. Just feel free to use it to bookmark videos.