Play-It-All Media Player for PC Windows and Mac Free Download
Searching for a all in one media player that plays all videos HD 1080p 4K/8K, opens all media formats – MKV, FLV, WMV, AVI, decodes all media codecs including x264, H265, VP8,VP9? Luckily, you are at the right place! Here we'll introduce you a free superb all video player - 5KPlayer that can handle any media file and almost all codecs.
Best Free All Media Player To Play All Media Files -5KPlayer
5KPlayer is an all in one free media player that is capable of reading all kinds of media files in any existing state –intangible or physical. It plays DVD discs, Blu-ray videos, 3D movies, internst radios and all the other HD, Ultra HD videos, unknown formats and videos in its raw form, incomplete files etc. Free download 5KPlayer to play all videos on universe.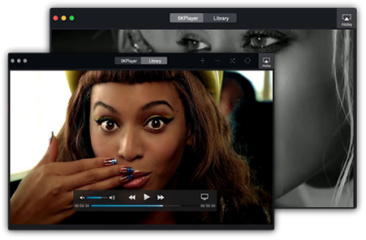 All media player, as its name suggests, plays all media files! 5KPlayer is thus a combination of an Ultra HD media player, a DVD player, a Blu-ray video player, a 3D movie player, an all format media player (all video music formats) and an internet radio player. Here, we will show you how capable this all media player –5KPlayer is playing all media files.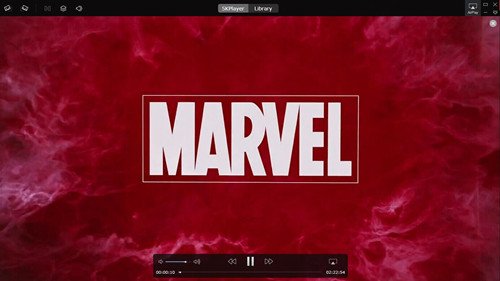 *5KPlayer also plays all file formats to be a spectacular all format media player. Its supported formats range from video formats like AVI, MP4, WMV, MKV, MTS, RMVB to audio formats like ACC, OGG, WAV, FLAC etc.
*This all in one media player connects with many internet radio sites including Heart radio, BBC Radio, Kiss FM etc. to offer you a bunch of almost complete and varied choices.
To compare this play-it-all video player with other media players and servers, you can refer to the links below:
5KPlayer v.s. VLC Media Player
Top 5 Universal All Media Players Comparison
5KPlayer v.s. Mirage v.s. Airserver
How to Play All Media Files with All Video Player 5KPlayer?
Step 1. Download, install and launch 5KPlayer on your Mac/Windows PC.
Step 2. Specify a media file for playing.
You can directly drag'n drop the media files onto the main UI or import a video/music by clicking the button "Video", "Music", "DVD" or "Radio".
Other customizable options and features of this all media player:
Change audio/subtitle track, insert all kinds of subtitles, create playlists, deinterlace videos, take snapshots, rotate videos, set aspect ratio and so on.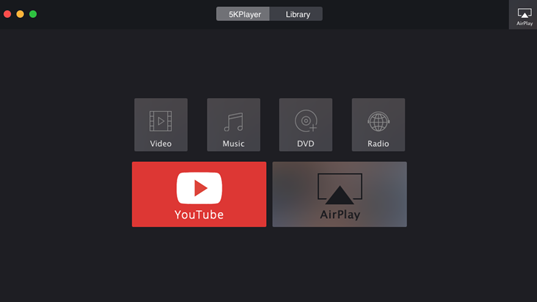 By Clicking the YouTube button, you can get online video music downloaded free with this all in one media player.
By Clicking the AirPlay button, you will understand how to AirPlay music videos from this all media player to Windows/Mac and Apple TV.
Note: This all media player works well on both Mac and Windows OS including El Capitan and Windows 10. In addition, if you've got a Suface Pro or an Android/Linux device, or encounter QT/WMP not working problems or VLC H265 Hevc 4k playback problems, you won't regret choosing 5KPlayer as the default media player for amendment. Go ahead and test whether it plays virtually everything!