Table of content:
1. Offcial Twitch Stream Software Reviews
2. Third-party Streaming Software for Twitch
3. Free M3U8 Player for Twitch M3U8 Live Links Playback
4. What Is Twitch?

Part 1. Official Free Twitch Streaming Software Reviews
No.1 Twitch Studio – Specifically Designed for New Streamers
Compatible OS: Windows 7 or newer, macOS 10.14 Mojave
Licenses: Free
Minimum Requirements to Computer:
• OS: Windows 7 64-bit
• GPU: DirectX 11 compatible
• RAM: 4+ GB (2GB free)
• CPU: 4 core Intel or AMD
Recommended Specifications for Best Streaming:
• OS: Windows 10 64-bit
• GPU: NVIDIA GTX 10 series or newer
• RAM: 8GB+
• CPU: 8 thread Intel or AMD
Download link: https://www.twitch.tv/broadcast/studio
For new streamers, it is easier to get started with Twitch Studio which offers guidance on how to setup the first team and each of the different sources that will be used during the live stream including webcam, microphone, green screen, monitor resolution and video sources. You don't need to set the configurations in Settings by yourself as Twitch Studio does the job for you. You can feel free to create contents and share them with a community with alerts, activity feeds and chats built-in. If any other Twitch stream software offers you a difficult start, you can turn to Twitch Studio to quickly become a streamer. Also, this streaming software provider prepares Discord server for anyone who want to chat with members of the product development team directly.
However, it has no mobile version as of now. And it is still a beta version, so bugs are inevitable. Already, known issues include "unable to capture a game, app or window", "unable to hear my desktop audio", "unable to detect my microphone or webcam" and "unable to use hot keys". Though it is very friendly to new streamers at the very beginning, after a period of time, you may be unsatisfied with the very basic features as you cannot do customizations with the advanced options. Besides, some one of you may find that you can't install the software after downloading, as this free streaming software has some basic requirements to your computer.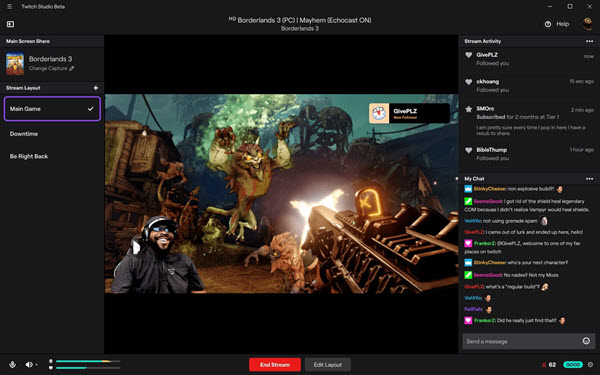 No. 2 Twitch Desktop App – For the Experienced Who Needs Advanced Customization
Compatible OS: Windows 7 or newer & macOS 10.13 High Sierra or higher
Licenses: Free
Download link:
Mac version: https://desktop.twitchsvc.net/installer/mac/Twitch.dmg
Windows version: https://desktop.twitchsvc.net/installer/windows/TwitchSetup.exe
Twicth desktop app performs as the same as the browser version for viewers to watch streams and give comments. It has the same page structure as the browser version, with your followed channels and recommended channels listed left and recommended live channels and videos on the right. You can just click on each channel to view anything live, VODs, gameplays and esports live stream, or search for a tons of games and mods. All your favorite communities, friends and games are in one place. As for live game broadcasting, it is especially suitable for the experienced.
Actually, the disadvantages of Twitch are minor. The live chat rooms are always full of spams, but every live streaming software is like that. The biggest problem of Twitch own streaming software would be non-partner streamers can't provide viewers with quality settings.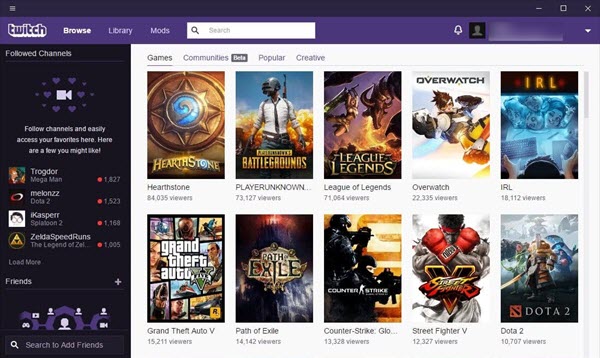 No.3 Twitch Sings – For Music Broadcasters and Listeners
Compatible OS: Windows & macOS
Licenses: Free
Minimum Supported PC Specifications:
• OS: Windows 10 64-bit
• RAM: 4 GB
• GPU: 1024 VRAM, DX11 support
• CPU: Intel i5 2.7 Ghz, 4 cores (or equivalent)
• HDD: 1.3 GB free
Minimum Supported Mac Specifications:
• OS: MacOS 10.14 Mojave
• RAM: 8 GB
• GPU: 1.5 GB VRAM
• CPU: Intel i5 2.3 Ghz
• HDD: 1.3 GB free
Download link: https://www.twitch.tv/sings/en-gb/download/
Twitch Sings is the place where singers, DJs, producers, rappers and all musicians can unleash creativity, and create communities to connect with fans. If you are only in favor of the music the Twitch.tv provides, you can simply download Twitch Sings streaming software to enjoy certain music categories without being disturbed by other popups. It is like a Karaoke which you can use to sing with your community and friends. The most shining feature of Twitch Sings especially for you music broadcasters is that it can make your passion your income. Just share your work and fans will support you in their ways.
If you are a game broadcaster, this Twitch live streaming app would be not suitable for you of course.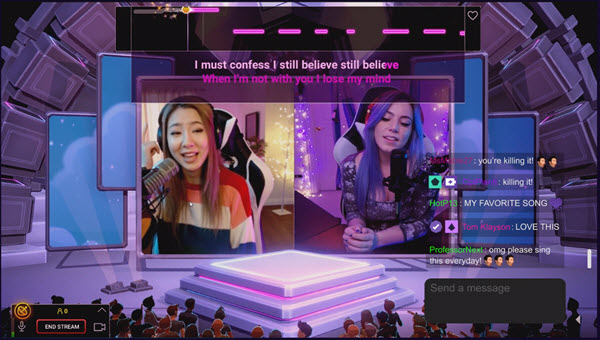 No. 4 Twitch Mobile App – For iOS and Android Users
Compatible OS: iOS, Android
Licenses: Free
Download link:
Android version: https://play.google.com/store/apps/details?id=tv.twitch.android.app&hl=en_US
iOS version: https://apps.apple.com/us/app/twitch-live-game-streaming/id460177396
The mobile app gives you a live streaming way in the palm of your hand, so that you can keep up with your favorite Twitch games, events and music on the go. Also, chat with other players anytime, anywhere.
No. 5 Twitch TV Apps – For Whoever Prefers a Bigger Screen
Supported Platforms: FireTV, PlayStation 4, Xbox One, Nvidia Shield, Chromecast, Apple TV
Licenses: Free
Download link: https://www.twitch.tv/downloads
Twitch expands very fast, with ambition to be ubiquitous. So, now you can enjoy Twitch services on your smart TV. On the bigger screen, you can catch up live videos and VODs of top games, players, musicians, esports events, etc. If you are an individual viewer, you can chat with streamers and their communities. Just turn your TV into your personal gaming theater and media center and watch your favorite streams.