Twitch for Roku Not Available? How to Watch Twitch on Roku?
Posted by Kaylee Wood | Last update: August 02, 2021 | 5 Min Read
Outlines:
Official Twitch app for Roku is no longer available since 2017, so watching Twitch on Roku is a hard thing.
If you have old version of Twitch app installed on Roku, chances are that you can stream Twitch on Roku but with bugs and broken features.
Even without official Twitch app, you can get Twitch on Roku TV by AirPlay from iOS, Chromecast from Android or DLNA from PC.
Twitch is a very popular platform full of Esports, music, gameplay contents that helps improve adhesiveness of users to devices built with Twitch, including Windows/macOS PCs, Android/iOS mobile phones, Fire TVs, Playstaion, Xbox and Apple TV. Twitch for Roku was once available before Twitch's acquisition by Amazon which is one of the competitors of Roku. The Roku's absence in the list makes the inability to download Twitch app but only receiving a "shut down" error message. Accordingly, can you watch Twitch on Roku TV? The answer is yes and we will figure it out below.
Watch Twitch on Roku TV from PC/Mac with 5KPlayer
5KPlayer, with built-in DLNA function, will allow you to stream Twitch VOD contents and live streams from computer to Roku TV wirelessly. Simply play Twitch stream URL and cast to Roku TV with 5KPlayer, you can still use your Roku TV for years.
Reality is cruel though, here are always chances if you make effort to find them out. To save your time, we have do the job for you. After experiments, below are 4 possible ways you can try to watch Twitch on Roku TV. Just choose the one like most.
Method 1. Watch Twitch on Roku by Installing Old Version of Official Twitch App on Roku
Though Amazon had discontinued the Twitch app from the Roku Channel Store, Roku users who already installed the old version Twitch app before the shutting down could still use it. But keep in mind you may encounter bugs or Twitch not loading issues. If you can't find the old version app, you can follow our guide.
Step 1. Go to https://my.roku.com website and sign in.
Step 2. After that, simply click on "Add channel with a code" on "My account" page.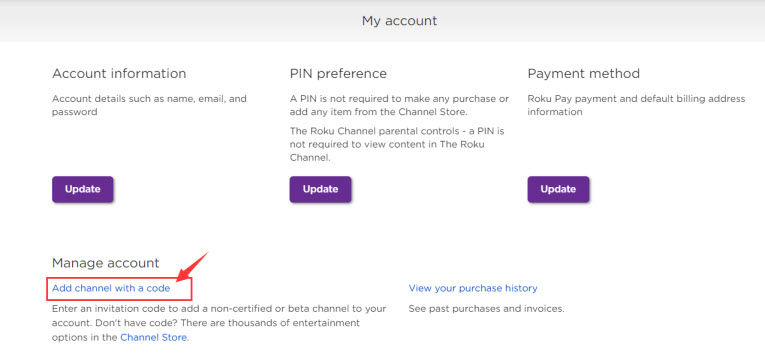 Step 3. In the "Add channel" page, input "TwitchTV" to the box and click on "Add channel" button.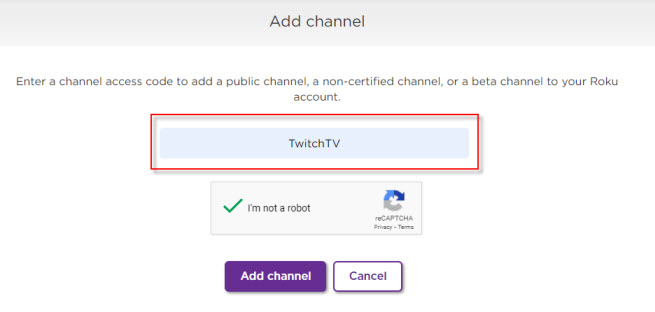 Step 4. Now you will get a WARNING message, simply click "OK" to go on and click "Yes, add channel".
Step 5. Now on your Roku device, open the Unofficial Twitch app and choose "Yes" when the "Official Twitch Channel Now Available" notice appears.
Step 6. Then, the page for the official app will open. Just select "Add Channel".
Step 7. Follow the on-screen guide and enter the code displayed on your screen.
Step 8. Now your Roku device will confirm that "Twitch has been added to the end of Home", and you can watch Twitch on Roku with app finally.
Notice: This way has many disadvantages like bugs, broken issues and no future updates for new contents. Successful Twitch streaming on Roku is also a hit-and-miss thing. So, it is not the best way we think.

Method 2. Get Twitch on Roku TV by Installing Unofficial Client
Twoku seems the best non-certified channel that many people suggest you to get Twitch contents on Roku TV. Simply use the similar way mentioned above, you can get Twitch channel. However we don't suggest you to use this way. We list this method here to just warn you something, for example, chances are that there are more and more unofficial clients to be produced to help watch Twitch on Roku TV, however, you will get failure in high probability as they are unauthorized, unsafe and blocked once being discovered.
Method 3. Stream Twitch to Roku TV from Android/iOS via Chromecast/AirPlay
By default, the official Twitch app on Android and iOS devices support Chromecast and AirPlay respectively. Luckily, Roku also supports the two streaming protocols. So, you can cast Twitch to Roku TV from iPhone, iPad or Android phone wirelessly.
With AirPlay: Turn on your Roku TV and select the AirPlay channel by going to "Settings > Apple AirPlay and HomeKit" and then enable AirPlay on your Roku television. Then, go to your iPhone or iPad to open your Twitch app and play a video, then simply tap the AirPlay icon at the top of the app > choose Roku TV to stream to when a new window pops up. Then, your Twitch contents on iOS device will be instantly cast to Roku TV. To be noted, you can also AirPlay Mac directly from 2021 to Roku to watch Twitch contents.
With Chromecast: Firstly, you need buy a Chromecast and plug it to your Roku TV. Then, turn on your Roku TV. Now, you can open Twitch app on your Android mobile phone and play a Twitch video, then simply tap the Cast icon at the top right corner of the app to choose your Roku TV to stream to. After that, you can watch Twitch streams on Roku. BTW, Chromecast also allows you to directly stream Twitch to Roku from the Google Chrome browser on both Mac and Windows computer.
Method 4. Cast Twitch to Roku TV & Other Smart TVs from PC via DLNA
Out the market, almost all the smart TVs including Samsung, LG, Sony, etc. supports DLNA protocol. Even if you don't have a Roku TV, you can watch Twitch on TV successfully by DLNA Twitch videos to smart TVs. Here you need 5KPlayer – a 4K video player embedded with live streaming and DLNA features, can help recognize any Twitch stream URL link for live streaming and then cast to Roku and any other smart TV.
Step 1. Free download 5KPlayer, install and launch it on your Mac or Windows computer.
Step 2. Click on the "Live" icon on the main UI of it.
Step 3. Copy the Twitch M3U8 URL and paste it to the "Input a URL" box of 5KPlayer. Then, hit "Play" to start live streaming Twitch contents.
To find Twitch URL links of VODs and live streams, you can follow the below steps:
Visit twitch.tv on your web browser, and open a live stream video that you prefer.
Tap the F12 key on your keyboard or right-click on the video to choose Inspect to see the HTML interface of the video.
Click on the small phone icon to choose your phone type, and refresh the webpage and play the video again.
Choose Network and then click on the funnel icon.
Tap m3u8 in the "Filter" box to search for all .m3u8 links.
Copy the Twitch M3U8 link.
Step 4. When the Twitch video is playing, simply click on the DLNA icon on the top right corner of 5KPlayer. It will provides Roku TV for you to connect with. Select Roku TV and then your Twitch contents will be cast from 5KPlayer immediately.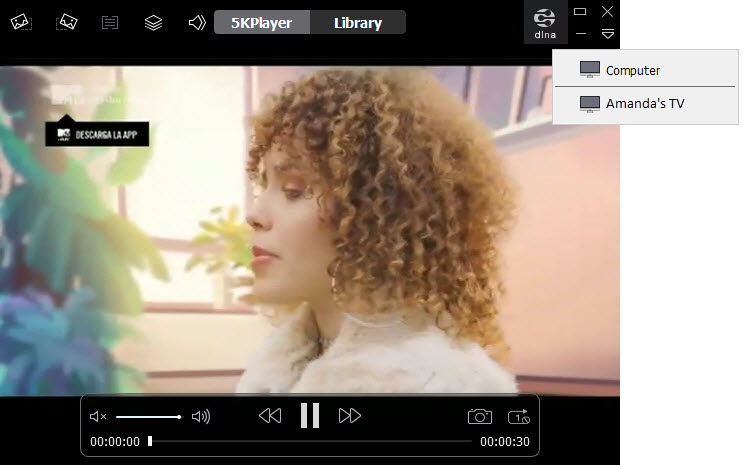 Note:
Make sure both your computer and Roku TV are connected to the same network.
This way will give you a clean playback with no alerts and comments which benefits immersive viewing. If you prefer interaction with other netizens, you can use the above way to watch Twitch on Roku TV.
With 5KPlayer, you can directly live stream Twitch Esports, music, clips, VODs, etc. on PC and cast to smart TV wirelessly. Also, it lets you download Twitch videos for offline viewing.