Main contents:
1. How to Get Twitch Channel URL?
2. Most Popular Esport Twitch Channels 2021
How to Get Twitch Channel URL Links by Yourself?
Actually, Twitch websites adopts .m3u8 HLS streaming method to its live broadcastings, and every Twitch live stream URL link should be ended with .m3u8. To find Twitch video URL is actually to find the .m3u8 link, and the method is quite simple that everyone can handle with.
Find Twitch M3U8 Stream URL
Step 1. Visit twitch.tv on Chrome, and open a live stream video that you prefer.
Step 2. Tap the F12 key on your keyboard or right-click on the video to choose Inspect to see the HTML interface of the video.
Step 3. Click on the small phone icon to choose your phone type, and refresh the webpage and play the video again.
Step 4. Choose Network and then click on the funnel icon.
Step 5. Tap m3u8 in the "Filter" box to search for all .m3u8 links.
Step 6. Copy the Twitch M3U8 link.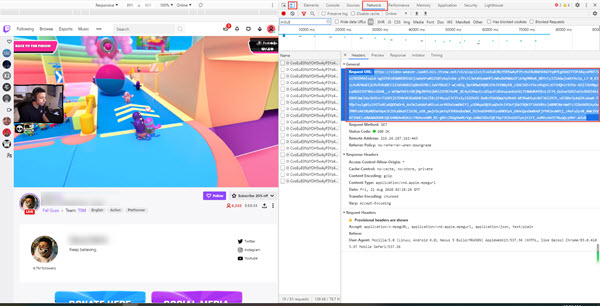 Notice:
When finding Twitch stream URL from a live channel, you may discover there will pop up a list of .m3u8 links. Don't be complicated, they are actually the same one, and copying one of them will allow you to get the complete live broadcasting.
If you want to collect more than one Twitch live channels, you can use the above method to copy different .m3u8 URLs from different channels. Then, paste them to a text file and then rename the .txt file as .m3u. You can drag and drop the .m3u file to 5KPlayer, and 5KPlayer will live stream the M3U file containing all Twitch channels one by one from top to bottom. Of course, you can open the .m3u file with Notepad to copy specific Twitch M3U8 stream URL to play.
Live Stream Twitch URL Links with 5KPlayer
Step 1. Free download Twitch streaming software 5KPlayer, install and launch it on your computer.
Step 2. Click on the "Live" icon on the main UI of 5KPlayer.
Step 3. Copy a Twitch M3U8 URL and paste it to the "Input a URL box". Then, hit Play to start the live streaming.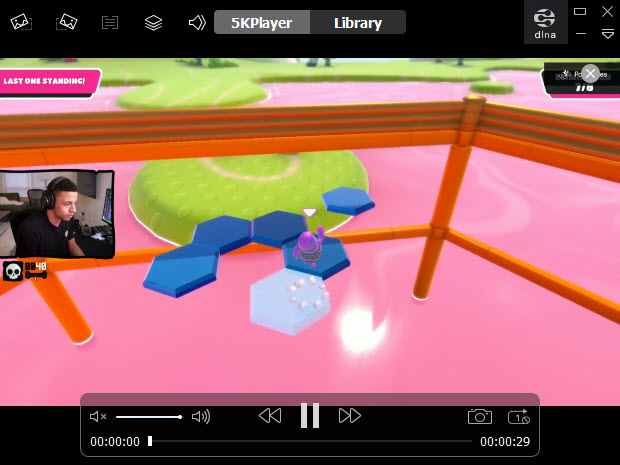 Notice:
If you have collected all the Twitch .m3u8 URL links in an .m3u file, you can simply drag and drop the file to 5KPlayer to play.
5KPlayer is a versatile M3U8 player that can not only stream Twitch video M3U8 URLs, but also IPTV M3U8/M3U playlist links to help access live streaming easily on computer.
Download Twicth Videos by Inputting Twitch Stream URL to 5KPlayer
Step 1. Go to the main UI of 5KPlayer and click on the YouTube button to access the download window.
Step 2. Copy a Twitch .m3u8 link and paste it to the "Paste URL & Analyze" box to let 5KPlayer analyze the URL.
Step 3. After parsing, click on Download to start downloading Twitch videos.