Top 3 Live Game Streaming Sites Where You Can Watch Esports Live
Actually, most of us don't have the opportunity to have an in-person tournament. But if you want to familiarize yourself with eSports, the Esports live streaming sites are good places to go. Now that you have known something about the Esports events and popular eSports games, you can turn to below sites to watch Esports live whenever you want.
No 1. Twitch – Most Popular Platform to Live Stream Esports
Twitch is the first live game streaming service which embraces the concept of live streaming how to play a game online. Including broadcasts of eSports competitions and gaming-related talk shows, this platform highlights Esports as a separate part. If you don't know which games are popular or which one you should play, this place will help you make a decision. As for live game streaming, Twitch is the most active site which list live channels of different eSport games every day. You can watch how the professional gamers proceed their games and improve your own gaming skills, or just live streaming your own game if you like.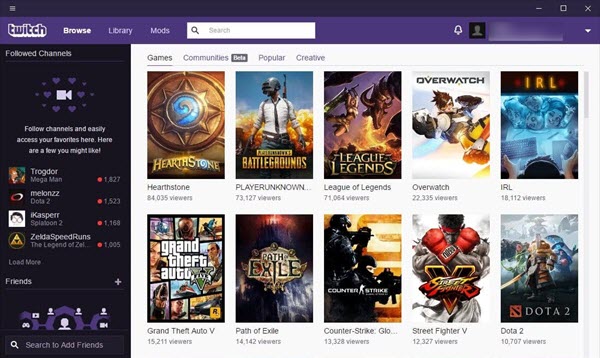 Esports games: CS: GO, LoL, VALORANT, Dota 2, Call of Duty: Modern Warfare, Fortnite, Teamfight Tactics, PlayerUnknown's Battlegrounds, Rocket League, World of Warcraft, Tom Clancy's Rainbow Six: Siege, Hearthstone, FIFA 20, Apex Legends, Overwatch, Garena Free Fire, Chess, StarCraft 2, Warcraft 3, World of Tanks, Smite, PUBG MOBILE, Brawl Stars, Magic: The Gathering, Street Fighter V, Call of Duty: Mobile, Super Smash Bros. Ultimate, Team Fortress 2, Tekken 7, Area of Valor, Clash Royale, Super Smash Bros. Melee, and Madden NFL 20.
Besides Esports games, there are also various other game videos and live streams like that you can search for.
No. 2 YouTube Gaming – Big Name, Big Reputation
As Amazon-owned Twitch dominates the market and become a billion-dollar company because of live streaming game videos, YouTube is now getting on board to share the big cake. Though YouTube doesn't highlight Esports as a standalone category, you can find Esports live gaming streaming channels in different kinds. YouTube Gaming channel is a game-centralized place where popular Esports streaming videos are provided and you can also broadcast your own. You don't need to download any special app, if you have a YouTube account, then you already have everything you need. The disadvantage of this gamer-focused interface is that it is difficult to separate live contents from recorded contents.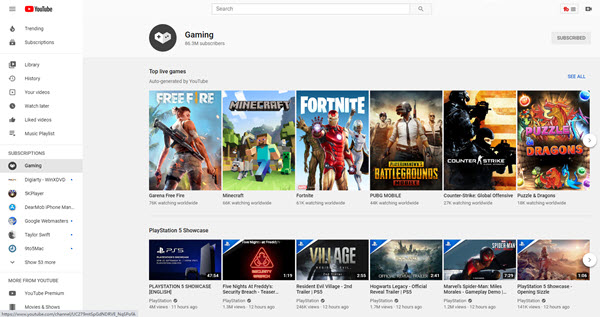 Live games: Garena Free Fire, Fortnite, Minecraft, Puzzle & Dragons, Among Us, CS: GO, PUBG MOBILE, Roblox, Dota 2, Brawl Stars, Call of Duty: Modern Warfare, Apex Legends, Mobile Legends: Bang Bang, Tom Clancy's Rainbow Six Siege, Cooking Academy, Grand Theft Auto V, Call of Duty: Mobile, Saint Seiya: Awakening, NBA 2K21, Temple Run, Grand Theft Auto: San Andreas, League of Legends, Halo: Combat Evolved Anniversary, Marvel's Avengers, Lineage M, Dead by Daylight, Valorant, Fall Guys: Ultimate Knockout, and Call of Duty: Black Ops 2.
You can also search for other game videos that uploaded by gamers but they are not live videos. The Esports live streams are only included in the categories mentioned above, and obviously they are far less than that on Twitch website.
No.3 Facebook Gaming – New but Promising
Facebook allows users to live stream starting in 2015, and now it also dedicates its own separate game page. Fans can get notifications from their following accounts easily so as to track the popular game broadcastings in time. For broadcasters, Facebook Gaming now allows partnered streamers to play copyrighted music in the background of their live streams. Also, the migration of users from Mixer to Facebook Gaming gives you a good reason to live stream eSports games on this place. However, the speed of this platform is not as fast as Twitch when responses to network because it adopts .mpd form for live streams. Twitch adopts .m3u8 URL to live stream everything, and live m3u8 videos will change the resolution automatically and quickly to ensure smooth and high-quality streaming all the time. So, if you need a very quick response, Twitch is better.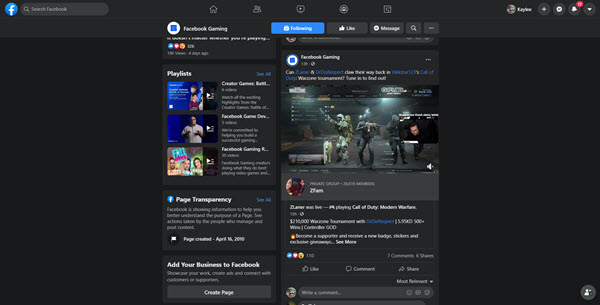 Games: Facebook Gaming has most of the games that Twitch and YouTube Gaming have.
Besides the top 3, there are also smashcast, Steam TV, Nonlive, Trovo, Dlive, etc. for you to choose from to watch eSports game videos. Besides, some Esports betting sites let you see the live scores and results without videos, which is a good choice to follow your favorite tournaments if you have no strong network.