5 Best Free M3U8 Players: Play M3U8 Files on Windows/Mac
Posted by Kaylee Wood | Last update: May 31, 2021 | 5 Min Read
Have you got an .m3u8 file or an m3u8 live streaming video link but don't know how to play it on Mac or Windows directly? Here you could use the best free M3U8 player to play M3U8 files and m3u8 video playlist links to enjoy free and legal M3U8 contents on Internet at will. No need to download M3U8 videos, enjoy them without occupying any disk space on computer.
Best Free M3U8 Player Download to Play M3U8/M3U Files Playlists
5KPlayer will offer you two ways to play M3U8 playlists: directly play m3u8 video streaming links or download m3u8 URL to MP4 or other TS, MKV, FLV, etc file to play on Mac or Windows. As a free multifunctional media server, there are more of 5KPlayer for you to explore like 4K HD video playback, 360-degree video playback/streaming and movie music DLNA streaming. Get this best free M3U8 playlist player below directly ↓↓↓
Steps to play M3U8 with 5KPlayer: 1. Download and install 5KPlayer; 2. click "Live" on the main UI; 3. Input your M3U8 streaming link and play.
Wiki: What Is an M3U8 File?
M3U8 is an HTTP Live Streaming based file format that contains multimedia playlist including online files for an internet radio station, music playlist or a series of videos. Often the case that we define a file with .m3u8 file extension or an m3u file encoded in UTF-8 as an M3U8 file, and a file with .m3u8 file extension is commonly a plain text based playlist format that you can open it with any text editor or an M3U8 file player and see a file list including audio or videos. Here, providing that you intend to play M3U8 files and m3u8 playlist links on Windows/Mac, we offer the best M3U8 video player below to that end.
Why 5KPlayer is the Best Free M3U8 Playlist Player?
Commonly, there are two ways to play M3U8 files or M3U8 streaming links – via online M3U8 player or through adding M3U8 Chrome extension. However, I guess you would want a much more convenient way as online M3U8 player and M3U8 extension always require you to open the webpage to play M3U8 streaming playlists. Desktop M3U8 file player VLC is a pleasing choice if you don't mind its time-consuming download process for every single video before M3U8 playback. To make things easier, 5KPlayer spares no effort to edge itself into more successful M3U8 playback on Mac and Windows.
From the beginning to end, 5KPlayer is a powerful URL analyzer and online video downloader that can recognize m3u8 video links and download M3U8 files to MP4 FLV MKV WMV etc to play directly. Now, we are happier to know from 5KPlayer developer that 5KPlayer, besides 4K MKV MP4 MP3 AAC etc playback, has a more pleasing function. That is, 5KPlayer could act as a prefessional M3U8 video player for Windows and Mac to directly open m3u8 live streaming playlist links without installing any third-party tool.
Other Top 5 M3U8 Playlist Players for Windows/Mac Reviews
No.1 VLC – Offline M3U8 Player for Windows & Mac
https://www.videolan.org/vlc/index.html
Like 5KPlayer and Acestream player, VLC is a desktop M3U8 file player that can play M3U8 streams directly or after downloading, but the buffering speed is annoying and the download process is quite time-consuming indeed.
How to play M3U8 streaming videos via VLC:
1. Open VLC > Media > Open Network Stream > paste the m3u8 URL > click on Play.
2. Open VLC > click on Media on the top left corner > choose Open Network Stream > click on the Network tab when a new window pops up > paste the m3u8 link in the text box > click the small arrow beside the Play button and select Stream > a new window will show up but just click Next > make sure it says File in the drop down menu and click on Add button in the new window > click Browse button to select a destination folder, write a file name and then click Save > Next > remove the check mark next to Activate Transcoding > Next > Stream > when the entire bar becomes blue, it means you have downloaded the M3U8 video files > find the folder and play the downloaded M3U8 files.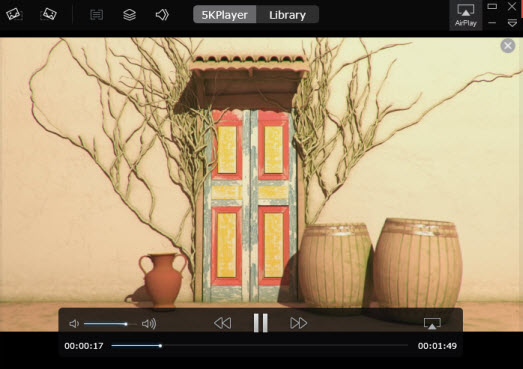 No.2 HLS Player.net – Online M3U8 Playlist Video Player
https://www.hlsplayer.net/
This a very quick way to open M3U8 file online by just pasting the m3u8 URL into the URL loading box and clicking Load or Play. But this kind of M3U8 player including Akamai HLS Support Player and Web IPTV Channel Player does not seem to preload the m3u8 files, and this is why the gaps occur. If needed, you can also live stream rtmp and MP4 videos with this kind of M3U8 playlist player.
How to play M3U8 stream with HLS Player.net: Open your browser and go to this site to paste your M3U8 link here to play.

No.3 Play HLS M3u8 - Chrome Extension
https://chrome.google.com/webstore/detail/play-hls-m3u8/ckblfoghkjhaclegefojbgllenffajdc?hl=en
So far, it seems that only Chrome and Firefox have M3U8 web extension to support live m3u8 streaming. Take Chrome M3U8 extension as an example, you can add the extension to your web browser, and then open a new tab to paste the m3u8 link into the address bar to let it stream. Quite effective but also requires you to not turn off the browser at all times, otherwise "Cannot load M3U8" problem may occur.
How to play M3U8 files with Chrome Extension: Open the site > click on Add to Chrome > Add extension when a popup occurs > the extension was successfully installed > click on the extension icon to enable it > open a new window on Chrome browser and paste the M3U8 URL to the address bar and hit Enter.

No.4 Castr Player - Free HTML5 M3U8 Player
https://castr.io/hlsplayer
Like HLS Player.net, it is also an online live streaming M3U8 player for you to easily play your HLS/M3U8 streams. Input your M3U8 streaming link to this site, tap "Play Stream" and then it will start the playback. However, your streaming URL must be HTTPS compatible otherwise your M3U8 stream may not be played.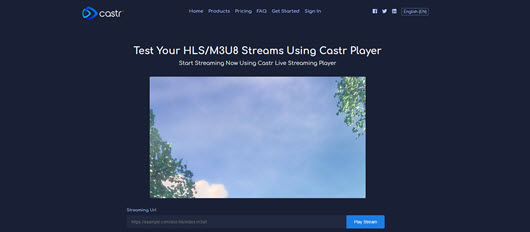 No.5 M3U8 Player Online - Test Your M3U8 URL Accurately
https://www.m3u8play.com/
By putting your .m3u8 links to this M3U8 playback online site, you can test your videos and then decide to download the M3U8 videos or not. It is really a good M3U8 playlist player for Windows and Mac to show you smooth and high-quality M3U8 playback.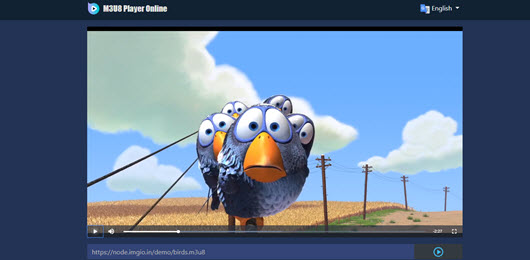 How to Play M3U8 Videos/Live Streaming Playlist via 5KPlayer?
Step 1. Get Free M3U8 Player 5KPlayer
Click the download button below, install and launch it on your Windows or Mac computer. 5KPlayer is low-CPU occupying that only takes you seconds to download and install.
Step 2. Play M3U8 Files via 5KPlayer in 2 Ways
1. Play M3U8 video playlist via m3u8 stream link directly: On the main user interface of 5KPlayer, click the "Live" icon > input the m3u8 video URL and click on Play. It may costs you seconds to preload the M3U8 video playlist so that the video could be streamed smoothly.
2. Download M3U8 files and then play: Click the YouTube button on the main UI to access the download window > paste the m3u8 link into the box to analyze and then click Download. After downloading, you can see the new M3U8 videos in the Videos list, double click a video and 5KPlayer will play it immediately.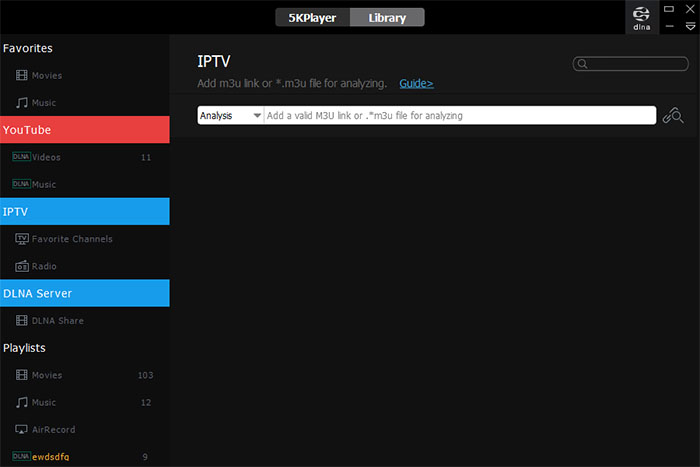 Guess You'd Like to Know:
How to Get the M3U8 Playlist Links: Open a video site that use m3u8 format on Chrome > find the video you want to download and play it >> right-click the video to click on Inspect to see the HTML interface > click the small phone icon to choose your phone type > refresh the web page > then choose Network > click the funnel icon > click Media > play your video > then there will pop up a m3u8 link > copy the link address. If you want to find the m3u8 link in Firefox, just right-click the video > Inspect and there would be a m3u8 link. Worth mentioning, not all video sites adopt the .m3u8 as the video format that you may have to refer to a YouTube video player or Dailymotion video player to play certain videos.