Other Top 5 M3U8 Playlist Players for Windows/Mac Reviews
No.1 VLC – Offline M3U8 Player for Windows & Mac
https://www.videolan.org/vlc/index.html
Like 5KPlayer and Acestream player, VLC is a desktop M3U8 file player that can play M3U8 streams directly or after downloading, but the buffering speed is annoying and the download process is quite time-consuming indeed.
How to play M3U8 streaming videos via VLC:
1. Open VLC > Media > Open Network Stream > paste the m3u8 URL > click on Play.
2. Open VLC > click on Media on the top left corner > choose Open Network Stream > click on the Network tab when a new window pops up > paste the m3u8 link in the text box > click the small arrow beside the Play button and select Stream > a new window will show up but just click Next > make sure it says File in the drop down menu and click on Add button in the new window > click Browse button to select a destination folder, write a file name and then click Save > Next > remove the check mark next to Activate Transcoding > Next > Stream > when the entire bar becomes blue, it means you have downloaded the M3U8 video files > find the folder and play the downloaded M3U8 files.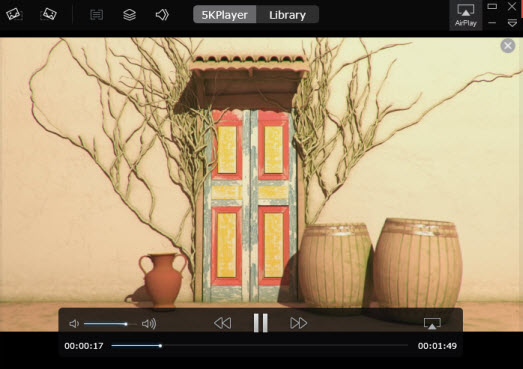 No.2 HLS Player.net – Online M3U8 Playlist Video Player
https://www.hlsplayer.net/
This a very quick way to open M3U8 file online by just pasting the m3u8 URL into the URL loading box and clicking Load or Play. But this kind of M3U8 player including Akamai HLS Support Player and Web IPTV Channel Player does not seem to preload the m3u8 files, and this is why the gaps occur. If needed, you can also live stream rtmp and MP4 videos with this kind of M3U8 playlist player.
How to play M3U8 stream with HLS Player.net: Open your browser and go to this site to paste your M3U8 link here to play.

No.3 Play HLS M3u8 - Chrome Extension
https://chrome.google.com/webstore/detail/play-hls-m3u8/ckblfoghkjhaclegefojbgllenffajdc?hl=en
So far, it seems that only Chrome and Firefox have M3U8 web extension to support live m3u8 streaming. Take Chrome M3U8 extension as an example, you can add the extension to your web browser, and then open a new tab to paste the m3u8 link into the address bar to let it stream. Quite effective but also requires you to not turn off the browser at all times, otherwise "Cannot load M3U8" problem may occur.
How to play M3U8 files with Chrome Extension: Open the site > click on Add to Chrome > Add extension when a popup occurs > the extension was successfully installed > click on the extension icon to enable it > open a new window on Chrome browser and paste the M3U8 URL to the address bar and hit Enter.

No.4 Castr Player - Free HTML5 M3U8 Player
https://castr.io/hlsplayer
Like HLS Player.net, it is also an online M3U8 live streaming player for you to easily play your HLS/M3U8 streams. Input your M3U8 streaming link to this site, tap "Play Stream" and then it will start the playback. However, your streaming URL must be HTTPS compatible otherwise your M3U8 stream may not be played.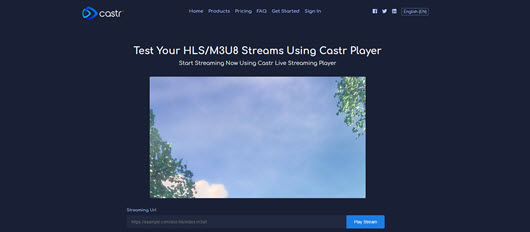 No.5 M3U8 Player Online - Test Your M3U8 URL Accurately
https://www.m3u8play.com/
By putting your .m3u8 links to this M3U8 playback online site, you can test your videos and then decide to download the M3U8 videos or not. It is really a good M3U8 playlist player for Windows and Mac to show you smooth and high-quality M3U8 playback.