Best Free M3U8 Player: Play M3U8 Files on Windows/Mac
Posted by Amanda Hu - Nov 16, 2017 | Last updated: July 30, 2019
Have you got an .m3u8 file or an m3u8 live streaming video link but don't know how to play it on Mac or Windows directly? Here you could use the best free M3U8 player to play M3U8 files and m3u8 video links to enjoy free and legal M3U8 contents on Internet at will. No need to download M3U8 videos, enjoy them without occupying any disk space on computer.
Best M3U8 Player Download Free to Play M3U8 Files Playlists
5KPlayer will offer you two ways to play M3U8 files: directly play m3u8 video links or download m3u8 URL to MP4 or other TS, MKV, FLV, etc file to play on Mac or Windows. As a free multifunctional media server, there are more of 5KPlayer for you to explore like 4K HD video playback, 360-degree video playback/streaming and movie music DLNA streaming. Get this best free M3U8 player below directly ↓↓↓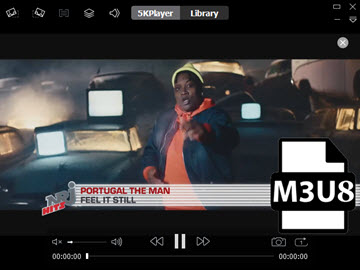 Why 5KPlayer is the Best Free M3U8 Player?
Commonly, there are two ways to play M3U8 files or streaming videos links – via online M3U8 player or through adding M3U8 Chrome extension. However, I guess you would want a much more convenient way as online M3U8 player and M3U8 extension always require you to open the webpage to play M3U8 streaming playlists. Desktop M3U8 file player VLC is a pleasing choice if you don't mind its time-consuming download process for every single video before M3U8 playback. To make things easier, 5KPlayer spares no effort to edge itself into the M3U8 playing field.
From the beginning to end, 5KPlayer is a powerful URL analyzer and online video downloader that can recognize m3u8 video links and download M3U8 files to MP4 FLV MKV WMV etc to play directly. Now, we are happier to know from 5KPlayer developer that 5KPlayer, besides 4K MKV MP4 MP3 AAC etc playback, has a more pleasing function. That is, 5KPlayer could act as a prefessional M3U8 video player to directly play m3u8 streaming links (like: http://5.196.138.6:1935/live/nrjbelgique/playlist.m3u8) and without installing any third-party tool.
Guess You'd Like to Know:
How to Get the M3U8 Links: Open a video site that use m3u8 format on Chrome > find the video you want to download and play it >> right-click the video to click on Inspect to see the HTML interface > click the small phone icon to choose your phone type > refresh the web page > then choose Network > click the funnel icon > click Media > play your video > then there will pop up a m3u8 link > copy the link address. If you want to find the m3u8 link in Firefox, just right-click the video > Inspect and there would be a m3u8 link. Worth mentioning, not all video sites adopt the .m3u8 as the video format that you may have to refer to a YouTube video player or Dailymotion video player to play certain videos.
5kplayer
How do you think of 5KPlayer, rate now:





Poor Fair Average Good Excellent
Rating: 4.2 / 5 (based on 38 ratings) 1 Thanks for your rating!
Home | About | Contact Us | News | Privacy Policy | Agreement | Site Map
Copyright © 2019 DearMob, Inc. All Rights Reserved.
Any third party product names and trademarks used in this website are property of their respective owners. All the related logos and images, including but not limited to Apple's AirPlay®, Apple TV®, iPhone®, iPod®, iPad®, iTunes® and Mac® are registered trademarks of their own. DearMob, Inc. is not owned by or affiliated with Apple Inc. and any of those companies.