[Solved] AirPlay 2 Not Working on iPhone X/8/7 In All Cases
Written by Kaylee Wood | Last update: April 28, 2020
The complexity of AirPlay 2 multi-room capability also provokes more AirPlay 2 not working cases than its 1st-gen protocol. If you're one of the users irritated by AirPlay 2 not working iOS 11.4, or fails to upgrade the old speaker to be compatible with Apple AirPlay 2, take a look at the catalogue to address your problem.
Free AirPlay 2 Sender & Receiver 2-in-1: 5KPlayer
Improved AirPlay 2 experience is out and out available with 5KPlayer as the free AirPlay sender & receiver for your Windows (10) & Mac (macOS High Sierra). That been the case, install 5KPlayer latest version for your computer to seamlessly switch to 2nd-gen (multi-room) wireless streaming without running into AirPlay 2 not working.

AirPlay 2 Not Working [Solved]
- [Solved] AirPlay 2 Not Working with Apple Music - Software Errors AirPlay 2
The brand-new design of iOS 11's control center somewhat points out deeper integration of Apple Music and AirPlay: There are 2 workarounds to enable AirPlay 2 on iPhone 8. First off, you may find the AirPlay icon in the bottom-center of an Apple Music playback menu page, tap on it to choose the AirPlay receiver, and you're good to go & play music to an AirPlay 2-compatible speaker – however – should the AirPlay icon disappears/turns grey on the menu page, chances are that Apple Music is not working with AirPlay 2. To solve this problem, you need to:
Make sure AirPlay 2 is turned on for Apple Music
Step 1. Swipe up from the bottom of iPhone to get the control center, tap on upper-right AirPlay icon on the Music block on the upper-right corner of the whole control center > disconnect the AirPlay 2 speaker you're currently connected to > reconnect it. Launch AirPlay 2 for Apple Music Again
Launch AirPlay 2 for Apple Music Again
Step 2: If step 1 doesn't help you out from AirPlay 2 not working with Apple Music, double-tap the home-button > exit Apple Music > launch the APP again to give AirPlay 2 another spin.
Step 3:
Getting through step 1 & 2, still unable to fix AirPlay 2 not working with Apple Music? Now please check through your Wi-Fi connect by: 1) make sure the speaker and your iPhone 8 are connected to the same Wi-Fi. 2) Disconnect iPhone 8 from Wi-Fi & re-connect it.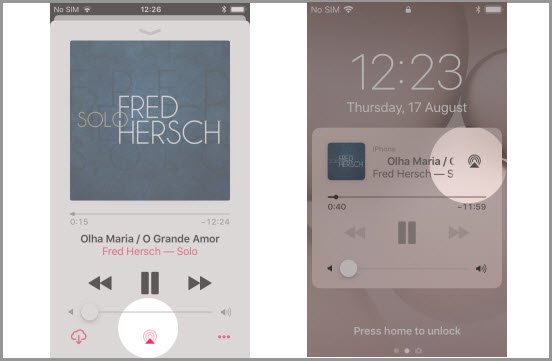 What is Apple AirPlay 2?
Slated in this November together with iOS 11, Apple's AirPlay 2 greets its customers with iOS-based control over multiple speakers with iOS 11.4, a MacBook-only function in the past (requires iTunes assistance), as well as other over-the-air features such as iOS 11 screen recording (an amazing features with greenhand bugs that might lead to iOS 11 screen recording not working).
Given the fact that this version of the wireless protocol involves more complicated functions than its predecessor, AirPlay 2 not working requires new ways to solve then each, depending on where the problem occurs, what music service you're playing with Apple AirPlay 2, and whose AirPlay receiver is connected.
Back in 2010 when pristine AirPlay first found its way on Mac in September, and in iPhone and iPad in November, it enables users to stream videos and music from Mac to Apple TV, with the airplay iPhone to Mac and airplay iPhone to PC functions realized later by 3rd-party software like 5KPlayer, this protocol will live hand in hand with AirPlay 2 – with different entrances from iPhone 8 (iOS 11).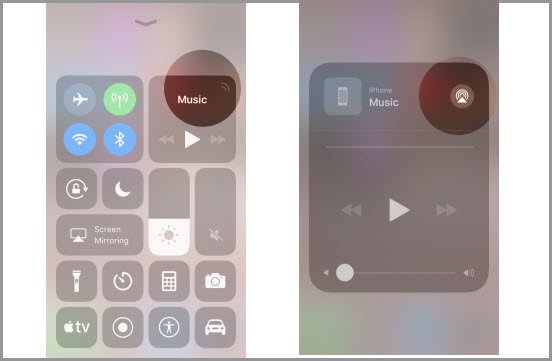 Related Articles
Android AirPlay 2 EquivalentWhat is Android AirPlay 2 equivalent? Here you will get the best AirPlay 2 for Android solution for multi-room wireless streaming audio and videos.
Solved| AirPlay 2 Mirroring Not WorkingUpdated to iOS 11.4 and tvOS 11.4 yet only to find iOS 11 AirPlay 2 mirroring not working from iPhone to PC/Mac/Apple TV. Alocate all the iOS screen mirroring problems here and get the coressponding solution.
Apple AirPlay vs AirPlay 2: Detailed ComparisonWhat's the difference between AirPlay and AirPlay 2? Apple AirPlay vs AirPlay 2 comparison reviews here will detail that.
Home | About | Contact Us | News | Privacy Policy | Agreement | Site Map
Copyright © 2023 Digiarty Software, Inc. All Rights Reserved.
5KPlayer & DearMob are brands of Digiarty Software, Inc. Any third party product names and trademarks used in this website are property of their respective owners. All the related logos and images, including but not limited to Apple's AirPlay®, Apple TV®, iPhone®, iPod®, iPad®, iTunes® and Mac® are registered trademarks of their own. Digiarty is not owned by or affiliated with Apple Inc. and any of those companies.