Free Download H.264 Player to Play H.264/H.265 4K
Posted by Kaylee Wood | Last update: April 28, 2020
"It is strange that I'm able to play H.264 via RMTP, but I can't open the local H.264 encoded file with a standard media player, and even if I played the file successfully, there is only images, no audio!" A user posted this concern on "9ria" forum and hopes to get a solution. To open an H.264 encoded MP4 video, or MKV video, obviously needs a powerful H.264 player with H.264 codec built in. Read on to get the idea of H.264 player free download and how to play HD H.264 files.
Free Easiest Way to Play H.264 AVC HD 4K Video on Computer
5KPlayer is the first H.264 player you'd choose or the one you'd come eventually to hep playing all your HD/UHD MP4 4K 360-degree videos for it is the best free H.264 video player to decode the vast majority of video codec including H.264 codec, H.265 codec, Xvid codec, etc.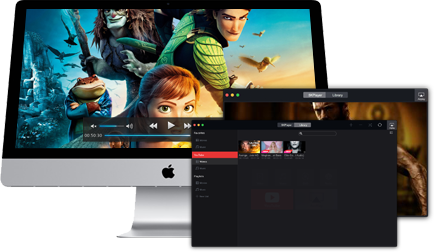 H.264, AKA AVC, as its name implies, is Advanced Video Coding which widely used for high definition digital video. A codec based on the H.264 standard compresses a digital video files so that it only uses half the space of MPEG-2. But to play H.264 file smoothly not only require a higher CPU usage to enable the video acceleration but also need a professional H.264 player to play back the specific H.264 file.
Of course, you can find and download plenty of H.264 players for free online, but to find the most suitable H.264 player, are you seriously trying to download every video player for H.264 to open your certain H.264 files? In order to nail down your options, I recommend you to download hardware accelerated video player 5KPlayer, the best free H.264 video player which plays H.264/H.265 4k with no hassle, just simply load the file and start to play!
Further Introduction about The Best H.264 Player:
Embedded with over 450 video/audio decoder, 5KPlayer is already a mature media player for H.264 AVC which allows you to enhance, decode, and accelerate a broad range of video format including ultra HD H.265 video and MPEG-4. With the ability of playing 5K/4K videos, this professional H.264 player does not require many system resources than the rest of media players.
And those features also drive it into the list of top 5 fastest HD video players that can play MP4 MKV, and AVI videos without glitch. What's more, it has simple interface to make playing H.264, MKV, MP4, AVI files easy and lightweight. Let's get start to learn how to download this free H.264 player and how to play back H.264 file with it. Only you try it can you see where the competence of this H.264 player lies.
Last time I checked, this H.264 player is not only a video music player to decode H.264 codec and H.265, MKV, AVI ect. It is also able to download MKV, AVI and those HD videos from online video sites. Another cool feature of this fascinating H.264/AVC player is also excellent DLNA player to stream your video and music from one device to another. Free download this H.264 player and get your H.264 file played easily!
Further Reading:
H.264 has obvious advantage when comparing H.264 to MPEG4, it has higher compressing rate which means it can store more data than MPEG4 on the same hard disk. And as a successor to H.264/AVC, H.265 is said to have two times the data compression ratio compared to H.264 at the same level of video quality. So speaking of H.265 vs. H.264, H.265 simply surpasses H.264 in general. But the good thing is that as an H.264 player freeware, 5KPlayer can easily play H.265, MPEG4 as well.
Related Articles
Fast Video Player Windows 10 Download Download this fast video player, able to play videos effortlessly and download videos from Vevo, Vimeo on Windows 10.
Full HD Video Player Free DownloadFree download the best full HD video player to play 1080p, 720p full HD videos in MKV, AVI, RMVB, VOB, MP4, M4V, etc.
HD Video Player Free DownloadAmong the top free HD video players for Windows 10/8.1/7 and Mac, 5KPlayer is the cover-all HD video player for HD videos.
Home | About | Contact Us | News | Privacy Policy | Agreement | Site Map
Copyright © 2023 Digiarty Software, Inc. All Rights Reserved.
5KPlayer & DearMob are brands of Digiarty Software, Inc. All other products or name brands are trademarks of their respective holders. All logos, trademarks and images relating to other companies that may be contained wherein are applied in the Internet that are not used for commercial use. Digiarty's software is not developed by or affiliated with such companies.