Airplay on Windows 8/8.1/10 with 5KPlayer Windows Version
Written by Kaylee Wood | Last update: April 28, 2020
Searching for free Windows 8 AirPlay software? How to AirPlay from Windows 8/8.1/10 to Apple-TV? Since iMassage and FaceTime are unique for Mac OS system, which is fairly common for a company to save its uniqueness for its own products, you may start wondering where can I get AirPlay for Windows OS, or, more specifically and trendy, enable AirPlay for Windows 8/8.1/10 PC? Your doubts will be addressed here!
Tons of music albums ranging from Michael Jackson's to U2's to Taylor Swift's can easily be streamed by this free AirPlay software for Windows 8/8.1/10 with great acoustic fidelity and lossless quality, not only from local disc but also from AirPlay enabled third party Apps like Spotify and Pandora.
This free AirPlay software for Windows 8 can also smoothly and seamlessly stream Ultra HD videos like 4K/5K movies without any loss in image quality, allowing users to AirPlay AVI, MKV, WMV, DivX, FLV and all other video audio formats on Windows 8 after being converted. Therefore, videos and video clips, spanning everything from smart-phones gag reels to family movies to high-resolution videos ripped from your DVD collection, can all be seamlessly streamed by this omnipotent 5KPlayer.
A Windows 8/8.1/10 Airplay Sender for Apple TV? Yes, of course.
DearMob 5KPlayer, as a Windows 8 AirPlay sender, empowers your PC of Windows 8/8.1/10 system to stream your 4K/5K videos and music to AirPlay compatible speakers and Apple TV just at ease. Take Apple TV here as an example:
Step 1: Download this free Ultra HD player for AirPlay Windows 8, then launch it.
Note: To achieve streamming Windows 8 to Apple TV, make sure that your Apple TV and Window 8 PC be connected to the same WiFi network.
Step 2: Drag'n drop a video onto the UI of this free Ultra HD player and free AirPlay software for Windows 8.
Note: You can "pin" the player on top of your other windows, and unlike some similar programs, it automatically adjusts the display window to the size of the movie
Step 3: Click the AirPlay button on the top right corner of the playing UI for Windows 8 PC AirPlay. A popup menu will show up. Select Apple-TV here to AirPlay Windows 8 to Apple TV.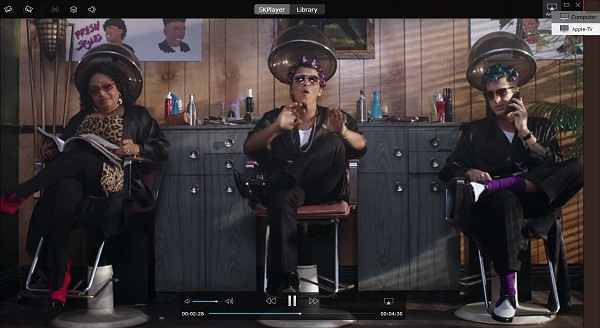 Note: The AirPlay button will go red if Windows 8 AirPlay Apple TV is successfully enabled.
The whole process of Windows 8 streaming to Apple TV is quick without a bit loss in quality! And if you want to watch high res movies on TV, this free Ultra HD player for Windows 8 also supports AirPlay 4K and even 8K videos, and in the mean time, you are free to do other things on your Windows 8 PC, like online shopping etc.
Sidenote: Before AirPlay from your Windows 8 PC to Apple TV, make sure your videos are in formats supported by AirPlay (videos in MP4, M4V, MOV and music in MP3, M4A and AAC), and if not, you may need a proper DVD video converter software for Mac OS or for Windows PC to convert your films first.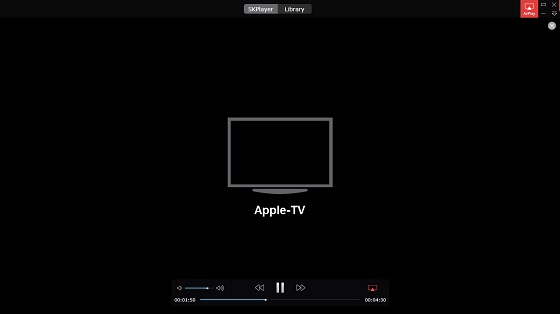 A Windows 8/8.1 AirPlay Receiver?
Yes, dispensing with extra software or plug-ins
Upon the installation of 5KPlayer Win Ver., your Windows 8/8.1/10 PC can receive AirPlay streams of videos, video clips as well as music from AirPlay compatible devices like Apple Watch, iPhone/iPad/iPod touch etc without requiring for extra software or plug-ins. This Windows AirPlay receiver enables you to have all those files displayed on your PC in case it is storage-strapped.
Step 1: Download and launch this Windows 8 PC AirPlay receiver.
Note to connect your iDevice - iPhone/iPad/iPod touch etc or other tablets and your PC to the same Wi-Fi network.
Step 2: Go to the Control Center on the display of your iDevice and find AirPlay.
Click AirPlay to view a list of AirPlay receiver options. Select your Windows 8 PC as AirPlay receiver.
Step 3: Choose the videos or music you want to play, then the PC will start AirPlay on your Windows 8 PC.
Note: You can also enable Mirroring to AirPlay mirror your iPhone screen to Windows 8 PC for screen recording.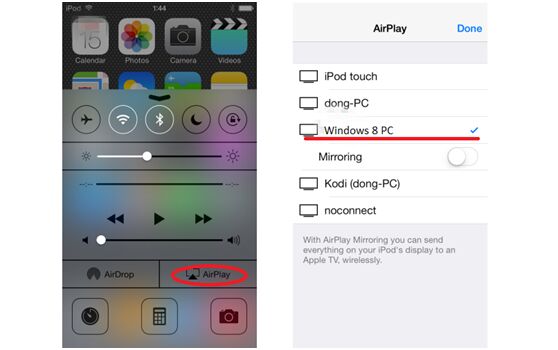 So, yes, DearMob 5KPlayer as a free AirPlay software for Windows 8/8.1/10, will help you achieve AirPlay and even AirPlay mirroring (in the upcoming Ver. 3.0) on your Windows 8 PC just as professionally and smoothly as it is meant to be. If you've upgraded Windows 8 to Windows 10, the tips on AirPlay from Windows 10, similar to AirPlay on Windows 8, is also given specifically. Besides, you can also make the best use of this free software as a free online video audio downloader to download The Hunt, Parasite, Onward, Beatles songs, Wild Cherry songs etc.
Home | About | Contact Us | News | Privacy Policy | Agreement | Site Map
Copyright © 2023 Digiarty Software, Inc. All Rights Reserved.
5KPlayer & DearMob are brands of Digiarty Software, Inc. Any third party product names and trademarks used in this website are property of their respective owners. All the related logos and images, including but not limited to Apple's AirPlay®, Apple TV®, iPhone®, iPod®, iPad®, iTunes® and Mac® are registered trademarks of their own. Digiarty is not owned by or affiliated with Apple Inc. and any of those companies.