Top 3 Free PC AirPlay Receiver (Windows 10/8/7) Download
Written by Kaylee Wood | Last update: April 28, 2020
Wishing to use a PC AirPlay receiver to turn your computer into an AirPlay receptor? Thinking of streaming the videos, movie, photos on iPhone11 and theearlier iOS 13 with friends with the help of an AirPlay receiver Windows? End your search here with this list of top 3 free AirPlay receivers PC, and pick up your favorite one to AirPlay iPhone to PC hassle-free!
As you may have the doubts as of whether iTunes for Windows is a PC AirPlay receiver itself, the answer may just disappoint you. Indeed with iTunes comes Bonjour, the very streaming protocol required for a receiver, yet iTunes was not designed to turn your computer into an Apple-TV-like device, hence the need for a 3rd-party AirPlay receiver for PC to handle the job.
In this list we recommends 3 green, secure AirPlay receiver PC software, some free but one rechargeable. You can go at ease with any OS, be it Windows 10/7 or 8.1. Now let's jump right in!
NO. 1 Free PC AirPlay Receiver HD - Utmost Usable 5KPlayer
To get satiny and smooth AirPlay performance from iPhone iOS to PC, you need 5KPlayer. There are 3 reasons for its touching-top in the list:
For one thing, this PC AirPlay receiver freeware can take Apple's localized AirPlay to PC with any version of Windows OS: Windows 10/8/7/Vista. Now that the complete set of AirPlay include video/music streaming (playback windows only), or use PC as an Apple TV 5 to connect iPhone 11. Good news is that 5KPlayer can do them both, plus the mirroring-based screen recording, enabling you to easily make a gameplay, video tutorial, etc.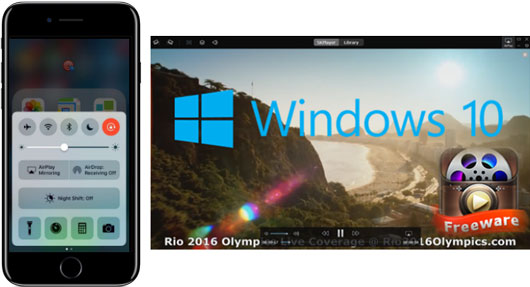 Among all the peer software out there, 5KPlayer is the only PC AirPlay Receiver gaining 7.4/10 user ratings, and 8.0/10 download site ratings, thanks to its top-of-the-line streaming quality, and the much-intuitive GUI that requires least efforts for you to handle.
Apple's native AirPlay is a breakthrough in wireless streaming protocols, connecting iPhone 11 iOS 13, iPad, Mac and Apple TV relying on nothing but your home Wi-Fi, and 5KPlayer is the very AirPlay receiver PC to welcome Windows users into this ecosystem in an all-round manner. Check out this list of specs of the free PC AirPlay receiver:
System Compatibility
Image Quality
Video and Audio Format
Recording Function
iPhone 4S or newer; iPad 2 or newer; iPad mini or newer; iPod Touch 5 or newer.
Windows 10/8.1/7.
Retina Quality AirPlay
(support iPhone 1920*1920 > Apple TV AirPlay 1080p)
MP4/M4V/MOV;
MP3/AAC
Configurable
NO. 2 Multi-Device Compatible AirPlay Receiver PC - Airserver
This PC AirPlay receiver is now in its version 6.0 updated on July, 2019. A compact file size at 12MB only defines itself as "quite compact" as befitting an AirPlay receiver.
A fairly tedious preparation is required if you're to use AirServer. First, a PC running Windows 7 has to install an update for Universal C RunTime in Windows (KB2999226), which can be obtained from the following link: https://support.microsoft.com/en-us/kb/2999226.
Remember to check out whether your computer is a 64bit or 32bit one before downloading the corresponding update pack.
While running the installing wizard of this AirPlay receiver Windows 10, the Miracast streaming protocol is optional, which enables your PC to receiver streaming videos from Windows 8/10 devices/Android. However, to set up Miracast AirPlay, you PC itself has to run Windows 8.1/10.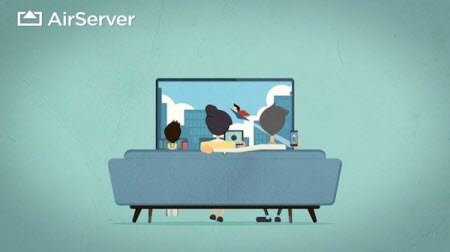 After all, successfully sitting through the somewhat tinkerer means you can now fully indulge yourself in the Retina quality mirroring of the AirPlay receiver PC. You could be interested in its mirroring-based recording function as well, which enables you to create tutorials, reviews, walkthroughs shown on a PC, in exactly the same way 5KPlayer can do.
AirServer is the only rechargeable receiver in today's list, coming at $14.99/license/PC.
Where to Download AirServer PC AirPlay Receiver?
Download AirPlay receiver from Softonic: https://airserver.en.softonic.com/
Download from AirServer Homepage: https://www.airserver.com/Download
[Updated March 2020]
Best AirPlay Receiver 5KPlayer Now Supports DLNA for Free
The free software 5KPlayer upgraded to its version 6.0 with built-in DLNA streaming utility: virtually helping Android users wirelessly stream videos music to PC with DLNA protocol. Here's a DLNA VS AirPlay in wireless streaming:
The DLNA-compliant 5KPlayer now serves more than just a PC AirPlay receiver for iPhone iPad iOS 13 - for the massive Android mobile users, beaming movies, videos, music to a bigger-screen computer is as easy as ABC with the latest version of 5KPlayer.
It's also going to help a lot if you have a smart TV at home such as Samsung smart TV, LG smart TC etc for the self-integrated DLNA client Windows can also complete the task of streaming PC to Samsung smart TV. Check out on how you can take the best advantage of 5KPlayer DLNA here.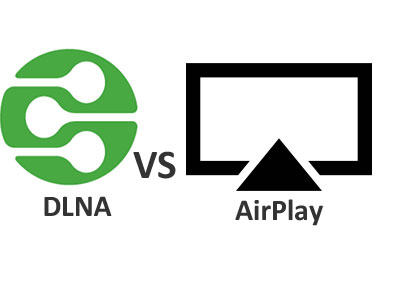 Now that you've finished the review of top 3 PC AirPlay receivers, hopefully you can base your choice on their merits. 5KPlayer is the kind of PC AirPlay receiver freeware that can work along both lines of video AirPlay and full-screen mirroring, it's also a screen recorder iOS 13 worth trying, with the stability and image capability as good as the $14.99 AirServer. LonelyScreen is indeed another freeware worth trying, but its less-regular updates may somewhat means retarded functions.
Home | About | Contact Us | News | Privacy Policy | Agreement | Site Map
Copyright © 2023 Digiarty Software, Inc. All Rights Reserved.
5KPlayer & DearMob are brands of Digiarty Software, Inc. Any third party product names and trademarks used in this website are property of their respective owners. All the related logos and images, including but not limited to Apple's AirPlay®, Apple TV®, iPhone®, iPod®, iPad®, iTunes® and Mac® are registered trademarks of their own. Digiarty is not owned by or affiliated with Apple Inc. and any of those companies.