Use AirPlay iPad to Mac: Play iPad Pro 2 Video/Music/APP on Mac
Written by Kaylee Wood | Last update: April 28, 2020
The $129 Apple TV 4-gen is indeed a useful output source when you attempt to wirelessly stream videos from iPad to a bigger screen, but what if you're thinking of AirPlay iPad to Mac macOS Big Sur? Back from beginning, this was a function casted away by Apple for some reasons, alienating the useful mouse & keyboard assisted iPad AirPlay to Mac from users.
However, now with a free 3rd-party Mac AirPlay receiver programs like 5KPlayer, the spick-and-span iPad Pro 2 can recognize Mac as smart as whip to stream HD movies, music & albums free, how to do that? Keep on reading to find out:
Leverage Mac As iPadOS iPad AirPlay Receiver - You Need 5KPlayer
5KPlayer, with built-in AirPlay tech, compatible with the latest iOS 13/iPadOS models will bring to you the most integrated iPad AirPlay experience: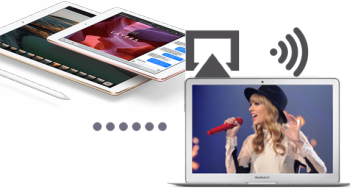 What is iPad AirPlay & How to Use iPad for AirPlay ot Mac?
AirPlay as Apple's universal wireless streaming protocol was first called AirTunes in 2004, and it got the current name AirPlay in 2010. By and large, this technology is meant to help devices (Apple or non-Apple: AirPlay iPad to Apple TV) greet & understand signals from each other to achieve the replication of images, videos, music and photos from one another.
However, the gap where users can't AirPlay iPad to Mac, or airplay iPhone to Mac, Windows wasn't filled-in until the introduction of 5KPlayer - the free AirPlay receiver that works independently from either iTunes or QuickTime. With this standalone program, any Mac computer will replace the role of Apple TV for the new iPad Pro 2.
Tips Worth Knowing First Before iPadOS iPad AirPlay
Learning about the format restrictions on iPad AirPlay and corresponding solutions first before streaming a media file.
Even after the all-round open implementation of its AirPlay technology, your iPad to Mac channel can only let pass media files of the following format:
| | |
| --- | --- |
| Video | MP4, M4V, MOV |
| Music | MP3, AAC, M4A |
| * AirPlay Mirroring | No restriction |
| * Peer-to-peer AirPlay | Connect iPhone/iPad/Mac to Apple TV |
That been said, all QuickTime File Formats (QTFF) written by Apple will have no fences over the air. In other words, you'll need some help on how to change video format if your media files fall outside of this table.
If you've already worked with AirPlay before, chance are that you've tried peer-to-peer AirPlay once: Unlike what we can get from AirPlay iPad Pro 2 to Mac, this iOS-to-TV, mac-to-TV only function allows you to connect 2 devices via Bluetooth and beam music, videos, and a limited number of streaming APPs: Netflix, Hulu. etc. This serves well as a temporary solution if you're suffering from a bandwidth outage for an hour or two, but stability isn't as good as standard AirPlay.
As the most integrated wireless streaming protocol, Apple's AirPlay outlines the convenient experience in connecting smaller-screen devices (iPhone, iPad, iPod, Mac) and larger displays (Apple TV) for instant screen sharing. Now with the most state-of-the-art free AirPlay receiver for Mac and Windows - 5KPlayer, you'll have no difficulty sending iPad Pro recorded 4K content to Mac, or use it as an iOS screen recorder.
Home | About | Contact Us | News | Privacy Policy | Agreement | Site Map
Copyright © 2023 Digiarty Software, Inc. All Rights Reserved.
5KPlayer & DearMob are brands of Digiarty Software, Inc. Any third party product names and trademarks used in this website are property of their respective owners. All the related logos and images, including but not limited to Apple's AirPlay®, Apple TV®, iPhone®, iPod®, iPad®, iTunes® and Mac® are registered trademarks of their own. Digiarty is not owned by or affiliated with Apple Inc. and any of those companies.