How to AirPlay iPadOS iPad Pro 2 to Windows 10
Written by Kaylee Wood | Last update: April 28, 2020
AirPlay iPadOS iPad Pro 2 to Windows 10 will be a little trickier than streaming to Mac since Apple eco-system has not yet planned a future for Windows OS other than drawing a clear line in between. Airserver/Airparrot are a good tools for Windows AirPlay mirroring but they charges at least $13 for a Windows/Mac. So, at present I must say that 5KPlayer is the most ideal free solution for iPadOS iPad Pro 2 to Windows 10 AirPlay, as it works on Windows 10 OS and supports both iPadOS AirPlay mirroring and iPadOS screen recording wirelessly.
iPadOS AirPlay iPad Pro 2 Windows 10 Must-Have
Succeeding the previous iPadOS iPad Pro to Windows 10 AirPlay, 5KPlayer now endows your Windows 10 PC with the ability to receive streams from the newest iPad Pro 2 iPadOS, stream 5.1 surround sound and record screen of iPad pro 2 on Windows 10. Download it now!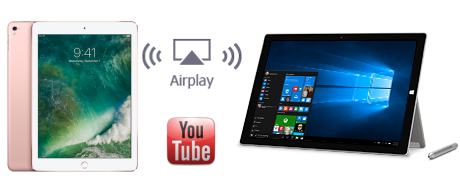 Powerful A10X processor boosts iPad Pro 2 to Windows 10 AirPlay speed
Without doubt the overall design of the higher-res 12.9-inch iPad Pro 2 will be slimmer, water resistant with a lighter slate. And possibly the classic pressure sensitive home button will transform into a fingerprint scanner built into the true tone display screen. However, all these features, including bigger battery, 4GB of RAM, improved camera and Apple Pencil with free stylus, can't add up to the equal importance of a hugely improved A10X processor. It is rumored to have a single-core score of 4236 and a multi-core score of 6588. By comparison the original iPad Pro had a multi-core score of 5472.
This means that iPad Pro 2 is welcoming a big breakthrough in data processing speed which will benefit AirPlay Mirroring a lot in terms of transfer speed, visual quality and audio-video syncing. With the assistance of True Tone display and much improved front and rear camera, the quality of iPad Pro 2 to Windows 10 AirPlay will be much more appreciated at this stage and you can achieve AirPlay iPad Pro 2 to Windows 10 and recorded iPad Pro screen: videos, games, camera recording etc...
Now you can free stream contents and screens of your shining new iPad Pro 2 to Windows 10/8/7/vista and lower by following the guide above. On top of that, this iPad Pro 2 iPadOS AirPlay server also moonlights as a free online video movie downloader and player. Users can free download tons of music vidoes, full movies from over 300+ online sites like YouTube Dailymotion VEVO. Right after download, you can seamlessly continue video playback by streaming it on big HDTV. Download and try 5KPlayer now!
Home | About | Contact Us | News | Privacy Policy | Agreement | Site Map
Copyright © 2023 Digiarty Software, Inc. All Rights Reserved.
5KPlayer & DearMob are brands of Digiarty Software, Inc. Any third party product names and trademarks used in this website are property of their respective owners. All the related logos and images, including but not limited to Apple's AirPlay®, Apple TV®, iPhone®, iPod®, iPad®, iTunes® and Mac® are registered trademarks of their own. Digiarty is not owned by or affiliated with Apple Inc. and any of those companies.