Free Download AirPlay Enabled 5KPlayer to Obtain Better AirPlay Quality
Written by Kaylee Wood | Last update: April 28, 2020
To relish, on a day of leisure, the Oscar Award recognized movie Grand Budapest Hotel, tagged with the most dazzling shooting features –perfectly front and centered focal point with bright winter colors, you will find the screen of your PC is nowhere near your visual expectations. You want to download & AirPlay the movie to a HDTV with ultra large screen to bring those scenes and colors into life. Hence, to download a professional AirPlay server on your PC would be your first move. In this case, downloading AirPlay-enabled 5KPlayer is the best solution.
Download AirPlay server –5KPlayer to convert files into AirPlay supported formats.
Local music files listed in the playlist of the 5KPlayer can get directly converted to AirPlay supported formats like AAC and MP3, while with some help of its self-developed converter software, videos can also be converted.
Download AirPlay server –5KPlayer to seamlessly AirPlay Videos in Any Resolution.
Since 5KPlayer accepts videos of high resolution up to 4K/5K, you will find it's really handy to download for AirPlay 4K movies. Common AirPlay enabled devices or software provides AirPlay function, yet, without ensuring you any playback quality. 5KPlayer on the other hand, sees to offer the best quality ever.
Download AirPlay server –5KPlayer to Solve AirPlay Delay
Sorrows are unavoidable, and they also fall onto AirPlay. Due to the limited maintenance of network condition and performance of the devices, audio tracks or subtitle tracks of AirPlay videos may lag a few seconds behind image during AirPlay. Direct at this problem, 5KPlayer provides corresponding adjustments to synchronize those tracks within a few steps.
Download AirPlay server –5KPlayer to solve AirPlay not working
The wireless AirPlay can easily get disturbed by some unknown invisible factors, which may cause AirPlay failure or not working. 5KPlayer, in this case, detects whether those problems exist and helps you solve them. You will be informed of a failure if the AirPlay button doesn't go red.
A Great AirPlay Sender Free Download
Free download AirPlay Enabled 5KPlayer to Stream Video/Audio Contents from PC to Apple TV:
Step 1: Free Download AirPlay Sender –5KPlayer (Windows Ver.) on your PC, and then launch it.
Note: As it is not a peer-to-peer AirPlay, Apple TV and PC are required to be connected to the same WiFi network.
Step 2: Click AirPlay button on the top right corner on the interface and you will see a popup menu of AirPlay Video Receivers. Select Apple TV here.
Step 3: Drag the videos onto 5KPlayer interface and start playing; and all you need to do is to wait for your content to begin streaming.
Note: 5KPlayer can also function as an AirPlay receiver to receive audio and video streams from other AirPlay enabled devices.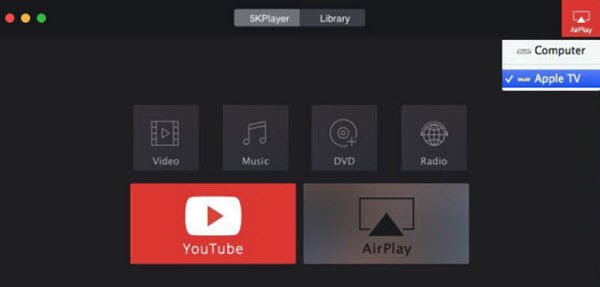 Note: Once you download AirPlay server 5KPlayer, you can enjoy the beauty of Grand Budapest Hotel on your big HDTV, and here, you will find 5KPlayer even more attractive as it allows you to download many flash movies from websites with a given URL. 5KPlayer combines online video music download with AirPlay, so that you can AirPlay music directly from Spotify and Pandora, and watch videos on YouTube/Netflix on TV.
Home | About | Contact Us | News | Privacy Policy | Agreement | Site Map
Copyright © 2023 Digiarty Software, Inc. All Rights Reserved.
5KPlayer & DearMob are brands of Digiarty Software, Inc. Any third party product names and trademarks used in this website are property of their respective owners. All the related logos and images, including but not limited to Apple's AirPlay®, Apple TV®, iPhone®, iPod®, iPad®, iTunes® and Mac® are registered trademarks of their own. Digiarty is not owned by or affiliated with Apple Inc. and any of those companies.