Netflix VR Free Download to Watch Netflix VR Movies
Written by Kaylee Wood | Last updated: April 30, 2020
TV shows on Netflix are varied, from animations to documentaries. We have Netflix TV shows list updates on a monthly basis. We also have Netflix 4K movie list update regularly. How about Netflix 3D movies? Does Netflix have 3D movies? How to find and watch Netflix 3D movies? Here is the answer.
>>37 Incredible Netflix HD Movies You Haven't Seen<<
Netflix VR app has launched on many devices, including iPhone Android and Google's Daydream platform. You can download Netflix vr app to almost any of your devices. But the thing is, you are merely invited to a VR home theater (a big living room) for watching 2D movies in a better environment rather than watching movies in VR. This is what Netflix VR app is all about for now.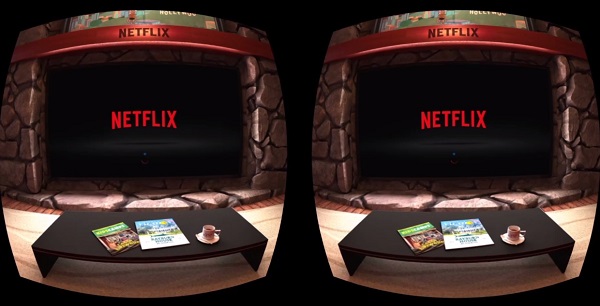 Netflix is not demonstrably excited about creating VR content so far. However, if you like, you can search and download Netflix's original show Strangers Things which is dabbled in VR in less than 2 minutes and has already created the tense and horror if you follow the instructions.
VR Movie List not on Netflix VR
ASSASSIN'S CREED in VR
NYT Mag VR
With ALIENS
Colosse Anime
Surge
Grand Canyon 360° Video by 360 Labs
Waves of Grace
The Conjuring 2 - Experience Enfield VR 360
Star Wars
11:57
Pina (2011)
Inside the Large Hadron Collider
Sonar 360
The Mission
The Alien Desert
Valen's Reef
Notes on Blindness
The Pull
The Hunger Games
Note: You can find these great VR movie videos on YouTube and free download them with the help of 5KPlayer.
In comparison with Hulu's Gear VR app with a bunch of exclusive 360 degree videos, YouTube's plan on on-demand live 360 degree videos and Amazon's intention to create vr content, Netflix's seems falling short of the par for a decent competition.
Therefore, if you expect more from Netflix VR, sadly you are not going any further with this app offering limited sources. Check some great iOS VR player apps and android VR player apps on our list if you are more interested in watching immersive VR movies and even VR games.
As one of the best 4K VR video downloader, 5KPlayer excels in 4K UHD movies download speed. With all the other download viriables controlled, 5KPlayer is 6 times faster than average online downloaders e.g. Keepvid. It also supports VR playback and streaming, which is the best one-stop solution to save and play VR movies on both Mac and Windows PC. There is no need to worry about audio or subtitle track delay, since 5KPlayer has taken those possible problems into optimization. If you are a movie fan, seeking latest leaks of hot films, like Fantastic Beasts, Star Wars, Collateral Beauty etc, 5KPlayer can make your Christmas movie wishlist come true. Download it now!
How to Download Watch VR Videos Free without Netflix VR App
Download and watch VR movie videos free instead of sticking with Netflix VR app which provides no VR movies. 5KPlayer let this happen by allowing you to download VR movies contents online free in best resolution possible.
Step 1: Click "YouTube" button on the main windows of 5KPlayer to come to the download UI.
Step 2: Copy the correct link of a VR movie from online and back to the download window of this Netflix VR movie downloader.
Step 3: Click the "Paste & Analyze URL" button.
Once the URL successfully analyzed, a detailed information strip will be displayed below the box, including a download button, a thumbnail, video format, definition ect.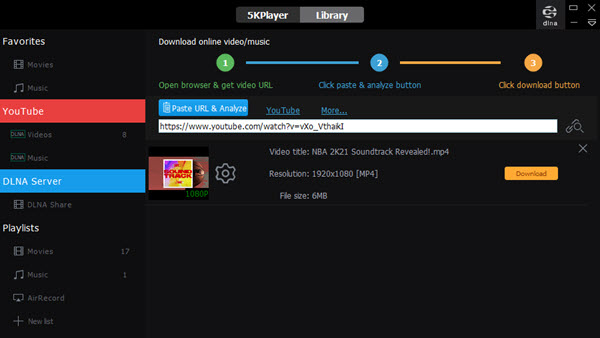 Note: Before you start to download VR movies, you can click the setting icon to select output format and resolution.
Step 4: Click the download button to start Netflix VR movie download for free.
Note: The VR video playback on 5KPlayer Windows Mac platform is not immersive. Transfer the VR content to your iPhone Android device using MediaTrans to get the effect you want.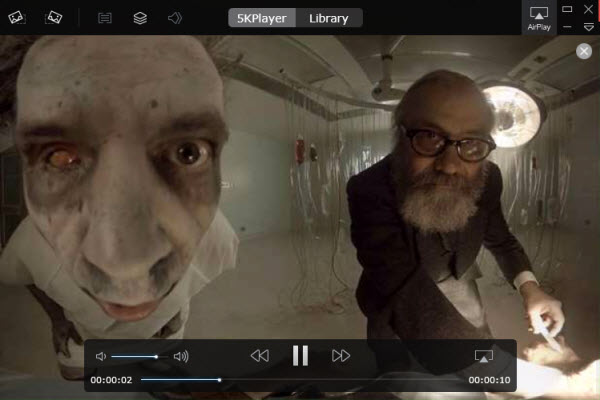 5KPlayer can take you tour in both 3D world and VR world beyond. Though Netflix VR app is not the answer to your prayers, in case that you meet any Netflix problems like Netflix won't load, or Netflix app not working problems during movie playback, 5KPlayer offers corresponding workarounds. Download 5KPlayer to enjoy VR movies without Netflix right now!
Home | About | Contact Us | News | Privacy Policy | Agreement | Site Map
Copyright © 2022 Digiarty Software, Inc. All Rights Reserved.
5KPlayer & DearMob are brands of Digiarty Software, Inc. All other products or name brands are trademarks of their respective holders. All logos, trademarks and images relating to other companies that may be contained wherein are applied in the Internet that are not used for commercial use. Digiarty's software is not developed by or affiliated with such companies.