Free Download VR Trailer 360 Degree Video Movie Clips to Watch
Written by Kaylee Wood | Last updated: April 27, 2020
When you type VR trailer in the search boxes, there are over 62,9000,000 results in Google, 3,290,000 results in Bing and 1,310,000 3D VR movie video trailers. From The Jungle Book 3D movie VR trailer to Resident Evil 7 VR game trailer and 2016 NBA All-Star Game 360-degree Reply to Victoria's Secret Fashion Show 3D VR Backstage, VR (Virtual Reality) technology, as a rising star, is surely ready to immerse into every aspect of our lives. So, if you want to get the touching and vivid experience that VR brings, you can free download VR trailer of a movie, game, TV show and any other 360 degree videos 3D VR movies listed here or from online VR video sites to enjoy.
[Warning] YouTube music & copyright-protected contents are not supported for download.
To help you fully understand what is VR and get 100% enjoyful experience from VR trailer videos, we would like to give you various 360 degree trailers videos applied in different situations, a list of VR videos sites where you can get vast VR trailer movie sources, and finally a specific way to how to download and watch 360 degree trailer 3D VR videos movies on 360° VR players and VR headsets like Google Cardboard, Oculus Rift, HTC Vive, Samsung Gear VR headset, etc.
Part 1. List of VR Trailer 360 Degree Videos Download Worthwhile
Fashion Show - Victoria's Secret 2016 Show Backstage VR 360°
Enjoy the VR 360° video from Victoria's Secret 2016 Fashion Show exclusive! You can watch the sexy VS Angels get their hair and make-up done, and get complete look at what it is like to be backstage at the hottest show of the year. VR gives you intuitive feeling about what is happening behind the scene.
Movie - Pete's Dragon 360 Degree VR Experience
After 2016 Disney movie Pete's Dragon hits theater, there are Pete's Dragon 360 degree VR trailer videos poping up. Through them, you can have the same feelings as Pete has like experience flying on Dragon Elliott. VR truly makes the 3D film more touching and real, and will surely help movie industry get to next stage.
Sports - 2016 NBA All-Star Game 360-degree Reply
Let's play ball! Intel's freeD technology helps capture every detail of 2016 NBA All-Star game that you can explore the full interactive video by switching camera locations through the VR trailer videos. The success of the VR tech applied to NBA game gives Intel confidence to debut new 360° reply in MLB All-Star Week.
Games – Star Wars Battlefront Rogue One: X-wing VR Mission
Sony PlayStation VR game trailer Star Wars Battlefront Rogue One: X-wing VR Mission is all-new mission related to Rogue One: A Star Wars Story and will immerse players in the cockpit of an X-wing to carry out an important mission for the Rebellion. Through VR, you can freely play as some of the most memorable characters in Star Wars and other classic films as well.
Part 3. How to Free Download VR Trailer 360° Videos Movies?
Now that you have known which VR trailer to download and where to download more 360° VR videos, you can refer to 5KPlayer, the professional VR videos download software and No.1 fast HD video downloader, to free download VR trailer, 360 degree trailer, 3D VR videos movies and other 4K HD 1080p MP4 MKV FLV AVI MOV 3GP etc files from 300+ sites without any hassle.
Step 1. Free download 5KPlayer, install and run it on your Mac or Windows.
Step 2. Copy the name of the VR trailer listed above and then paste it into the search box of a VR video site, then copy the URL of the 360 degree video trailer.
Step 3. Click "YouTube" icon on the main interface of 5KPlayer and then click "Paste URL & Analyze" to analyze the VR video.
Step 4. When the analyzing process is down, click "Download" button to download your VR trailer 3D 360° videos movies to enjoy.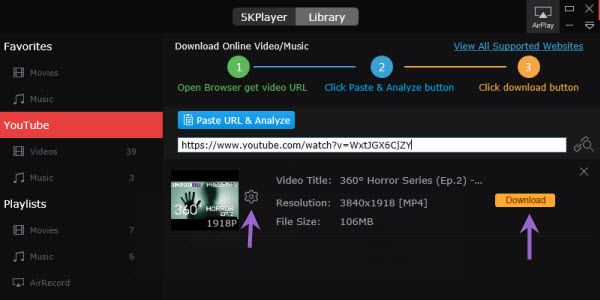 Notice. After downloading, you can simply double-click the video to play. If it is 360 video, you can click and drag your mouse to pan around the video in different directions with 5KPlayer.
Part 4. How to Watch VR Trailer 360 Degree Video Movie?
1. Play 360-degree VR Video Trailer on VR Player
Step 1. Find the 360° VR video trailer you downloaded from VR video sites.
* You can directly open the VR trailer you just downloaded in the "Videos" list on the left menu of the VR player.
* Click the "Video" icon on the main interface of 5KPlayer, choose the VR video you want to play and press open.
* "Drag and Drop" the video from your local file to the main interface of 5KPlayer.
* Set 5KPlayer as the default VR player and then double-click the VR trailer 360° video to open.
Step 2. The professional VR player will allow you to alter the screen 360° up, down, left and right either by clicking left on the mouse or using the keyboard, and you can zoom in/out using the "+", "-" keys of the keyboard as well.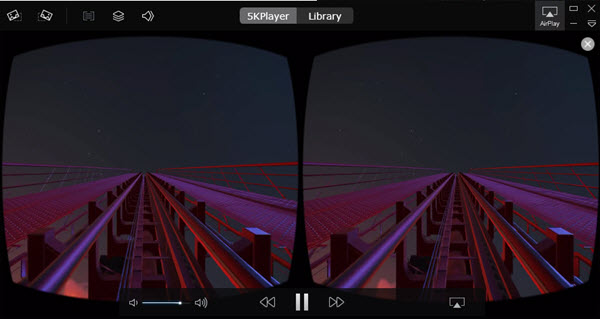 2. Watch VR Trailer 3D VR Videos Movies with VR Headsets
Another way to experience virtual reality that VR trailer 360° video brings is with an immersive VR headset that offers "look all around you" 3D vision and "hear things behind you" stereo sound. Take the first headset to market, Samsung Gear VR headset, as an example.
Step 1. To get started, insert your phone into the headset.
Step 2. Download the Within GearVR app from Oculus or Samsung Milk VR stores.
Step 3. Once in the Winthin app, download the VR trailer 360-degree videos to experience them in VR.

PS. Samsung Gear VR headset works along with certain Samsung mobile phones. There are other headsets like Sony Playstation VR headset, the Oculus Rift and the HTC Vive that will use your computer or game console as an engine.
3. Watch VR Trailer Video on iOS/Android Mobile
Now "see and hear things all around you" VR experience is also available on mobile phone as iPhone iOS and Android are shipped with VR player app. Just download the Winthin VR app for iOS iPhone or Android ->> then download individual VR trailer 360° videos ->> after hitting play, move the mobile phone around to get a "magic window" revealing the scene. Please remember to wear your headphones for realistic, stereo sound.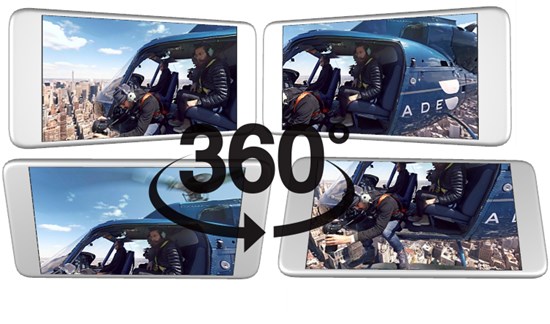 No matter you want to enjoy VR tech on mobile or headset, you need VR trailer or 360-degree videos movies to bring you into the VR world. 5KPlayer, as a powerful online video downloader, will help you download a number of VR trailers 3D VR 360° videos movies and VR games from various VR sites and convert to iPhone/iPad/Android etc compatible formats. Besides, 5KPlayer, with built-in video music playback, now has become professional VR 360 player to render 360° VR effect, and allows you to watch 360 videos on PC Mac freely.
Home | About | Contact Us | News | Privacy Policy | Agreement | Site Map
Copyright © 2023 Digiarty Software, Inc. All Rights Reserved.
5KPlayer & DearMob are brands of Digiarty Software, Inc. All other products or name brands are trademarks of their respective holders. All logos, trademarks and images relating to other companies that may be contained wherein are applied in the Internet that are not used for commercial use. Digiarty's software is not developed by or affiliated with such companies.