2018 Top 3 Ways to Watch iOS VR Video iPhone
Written by Kaylee Wood | Last updated: April 29, 2020
How to watch iOS VR video iPhone? Just like VR headsets with their independent goggles, your iPhone between 4.7 and 5.2 inches is a full-fledged device that gears to iPhone VR headsets like Zeiss VR, Google Cardboard to play VR videos.
Currently there are 3 ways to get VR video for iPhone. Downloading, as recommended, crowns them all. You can also rely on some ready-to-use iPhone VR APPs, or create your own 360 VR videos if you have a 360 camera. Let's check out a round-up of the 3 ways to get iPhone VR videos to see their pros and cons.
Part 2: Why Should I Download A VR Video iPhone?
Now that we say iPhone VR headset is a good deal compared to those pricy options like HoloLens, to some extent you get to watch VR video iPhone at a lesser ideal rate. Hence downloading is the easiest way to improve its performance.
Tell you another trick: 5KPlayer can generate you a VR-like experience even if you don't go with iPhone VR headset at this moment - But how?
You can combine iPhone VR APPs with the AirPlay Mirroring function of 5KPlayer. This is a way to share iPhone screen with PC/Mac while you watch YouTube 360 Channel through YouTube APP on iPhone (11 and before). When physically switching hold of the phone, the view that changes accordingly replicates on computer display with 5KPlayer to connect them.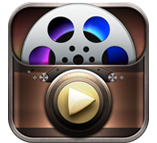 NO.2 Watch Virtual Reality with iPhone VR APPs
iPhone VR APP is another way to start exploring the virtual world without stepping out of the room. So which VR APPs provide quality iPhone VR videos?
Compared to Android VR, the total amount of APPs offering VR video iPhone is but anemic, but here are the best of them to try on even if you don't want to stump up a penny.
YouTube
VRSE
Mobile VR Station
Skydive360
Roller Coaster VR
NO. 3 Create Your Own VR Video iPhone
Sounds a bit crazy because a true 3D VR movie requires special distortion processing so as to create a panoramic view in conjunction with an iPhone VR headset.
But 360 degree videos make things much easier:
To see the difference between a 360 degree video and a 3D VR movie, visit 3D VR 5 Things You Should Know.
Though not exactly the same as VR videos iPhone. VR 360 enables you to change views of the video by holding iPhone at a different angle. But it's not nonsense that you can make a 360 VR video and USB sync it to iPhone. In order to do this, you need a 360 camera which captures steric picture "around" you. But such devices like 360 GoPro Mount, Action Camera 360fly range from $70 ~ $ 1299, you may need further studies.
The amount of VR video iPhone doesn't amount to that on Android platform backed up by Oculus Rift. But a free online video downloader helps free download VR videos, 360 videos before you transfer them into the smartphone slotted into an iPhone VR headset. Get 5KPlayer now and dive into the immersive world of 3D VR.
Home | About | Contact Us | News | Privacy Policy | Agreement | Site Map
Copyright © 2023 Digiarty Software, Inc. All Rights Reserved.
5KPlayer & DearMob are brands of Digiarty Software, Inc. All other products or name brands are trademarks of their respective holders. All logos, trademarks and images relating to other companies that may be contained wherein are applied in the Internet that are not used for commercial use. Digiarty's software is not developed by or affiliated with such companies.