VLC Media Player MP4 Contents:
1. How to Play MP4 on VLC?
2. How to Solve VLC MP4 Playback Problems (Not Playing, No Audio, No Video, etc)?
3. How to Stream MP4 via VLC Player?
4. How Use VLC to Convert Video to MP4?
5. How to Download VLC Videos to MP4?
How to Play MP4 on VLC Media Player?
Playing common MP4 files via VLC on Windows is as easy as ABC, simply choose the way below you prefer most:
1. After launching VLC media player, drag and drop the MP4 file you want to open to VLC's main interface, double-click the file and then VLC will play it immediately.
2. On the main interface of VLC, right-click to "Add File" or "Add Folder" to add the video or video list to VLC, and then choose the specific MP4 video to play.
3. Click on "Media" on the top bar of VLC media player. Click on "Open File" to choose a MP4 video to play, click on "Open Multiple Files" to add MP4 videos playlist to play one by one in VLC automatically, or alternatively click "Open Folder" to import MP4 video folders.
4. Click on "My Videos" under My Computer in the left bar, where you could find all videos on your computer have been listed here, just select the MP4 file you want to open through double-click.
The ways to play MP4 on Mac are as similar as what you do on Windows or playing MP4 with QuickTime.
How to Play MP4 URL Link on VLC?
Sometimes you may find a file looking like a URL ending with .mp4, and if the file can be found from the path, you can play it with VLC media player. Take the following mp4 links as examples, copy one of them and click on "Media" on top bar of VLC to choose "Open Network Stream" and input the URL to play. BTW, we have tested that MP4 player 5KPlayer can also play these links.
http://0.s3.envato.com/h264-video-previews/80fad324-9db4-11e3-bf3d-0050569255a8/490527.mp4
http://www.ithinknext.com/mydata/board/files/F201308021823010.mp4
How to Solve VLC MP4 Problems?
1. VLC not Playing MP4
As you can find on the official site of VLC, VLC media player plays the container format MP4 by default. However, VLC not playing MP4 files problem discussion haunts various forums but no answer. Actually, the corrupted MP4 file, the incorrect output status of VLC or the wrong video codec may cause VLC MP4 problem. Hence, we list and diagnose them all here to try to offer solutions.
* VLC can't play MP4 because the video is corrupted or fake:
This situation happens seldom, but no media player including VLC can tackle if the MP4 video itself is totally wrong.
* VLC "video output modes" is set wrong:
If you mistakenly disable the video in Video settings, you can't open any video including MP4 at all.
- Solution: Tools > Preferences > Video > check Enable video and Window decorations if they are un-clicked > Set the Output drop-down menu to X11 video output (XCB). If there is no such option, just ignore it and go on > save the changes and restart your VLC media player.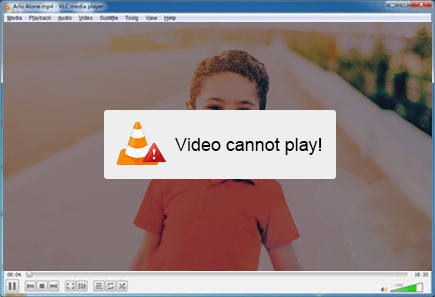 * MP4 video codec problem:
MP4 is a container video format that generally contains a number of audio, video and subtitle streams. Mostly, different MP4 files are encoded with different codecs. However, VLC is only compatible with MPEG-2, MPEG-4, MPEG-4 ASP, H.264, DivX 4/5/6, XviD, SV1, 3ivX D4 and H.264/MPEG-4 AVCMKV, AMR, WebM, WMV and MP3. So, if the MP4 file contains a VLC incompatible video codec, VLC won't play such MP4 video successfully.
- Solutions: Download VLC MP4 codec pack is the top choice of most people to redefine their VLC media player to solve VLC MP4 problems indeed, but the possible risk is that the codec downloaded from internet may conflict with other programs or influence the stabilization of the computer. Alternatively, converting the MP4 video to VLC supported format via a video converter is another good option, but you have to know that the converted file will lose some quality. Hence, trying a different MP4 player is never better.
* Limitations on hardware decoding for MP4:
Sometimes, because of too many subtitle tracks or rendering effect, it is hard for hardware decoding to accelerate and render MP4 file in VLC. Just go to Tools > Preferences, then click "Show all Settings" from the bottom left side > click on "Input/Codecs" > Video codecs > "FFmpeg" > Disable the "Hardware decoding" option. Then, restart your VLC media player and play the MP4 file again.
2. Other VLC MP4 Problems
* VLC playing MP4 audio delay:
When VLC audio delay issue happens causing MP4 audio video out of sync, you won't have a joyful viewing experience. You can use VLC Keyboard shortcut to adjust the problem or manually set the VLC audio desynchronization from the preference menu.
* VLC playing MP4, audio OK, no video:
Go to Preferences > Show settings "All" > Video > Output modules > Video output module > select one to have a reset.
* VLC playing MP4, video OK, no sound:
When VLC no sound problem happens, you should first make sure that you didn't mute your VLC player accidently. Then, make sure that your audio output mode is enabled as well. If you have checked these two situations but still find VLC MP4 no audio, you can refer to how to solve VLC no sound problem.
Actually, it is an easy and good solution to upgrade VLC to the latest version with updated codecs and improved performances. However, it is not a once-for-all workaround to solve VLC MP4 problem. Especially, when playing MP4 4K videos on VLC, VLC often freezes and gets black screen. So, another good option is to try free VLC alternative to play MP4 videos smoothly.
5KPlayer - Best Free VLC Alternative to Play MP4 Files Easily & Smoothly
5KPlayer, as a professional free MP4 player, can act as the best VLC alternative to play MP4 1080p HD 4K videos without choke. No codec pack download needed. No audio video out of sync problem. It plays MP4 videos movies as well as MKV AVI MOV WMV etc files as easy as ABC.