Top 2 Codec Pack for Windows 10 Download Free

No.1 Windows 10 Codec Pack
Download site: https://www.windows10codecpack.com/
32-bit and 64-bit version available, the Windows 10 Codec Pack is suitable for Windows Media Player 12/11/10 and any other video player compatible with DirectShow. With the help of it, your Windows Media Player on Windows 10 will support almost every compression and file type used by modern audio and video including MP4, MKV and FLV files.
Supported video codecs: x265, h.265, HEVC, 10bit x264, x264, h.264, AVCHD, AVC, DivX, XviD, MP4, MPEG, MPEG2, etc.
Just free download the video codec pack for Windows 10, and follow the guide to install it on your Windows 10 computer. For simple installation, select "Easy Installation". For advanced installation, just choose "Detailed Installation".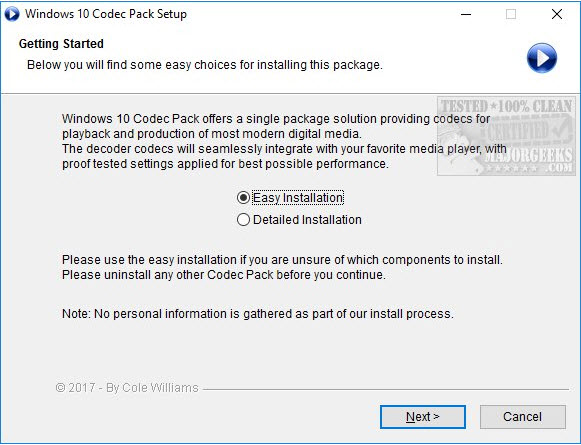 No. 2 K-Lite Codec Pack
Download site: https://codecguide.com/
Same as Windows 10 Codec Pack, this video codec pack is compatible with all the DirectShow players including Windows Media Player to allow for multimedia playback on Windows 10. It also supports Hardware accelerated decoding of common formats including MP4 MKV in 4K.
Supported video codecs: H.264, H.265/HEVC, VP8, VP9, AV1, VC1, MPEG1, MPEG2, MPEG-4, H.263, etc.
This Windows 10 video codec pack is highly recommended is also because it is updated frequently.