AV1 vs. VP9 vs. HEVC
Compared to HEVC codec, AV1 codec doesn't need any patent fees. While compared to VP9 and H.264, the coding efficiency is largely improved. Those are obvious benefits. To be detailed, based on the test from Bitmovin, current AV1 codec offers about 20% and 30% better compression rate compared to VP9 and HEVC respectively, and it is predicted that the compression rate should be 50% better. In 2018 Facebook test, AV1 achieved 34%, 46.2% and 50.3% higher data compression than libvpx-vp9, x264 high profile, and x264 main profile respectively. Besides, AOM's strong support gives AV1 a huge competitive advantage when AV1 is deployed on browsers, mobile devices, OTT, smart TVs, etc, and helping YouTube, Netflix, Amazon distribute contents more quickly. That's what other codecs can't do forever.
AV1 vs. VP9
In 2013, VP9 was brought out by Google to have the same compression rate with HEVC. Compared to H.264/AVC, VP9 is about 30% ~ 50% more efficient. When referring to AV1 vs. VP9, AV1 video codec offers 20% better compression than VP9, thereby showing similar image quality at lower data rates. For example, Netflix has tested that AV1 helps reduce Netflix data consumption by up to 20% when compared to VP9 without affecting the video quality.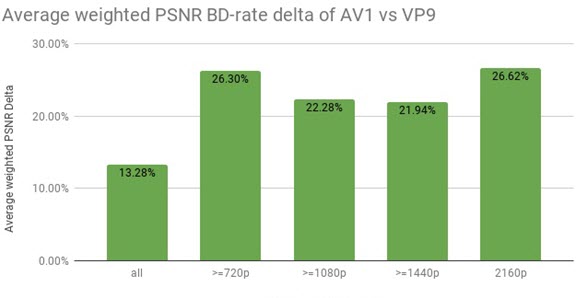 (AV1 vs. VP9 test from Bitmovin)
Successor to AVC/H.264, HEVC is a patented video codec that has uncertain licensing fees being the bad side. Nearly all the hardware clients including smart TVs, mobile phones, streaming media players, set-up boxes, game consoles and digital media storage devices, and content distributors like YouTube and Netflix have to pay much money. Specifically, the hardware clients will pay for up to $40,000,000 a year as the maximizing number to HEVC patent licensing, and the contents creators will pay for up to $5,000,000 a year as the maximizing number according to the subscriptions and content numbers. So unacceptable, right? So, the free AV1 codec is really a gift to everyone. Despite of the shortcoming, HEVC is still the only choice if you need real time encoding for a live stream now. Besides, modern GPU/CPU platforms from AMD, Nvidia, Intel, Apple, Qualcomm, etc all have hardware for HEVC decoding and there are also a lot software like HEVC player software for you to choose from.
AV1 can save up to 30%~50% in bandwidth for the same image quality in HEVC. Based on the fact, AV1 offers a really sweet performance improvement in compression for high-quality video transmission without any payment. The only disadvantage we found as of now is that the algorithms used in AV1 are a bit more advanced than HEVC, so it requires more powerful hardware and software to encode or decode.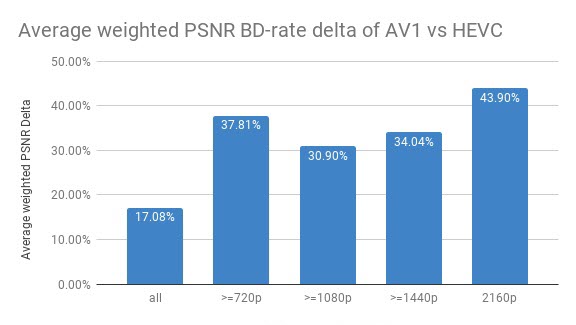 (AV1 vs. HEVC test from Bitmovin)