How to Play 360 Degrees VR Video with GOM Media Player?
Posted by Kaylee Wood | Last update: April 28, 2020
Among all 360 VR players popping up with the prevalence of VR (Virtual Reality), GOM Media Player armed with VR technology stands out among the rest to play 360 degrees VR video. Wondering how to play 360 VR 3D video with GOM Player on Windows/Mac? Here you could get the best and easiest guide.
Best, Cleanest & Fastest 4K 3D 360° VR Video Downloader – 5KPlayer
You can play 360 degrees VR video with GOM Media Player with the premise that you have one 360 VR video. And 5KPlayer can help you get unlimited 360 degree videos, 3D VR movies and 4K 360 VR videos from 300+ sites. You can also use it to download 360 VR porn, games, shows, etc without hassle. BTW, 5KPlayer now also supports 360° video playback that you can directly play the 360 videos after downloading.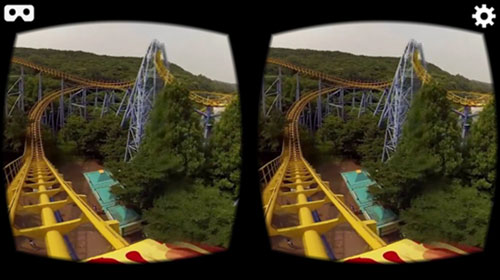 GOM Player for Mac OS Free Download ->>
How to Play 360 Degrees VR Video with GOM Media Player?
GOM Media Player is a great 360 video player capable of playing kinds of 360 VR 3D videos and other AVI, MP4, MKV, FLV, WMV, etc files as well. When playing 360 degrees VR videos, GOM Player:
* Is able to watch from up, down, left and right, 360 degree around, by just using the keyboard or mouse.
* Supports preview with side views from front, back, left and right as well as screen transition.
* Provides search and play functions for 360 YouTube videos.
Besides being the No.1 video music downloader to download 360 VR videos movies games for GOM Media Player to play, 5KPlayer spares no effort to become the No.1 free 360 VR player like GOM Player now. It is the best free video music player after VLC to play videos movies music in any format like 4K 5K 8K MKV AVI FLV DivX MP4 MP3 AAC OGG etc and can offer you a theater effect. Also, it enables you play 360 degree videos when GOM 360 is not working.
After the Preparation, Play 360 VR Video with GOM Player:
1. Open 360 VR video with GOM Media Player (Several ways avaliable).
* Click Open File, a file folder will appear. Then find the 360 VR video to play with GOM Media Player.
* Right click the VR video and then choose Open with GOM Media Player.
* After launch your GOM Media Player, drag and drop the file to the player.
* Set GOM Player as your default media player and just double-click the360 VR video.
2. Wear your headset.
3. Enjoy your 360 degree VR video time.
GOM 360 is not Working? Try 360° Video Player 5KPlayer
If your GOM Player just can't play 360 degree videos, don't worry, Maybe 5KPlayer will offer some help. As a brand-new 360 degree video player, 5KPlayer lets you play 360 videos up to 4K from all angles by clicking and dragging the mouse. It handles various 360° videos smoothly, say 360 videos downloaded from Facebook, Vimeo, etc, and 360 videos captured by 360° cameras like GoPro, Samsung Gear, Insta360, etc.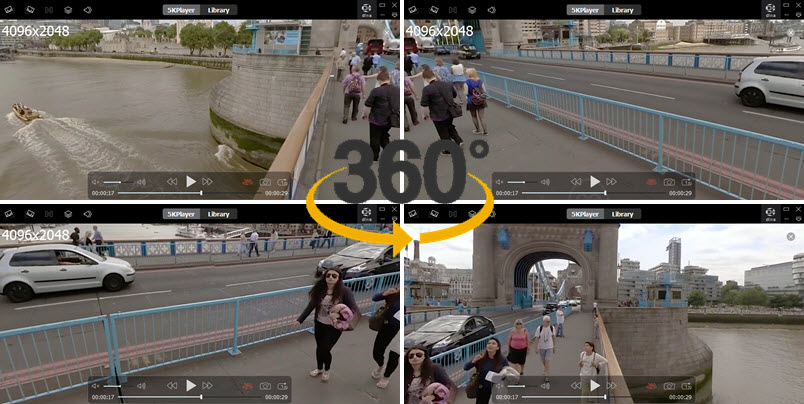 Learn What is VR (Virtual Reality)
Virtual reality is an artificial environment created with software and presented to the user in a way that the user suspends belief and accepts that he/she is in a real environment. The simplest form of VR is a 3-D image that can be explored interactively at a personal computer and the content of the images can move in some direction. VR isn't just 3D and 3D VR will make images appear real that 3D movies in VR are more realistic depth than the 3D movies you see in the theater.
Home | About | Contact Us | News | Privacy Policy | Agreement | Site Map
Copyright © 2023 Digiarty Software, Inc. All Rights Reserved.
5KPlayer & DearMob are brands of Digiarty Software, Inc. All other products or name brands are trademarks of their respective holders. All logos, trademarks and images relating to other companies that may be contained wherein are applied in the Internet that are not used for commercial use. Digiarty's software is not developed by or affiliated with such companies.