Besides some fundamental features like smooth media playback, user-friendly subtitles preference, customizable skins, etc, GOM Player Mac gets popular mainly because of its embedded codec system for automatically downloading GOM Player codec pack so that you won't have to search for codecs everytime you cannot play a video format. So, you are encouraged to download GOM Player for Mac even if it has some flaws.
GOM Player for Mac Download & Install Guide
Though most of the results are GOM Player for Windows when you search GOM Player Mac, actually some of these setups are also available for Mac. Considering the safety, we suggest you download GOM Player for Mac on the reliable download site Softonic where GOM Player Mac gets over 1800 downloads a month.
Download GOM Player for Mac: Just open Softonic site -> tap GOM Player Mac into the search box and hit enter -> here you will see a Windows download button -> move your mouse down and click Mac -> click Free Download button on the top right coner to access the real GOM Player Mac download page -> then click Free Download.
Install GOM Player on Mac: When the download finishes, a dialogue box will pop out for you to drag GOM Player Mac setup into the Application Folder.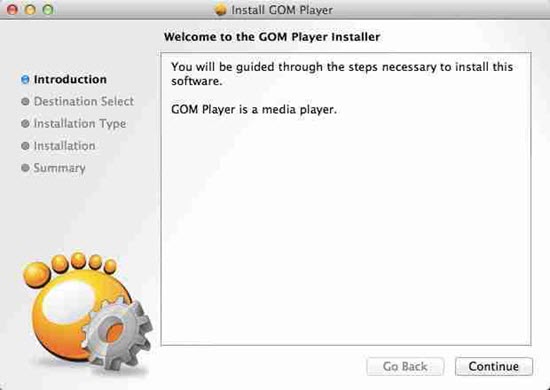 Worth mentioning, GOM Player for Mac exists for a long time but only in beta 1.0 version. So, it won't contain some new features and be very satisfying at least it won't support GOM Player 360 playback ability as on Windows. Meanwhile, you may encounter some problems as other GOM Player Mac users:
GOM Player Mac Problems:
- "Ugh.. I've downloaded and installed it yet everytime I hit stream it says "GOM player is not installed, install now?" so I click yes and re-install and the same thing happens again."
- "I am trying to run movie on GOM player for Mac, when I open the movie, GOM player name appears on top of menu bar, but no player appears."
It is not surprised that GOM Player Mac brings some troubles as it has stopped updating. It depends on your preference to uninstall it and install a GOM Player Mac alternative, say VLC, 5KPlayer, KMPlayer, etc, even though I highly suggest you to do that.