Free WMV Player – Best Solution to Play WMV Files on Mac/Windows OS
Imagine how upset you will be if you cannot open a precious WMV file (maybe a newly-released movie like Star Wars: The Force Awakens ) with your default application. Take it easy, here we will show you the best free WMV player featuring the capability of playing any WMV movies and video files on both Windows (10, 8.1, 7 and more) and Mac OS including OS X 10.11 El Capitan. WMV is natively supported by Windows but not compatible with Mac and its default media player. This WMV media player recommended here doesn't require appropriate codec, third-party plug-ins or video conversion to make WMV files playable on computers.
What Is WMV?
WMV is short for Windows Media Video, a file type able to contain video in one of several video compression formats designed by Microsoft. It aims to support playing movies and internet videos on PC computers. And its greatest advantage lies in its capability of holding content with very high compression ratios. Thus, it is able to allow large videos to be compressed while play the videos at excellent quality. It is one of the popular video file types, just like MKV, MP4, AVI and MOV. But, it's not unheard of failing to play WMV on your current media player. Good news is that when Windows users or Mac users have the difficulty in playing WMV files, an advanced WMV player called 5KPlayer can help solve this issue.
5KPlayer – Play All WMV Files Perfectly
As for a free WMV file player for Windows and Mac OS, 5KPlayer is a popular standalone free media player that allows users to play all WMV movies videos flawlessly without adhering to third-party installations. It behaves quite well on work for playing WMV media files at any video quality, and 1080P HD and 4K 5K 8K UHD are no exception. In addition to the power of playing WMV videos, 5KPlayer can also play other popular and rare video audio formats, say, MP4, AVI, MOV, MKV, MPEG, FLV, 3GP, M2TS, DivX, MP3, AAC, AC3, WMA, FLAC, AIF, etc.
How to Play WMV Files with Aforementioned Free WMV Player?
It's very easy to play WMV files with 5KPlayer. Just do it as follows.
Step 1. Download, install and launch this free WMV player.
Download the free WMV player from this page, and install it on your Windows or Mac computer. After that, you can launch it when necessary.
Step 2. Input WMV files.
Now, you can input WMV files to 5KPlayer for later playback the ways below:
* Drag and drop WMV files to the main window of 5KPlayer;
* Open WMV files by clicking "Video" in the main window, browsing your files and specifying one WMV video;
* Right click on a WMV file, scroll down to "Open with" option, and choose 5KPlayer as your target player.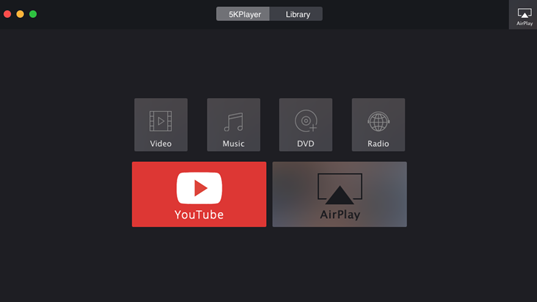 Note: 5KPlayer is not just a free WMV player. It is an all-in-one video music player available to play AVI, FLV, MP4, MOV, MKV and other video audio formats. And it is also the ultimate solution to free play HD videos and 4K/5K/8K UHD videos smoothly. It can also help play DVDs, listen to online radios like BBC, free download online videos songs from 300+ sites including YouTube, Vevo, Vimeo, DailyMotion and Facebook, and free stream video audio to Apple TV with built-in AirPlay receiver and AirPlay sender.