Top 4 Free Streaming Media Player Reviews
Posted by Kaylee Wood | Last update: April 28, 2020
Looking for a streaming media player? Which one is good in word of mouth, what extra function could be useful of a best streaming player? This review gives an A-to-Z comparison of the top 4 streaming media player software, from beginners in video streaming to advanced users can find what you need here.
What are the Top 4 Streaming Media Players?
5KPlayer absolutely ranks NO. 1 in the free streaming media player list. It does an awesome job in video streaming resolution, and has been performing magnificently with no glitches during our whole test process. One more thing this streaming media player software goes beyond expectation is that, it seamlessly supports every mainstream streaming services and every small providers, aggregating over 300 sites, not including those untested, which is, however, none of the rest three streaming media players could have ever done.

* The approach of testing streaming media players we adopted is according to: Price, Compatibility to format, Easy-to-use.
* Newly developed Wi-Fi media streaming players are not included. You can check this page later in case of updates of the top 4 streaming media player reviews.
* Physical streaming media player like Roku 2,3 and Sony streaming media player will be covered later, please explore more about video streaming from PC/Mac to Apple TV.
So Which is the Best Streaming Media Player for You?
1. Price: 5KPlayer, Divx Web Player, VLC Player are all penny-free.
2. Compatibility: DIvx Web Player dropped, video streaming format limited.
3. Easy-to-use: VLC Player is just too expert to be handy.
5KPlayer features its convenience as the best free streaming media player, with the extra bonus of video download from bunches of websites.
How to Play Video Stream with Free Best Streaming Media Player?
Instructions on how to play video stream are specified below and you can also refer to how to get NBA Games video streaming.
Step 1. Download 5KPlayer for free on your Mac/PC.
Step 2. Get the Bad Blood Taylor Swift music video from video streaming sites such as YouTube.
Note : Tap the YouTube button on the main interface of this streaming media player, paste the URL you get from the Bad Blood Taylor Swift live video streaming website.
Step 3. Choose the video stream format and resolution of Bad Blood Taylor Swift before you click download.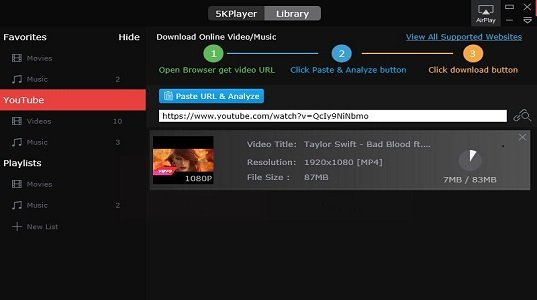 Video Streaming Services and Music Streaming Services Free Available
5KPlayer is the best free streaming media player to stream MP4, MKV, WEBM videos and MP3, AAC music, etc.
If you are currently paying for video music streaming services monthly, here's some free and cute sites for you to explore more about free online video streaming.
Tips 1: Try best video streaming services to bypass the 1-account-3-device limits for most video streaming sites.
Tips 2: Refer to the top 6 music streaming services comparison to find out about online music streaming besides Pandora and Spotify.
Related Articles
4K HDR Streaming on PC Windows 10Quickly get 4K HDR streaming services on your Windows 10 PC, TV by following our setup guide here.
Watch Coachella 2023 Live StreamWatch Coachella live stream 2023 all performances cosily at home from top best Coachella live stream channels according to complete weekend schedules.
Play RTSP Stream on Windows 10 & MacHow to play RTSP streams on Windows 10 and macOS? We list out top best free RTSP players to help you play RTSP streaming and view RTSP streams of IP cameras on Windows 10/macOS.
Home | About | Contact Us | News | Privacy Policy | Agreement | Site Map
Copyright © 2023 Digiarty Software, Inc. All Rights Reserved.
5KPlayer & DearMob are brands of Digiarty Software, Inc. All other products or name brands are trademarks of their respective holders. All logos, trademarks and images relating to other companies that may be contained wherein are applied in the Internet that are not used for commercial use. Digiarty's software is not developed by or affiliated with such companies.