How to Get Free Streaming Service to Stream Movie and Music?
Written by Kaylee Wood | Last update: June 01, 2020
To free stream online movies, you have a lot of choices such as visiting free movies streaming sites like MerDB.cn, wolowtube.co and movietube.cc, or you can download KMPlayer or VLC to watch online movies and videos streamed free. However, when it comes to free movie streaming within the home network and between devices like from iPhone to Mac or Mac to Apple TV for better visual experience, 5KPlayer is the very software you need.
How to Free Stream Movies and Videos with 5KPlayer
Looking for free movie streaming service? 5KPlayer provides the fastest and easiest free movies and video streaming services for everyone who wants to share their collections on bigger screens with better image and sound quality without the need for extra software or plug-ins. As a free video streaming player, 5KPlayer would never fail you.

Pick a Cost-Free Video Streaming Player to Free Stream Movies from Confined Little Screens
Airplay-enabled 5KPlayer can smoothly and seamlessly free stream Ultra HD movies/videos up to 4K 5K and even Full Ultra HD 8K videos without any loss in image and sound quality from iPhone/iPad to Mac and Mac to Apple TV, which means that even if you've got an 8K movie to stream, 5KPlayer can effortlessly fulfil this task.
AirPlay Delay? No Worries with This Free Video Streaming Player
Since network quality, computer condition and phone performance may cause the delay of sound and image as well as the delay of subtitle and image, 5KPlayer deals easily with this problem by using "synchronization".
Cannot install Netflix or YouTube APP on the Smart TV? To Stream via 5KPlayer to Fix
Not every smart TV allows you to install all the consume video APPs, and if you do not want to use the remote control to slowly input the name of movies and search, streaming from phone or PC to smart TV can quickly solve the problem. With 5KPlayer installed, you can break the limitation across the platform and streaming content to watch on smart TV.
Streaming Your Favorite Movies Which Are Not Available on the Device
If you only have a phone or PC that supports 1080P display, to enable 4K movie watching is impossible, and streaming it to 4K supported TV or monitor can perfectly solve the problem. Also, if you cannot find the movie you want to watch on TV but is available on PC, phone or iPad, just casting it to the device with a larger screen and higher resolution to obtain a better watching experience.
How to Stream Free Online Movie Videos on PC or Mac?
Streaming online videos and lives on YouTube, Instagram, Facebook or some other the same, follow the tutorial bellow step-by-step, and you can easily to grab the online streaming files in M3U8 and HLS format.
Step 1: Download 5KPlayer, install and launch it on your PC or Mac.
Step 2: Click on the "Live" button on the user interface.
Step 3: Copy the URL of streaming video and paste it on the blank box under "Input a URL", and click play.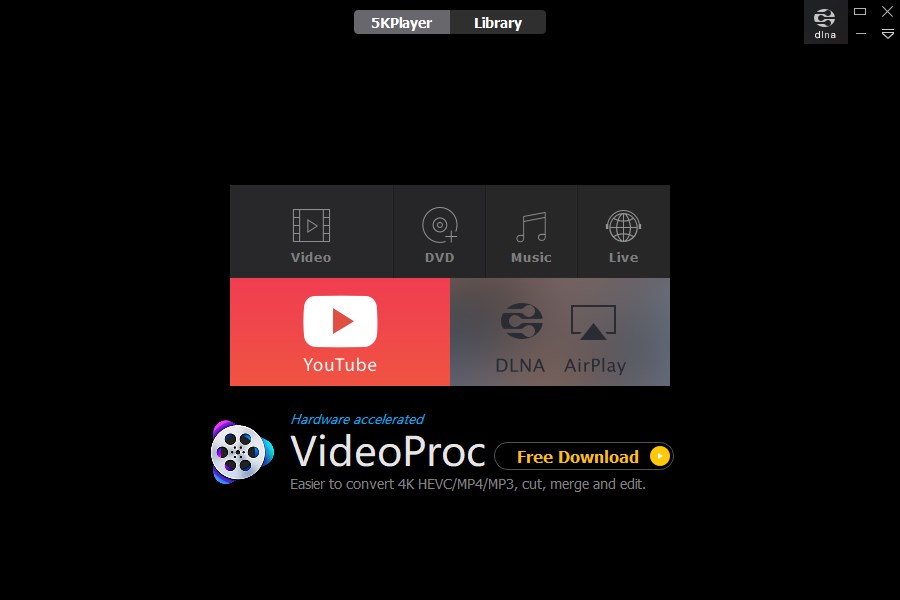 How to Realize Free Movie Streaming from Mac to Apple TV
Step 1: Download 5KPlayer and launch this free movies streaming player. Note to connect your iPhone/iPad and Mac to the same Wi-Fi network.
Step 2: Click "AirPlay" button on the top right corner on the interface and you will see a popup menu of AirPlay Video Receivers. Select Apple TV here.
Note: The AirPlay button will go red if it is enabled.
Step 3: Drag the videos onto 5KPlayer interface and start playing, then wait for your video streaming process.
Note: Before AirPlay from your Mac to Apple TV, make sure your videos are in formats supported by AirPlay (videos in MP4, M4V, MOV and music in MP3, M4A and AAC); otherwise, you may need a proper DVD video converter software for Mac OS to convert your films first.
Step 4: Play the movies, videos you want to free stream from Mac to Apple TV to start free streaming.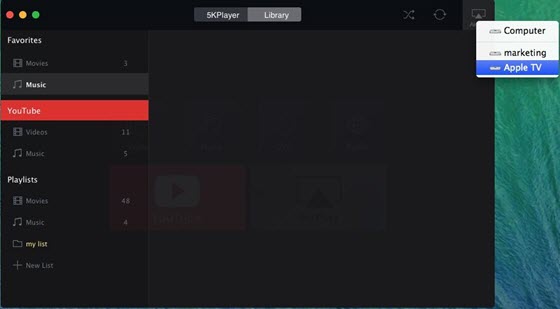 How to Stream Movies from Android Devices to Windows or Mac?
Step 1: Also, download and install 5KPlayer, launch it on your Windows or Mac. Connect your Android device and PC Mac with the same Wi-Fi network.
Step 2:  Click "DLNA AirPlay" button on the interface and go the option "DLNA service", click to turn on it.
Step 3: Back to your Android device, find "Smart Mirroring" or the streaming service named others, turn on it.
Step 4: Search and connect to your PC or Mac, then choose the video you want to stream and play.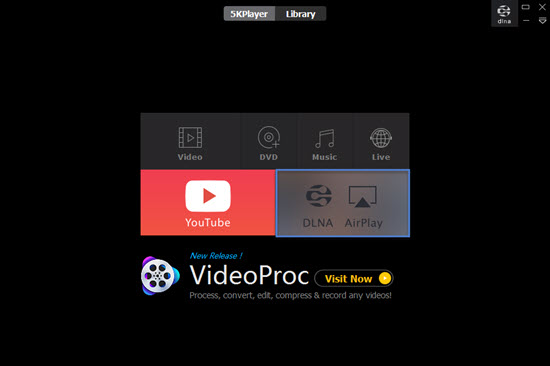 How to Free Stream Movies from iPhone/iPad to Mac
Step 1: Download and launch this free movies streaming player. Note to connect your iPhone/iPad and Mac to the same Wi-Fi network.
Step 2: Swipe up the control center of your iPhone/iPad, find "AirPlay", and then tap the "AirPlay" icon to enable AirPlay function. Select your Mac.
Step 3: Choose the videos or movies you want to stream, then the PC will start the free video streaming from iPhone/iPad to Mac.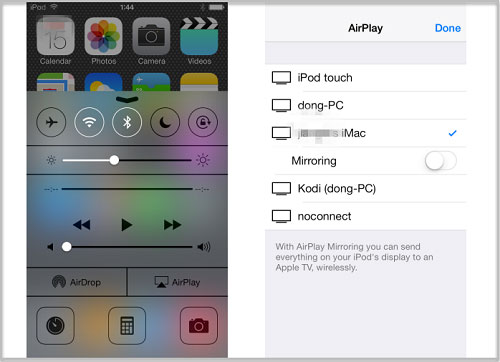 You can see that with only 5KPlayer you can meet all streaming requirements about streaming across devices, platform and online free video audio. Also, 5KPlayer Windows version for Vista/7/8/10 has also been released on April 14th, which will further enable you to free stream movies on Windows 10. With 5KPlayer installed, you can download movies and videos you want from 300+ online websites, and when you get back home from work, a movie and popcorn is ready for you to enjoy.
Related Articles
Free Stream 3D Movies to HDTVHere you could get the free film 3D streaming solution to stream 3D movies from Netflix, YouTube, VUDU, etc.
How to Watch UHD 4K Video via Apple TV?Bigger plans for Apple TV 4 without 4K streaming? How to play 4K content via Apple TV 4? Your concern is solved here.
Top 3 Ways to Watch Free Streaming Movies on iPhone iPad iPodHow to watch free streaming movies on iPhone 8/X/iPad/iPod in a free and handy way? Here you could find 3 best ways to watch free streaming movies on iPhone/iPad/iPod including download free streaming movies videos with 5KPlayer, use movie streaming apps and utilize video streaming software AirPlayit to achieve.
Home | About | Contact Us | News | Privacy Policy | Agreement | Site Map
Copyright © 2023 Digiarty Software, Inc. All Rights Reserved.
5KPlayer & DearMob are brands of Digiarty Software, Inc. Any third party product names and trademarks used in this website are property of their respective owners. All the related logos and images, including but not limited to Apple's AirPlay®, Apple TV®, iPhone®, iPod®, iPad®, iTunes® and Mac® are registered trademarks of their own. Digiarty is not owned by or affiliated with Apple Inc. and any of those companies.