5KPlayer - The Best Free Video Player for Mac to Play AVI/MKV/WMV and Almost Anything
In search of which is the right video player Mac macOS Catalina/Mojave/High Sierra for you, first think of what you need:
1. A Mac Video Player that Dominates All Video Format: MOV/MP4/AVI/M4V
A multi-purpose media player for Mac/iMac/Macbook plays pretty much every type of video. Though it may ask you to pay, yet 4K HD video playback on Mac macOS Catalina/Mojave/High Sierra, especially when you are looking for something for the iMac 4K, iMac 5K, then try a multipurpose one.
5KPlayer as the best free Mac video player in the multi-purpose category is unseenly, surprising:
>> Featuring the most extensive ever video codec macOS, this best free Mac media player can suffice as a Mac multimedia player for AVI MKV MP4 WMV MOV etc playback that blast your whole media rig from top to toe.
>> Forget about old video player for Mac when you are into 4K, 5K or even 8K video contents! Bolstering native H.264, H.265 support to live 4K videos to their highest, now you can not only download 4K movies to Mac/iMac/Macbook, play them smoothly or even stream videos to 8K TV for the best ever big screen enjoyment!
Now, why still bother with Quicktime won't play MKV? Please understand that native Mac video player usually won't carry codec support for non-Apple format, which is the exact reason you need a comprehensive third-party video player for Mac like 5KPlayer.
2. A Lightweight Video Player for Macbook Pro/Air which Runs as Smooth as Cream
A lightweight video player for Mac to suffice basic playback needs. In order not to take up too much of the CPU, Quicktime Player is also good to go.
Quicktime Player natively supports videos in MOV, MP4, M4V and music in MP3, iTunes audio. This might not be quite enough, as it insist not to access AVI, MKV, WMV. Everything would be find if you use iTunes, iMovies only for multimedia entertainment.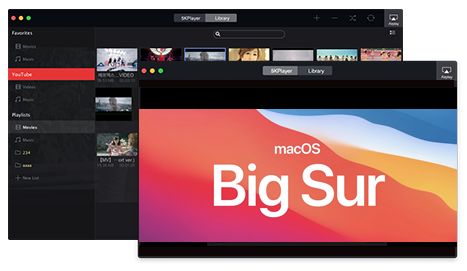 3. Ever Seen an iMac 8K Player Working? Here it is.
4K is the past tense, 5K in its prime and wait, nothing matches the iMac 8K in terms of 8K Quad UHD video entertainment.
Seas of reports on VLC for Mac, Windows Media Player and RealPlayer shut down when playing a 8K video, so what on earth does a 8K video look like?
Let this universal iMac 8K player reveal the answers:
With the uplift in resolution comes a huge demand on your computer CPU, that's exactly the reason why so many free video player for Mac won't play UHD videos. 5KPlayer gets your problem solved by ranking as the best 8K player for Windows 10 and Mac.