Best Video Player for Mac El Capitan 2016 2017 Free Download
There are dozens of video players for Mac Mini/Macbook Air/Pro, yet finding the best Mac video player is no easy thing, especially if you want it to be an all-round player to support MKV/MP4/AVI/etc as well as a good UHD 4K player. It's not advised to chase after big name videos player for Windows 10, as they don't always perform well to play videos on Mac. So which is the way out? Rather than recommending expensive videos players for Mac, this article introduces a free yet promising Mac video player -5KPlayer, just take a look at it!
An Award-winning Free Video Player for Macbook Air/Pro/iMac 5K
Alongside video players for Mac Mini/iMac/Macbook Pro/Air in the APP Store, there're tons of free video players Mac throughout the Internet. 5KPlayer as a free video player for Mac is an overachiever of them all with its list-topping performance on top 5 videos player for Mac 2016-2017. Integrated with the unseenly extensive video format support on Mac El Capitan (OS X 10.11.4 included), it's the best free video player for Mac you could ever meet!
A Best Free Video Player for Mac to Play AVI/MKV/WMV and Almost Anthing
In search of which is the right video player Mac El Capitan for you, first think of what you need:
1. A Mac Video Player that Dominates All Video Format: MOV/MP4/AVI/M4V
A multi-purpose video player for Mac/iMac/Macbook plays pretty much every type of video. Though it may ask you to pay, yet 4K HD video playback on Mac El Capitan, especially when you are looking for something for the iMac 4K, iMac 5K, then try a multipurpose one.
5KPlayer as the best free Mac video player in the multi-purpose category is unseenly, surprising:
->> Featuring the most extensive ever video codec Mac OS X, this best free Mac video player can suffice as an AVI player for Mac and a MKV player for Mac that blast your whole media rig from top to toe.
->> Forget about old video player for Mac when you are into 4K, 5K or even 8K video content! Bolstering native H.264, H.265 support to live 4K videos to their highest, now you can not only download 4K movies to Mac/iMac/Macbook, play them smoothly or even AirPlay videos to 8K TV for the best ever big screen enjoyment!
Now, why still bother with Quicktime won't play MKV? Please understand that native Mac video player usually won't carry codec support for non-Apple format, which is the exact reason you need a comprehensive third-party video player Mac.
2. A Lightweight Video Player for Macbook Pro/Air which Runs as Smooth as Cream
A lightweight video player Mac to suffice basic playback needs. In order not to take up too much of the CPU, Quicktime Player is also good to go.
Quicktime Player natively supports videos in MOV, MP4, M4V and music in MP3, iTunes audio. This might not be quite enough, as it insist not to access AVI, MKV, WMV. Everything would be find if you use iTunes, iMovies only for multimedia entertainment.
How to Play 4K HD Videos With Best Free Video Player for Mac?
Download and 5KPlayer setup, this best free M4A player handles music playback hassle-free.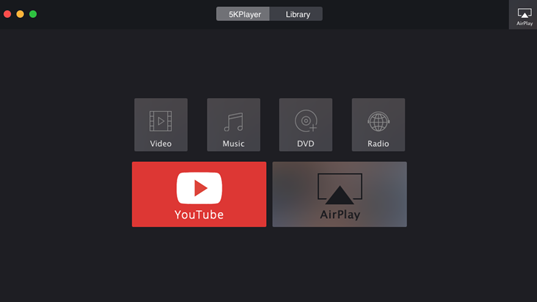 This best free video player for Mac El Capitan/Yosemite/Mavericks not only outperforms Quicktime player in terms of video codec support: it plays AVI MKV WMV which QT won't alone; furthermore it is bringing more diversity to 4H HD viewing on Mac: don't belittle your Mac video player with only iTunes music or iMovies, 5KPlayer is dishing YouTube, Veoh, Netflix and a wide variety of 1080p 4K videos online for free. Give it a go, turn your Mac/iMac/Macbook into an universal home theater hub once and for all!