6K HEVC/H.265 Video Player for 6K XDR Mac Pro
6K video is not a new concept, as RED WEAPON 6K Camera could shoot 6144x3160 videos at 75fps in 2015 and Panasonic will also release its first single lens mirrorless camera for 6K video shoot this fall. The number of 6K videos grows, and the demand for a 6K video player also raises based on the fact. So, this article will offer a versatile 6K HEVC/H.265 media player for your reference especially at the moment that Apple announces a 6K XDR display for the new Mac Pro.
5KPlayer - Free 6K video player for Mac Pro and camera/camcorder 6K video playback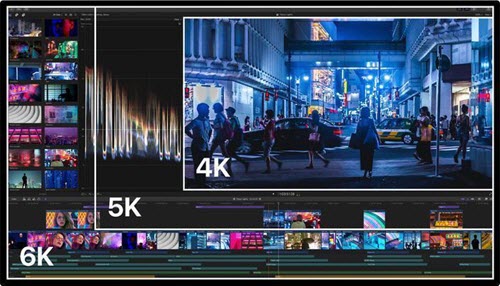 Always to be an excellent HEVC/H.265 video player, 5KPlayer handles highly compressed media files up to 4K, 5K, 6K, and even 8K. No matter 4K 60 fps recordings from GoPro or 6K shootings from 6K cameras and camcorders, it is a piece of cake for this 6K video player to digest.
5KPlayer - 6K HEVC/H.265 Video Player for Mac Pro/Windows 10 Free Download
5KPlayer is Perfectly Compatible with Mac Pro 6K XDR Display
At WWDC 2019, Apple announced a new Mac Pro with Pro Display XDR (Extreme Dynamic Range) that the resolution is up to 6K (6016x3384). The brand new 32-inch Retina 6K display has 40 percent more screen space than Apple's 5K display to give super wide viewing angles, so that more than one person can view contents on this single monitor without worrying the loss of fidelity. If you have a real 4K or 6K media player for this XDR display, you will have a unprecedentedly stunning and eye-pleasing experience. The super high color accuracy and contrast of this display will amplify the power of your 6K/4K video player to show sharp and detailed imagery 4K/6K contents.
The world's best pro display deserves the best XDR media player, and 5KPlayer is the ideal one. No matter the 2560 x 1600 MacBook Pro or the 5120 x 2880 iMac, 5KPlayer perfectly matches with them. Now, it is the turn of Apple Pro Display XDR. When playing 4K/5K/6K videos with this media player for 6K XDR display, it renders splendid effects much better than HDR, and displays the brightest brights and blackest blacks on your Mac Pro. Also, 5KPlayer has many options for aspect ratio like 4:3, 16:10 and 16:9, and the 16:9 aspect ratio will allows you to make the playback window of your 6K HEVC player perfectly match the 6K XDR display to show all details of an image.
5KPlayer is Also a 6K HEVC/H.265 Player for High-res Camera and Camcorder 6K Videos
Besides an ideal media player for 6K XDR display on Mac Pro, 5KPlayer is also highly-praised by its super performance to highly-compressed video codec decoding. It's an excellent HEVC/H.265 player to play 4K Ultra HD, 5K, 6K and 8K videos successfully.
Now more and more people have heard of 6K cameras and camcorders. In 2015, the RED had introduced a 6K camera for shooting 6144x3160 frames at 75fps. And in the fall of 2019, Panasonic Lumix S1H world's first single lens mirrorless camera will also hit the market to let you take 6K/24p (3:2 aspect ratio) and 5.9K/30p (16:9 aspect ratio) footage at will. As for camcorders, we have also heard of KineMAX 6K Camcorder and Sony 6K E-Mount Camcorder.
Now that 6K video is also a trend like 4K and 8K videos, you need 6K video player 5KPlayer to play such a video on Mac or PC with ease of mind. Not only a 6K player for Mac Pro, 5KPlayer is also a competent hardware-accelerated video player for Windows 10/8/7 for high-res media playback.
Guide: How to Play 6K Videos with 6K HEVC/H.265 Player 5KPlayer?
Notice: Before playback, you need to transfer your 6K videos to computer if they are shot with a 6K camera or camcorder.
Step 1: Get this free 6K video player.
Free download 5KPlayer, install and launch it on your computer.
Step 2: Play your 6K videos with 5KPlayer.
* You can simply drag and drop the 6K video to 5KPlayer to play.
* Click on the Video icon on the main UI of 5KPlayer, and choose a 6K video from your computer to play.
* Right-click on your 6K video, and choose "Open with 5KPlayer".
Step 3: 5KPlayer offers advanced settings for your 6K video.
When 5KPlayer is playing your 6K video, you can do some operations to your video with this 6K player like rotate the video if it is recorded in a wrong direction, adjust volume, add subtitle, speed up/slow down the video, and even cut the video in to clips.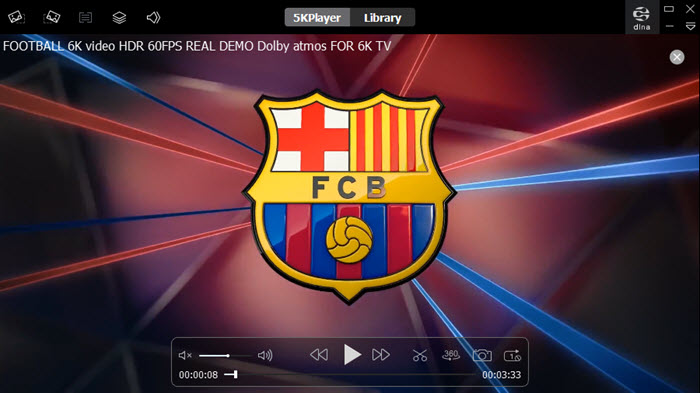 No matter the 2019 Mac Pro with 6K XDR display or the 6K camera/camcorder, they are specifically designed for professional users. To offer the best effect as much as possible especially the best image quality, they are trying to be equipped with the highest configurations. So, 5KPlayer also tries its best to be a professional 6K video player for Mac Pro, 6K camera and 6K camcorder when playing the 6K videos.
In addition to that, 5KPlayer is also an AirPlay server for AirPlay mirroring iPhone/iPad/Mac/PC, a 6K video downloader to download videos music from Facebook, Dailymotion, etc, and a DLNA server for video music streaming among Android, iPhone, computer and smart LG/Sony/Samsung TV.
Now, Free Download 6K Video Player - 5KPlayer to Play 6K HEVC/H.265 Videos!