Best Free iMac 5K player –5KPlayer for iMac Retina 5K Display
Posted by Kaylee Wood | Last update: April 28, 2020
On the most stunningly powerful iMac released yet, your experience begins with retina 5K display. iMac with retina 5K display goes way beyond HD and 4K as it can light up 14.7 million pixels with a remarkable 5,120-by-2,880-pixel resolution. Therefore, to enjoy amazing visual effect to the fullest, no matter for professional photographers, movie makers, designers, or us common picture/video viewers, it would be a must to pick on a most equivalent media player for iMac with retina 5K display. And the 5KPlayer recommended here will suit you most.
Best Free Player for iMac Retina 5K Display
It would be a shame if you've got a great iMac with 5K display yet no players of corresponding level for you to enjoy 8K/5K/4K UHD videos and movies on your iMac. 5KPlayer, with H265 codec supported and harware decoding feature, helps you build up your own private cinema.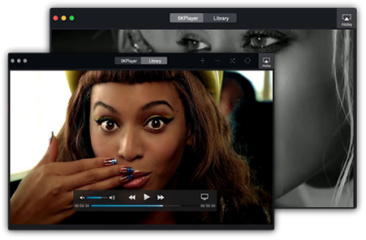 >>> Guide to 4K 8K UHD Videos Free Play/Download/AirPlay <<<
Best Free iMac 5K Player for iMac 8K, iMac 5K and iMac 4K Display
iMac with retina 5K display features in high resolution, sheer pin-point clarity, and delivering bright colors; and correspondingly, 5KPlayer accepts videos of high resolution, providing vast 8K/5K/4K video music download resources and plays those 8K/5K/4K videos smoothly and effortlessly. In the wake of this best free player installed on 5K display iMac, your visual world on screen will be more vivid than ever with incredible details just as clear as those in reality, providing you with an unparallel visual feast.
The powerful iMac 5KPlayer as its name suggests, focuses directly and mainly on playing 8K/5K/4K videos and movies of high resolution. This feature is not one of those byproducts that are added as supplements; it is the eye of this best free 8K/5K/4K player, and for iMac (retina 5K display) owners, it affects the eyes of yours too.
On top of that, Apple is recently reported to give a standalone upgrade to its display in 2016 WWDC, indicating going 5K fully this time. 5K display will no longer stuck in iMac but laptops like Macbook Air/Pro. As Apple marches on the road of promoting higher-res display coverage, 5KPlayer accompanies Apple on the journey for better visual manifestaion.
In addition to an iMac 5K player, 5KPlayer is also a great audio player offering multiple video channel modes including Stereo, RStereo, Left, Right, Dolbys. It even moonlights as a video downloader that enables you to download online videos including 8K/5K/4K movies form over 300 websites such as YouTube, Facebook, Viemo, Vevo, and the like, so that you can directly download and watch 8K/5K/4K videos from 5KPlayer on iMac. It also supports AirPlay music from third-party APPs like Spotify and Pandora and plays region DVDs remarkably well.
Home | About | Contact Us | News | Privacy Policy | Agreement | Site Map
Copyright © 2023 Digiarty Software, Inc. All Rights Reserved.
5KPlayer & DearMob are brands of Digiarty Software, Inc. All other products or name brands are trademarks of their respective holders. All logos, trademarks and images relating to other companies that may be contained wherein are applied in the Internet that are not used for commercial use. Digiarty's software is not developed by or affiliated with such companies.