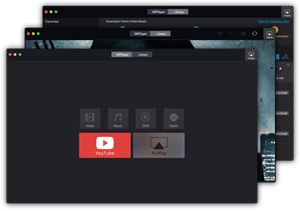 Dearmob's 5KPlayer Breaks Format Restriction to AirPlay DVD Videos
Dearmob today cooperates with Digiarty Software to comprehensively enable DVD AirPlay this Christmas, extending its attentively created DVD player –5KPlayer's ability in AirPlay encrypted DVDs on both Mac and Windows PC.
For millions of Mac users, AirPlay DVD via Mirroring is their common choice. But AirPlay mirroring requires Mac and Apple TV of the latest version without optical drives. Sounds good with the idea of purchasing an external optical drive for more than $20 for DVD playback and then Mirror the Mac screen to Apple-TV. Contents locked in a physical object and an optical drive tagged with a limited warranty period, users can't be confident that those things won't break and get obsolete. For Windows users, AirPlay DVD is also triggering their curiosity. They cannot apply Mirroring, but now they can choose 5KPlayer backed with WinX DVD Ripper to achieve DVD AirPlay on Windows 10/8.
5KPlayer freed video music AirPlay from OS cages (AirPlay Windows PC) and is going to further its renovation by breaking AirPlay format restrictions. It is known to all that AirPlay only supports videos in MP4/MOV/M4V and audio in MP3 and ACC. These can hardly be the only formats people encounter every day. Popular formats like MKV, AVI, WMV, WMA, OGG, 3GP, WebM etc are everywhere and don't forget DVD collectors with their piles of physical DVD discs. AirPlay doesn't broaden its compatibility, as it always is and always will be –implied from the fact that it is now imposing iOS9 AirPlay constraint against other third-party Apps. Then 5KPlayer will take a stand and fight for user convenience.
This is why 5KPlayer joins hands with Digiarty DVD ripper this Christmas to offer you a happy Christmas DVD ripper Gift Pack for Christmas DVD movies playback in your living room. Those who own a computer with optical drive can make the best of it to directly rip almost all DVD content to AirPlay compatible formats and beam the video to big HDTV. Once the ripping process is done, users can get a 1:1 copy of the DVD for streaming anytime they want without optical drives and encryption or region code limitations.
Digiarty's DVD ripper releases VOB videos from discs, bypassing the encryption or region code limit before 5KPlayer boosts them into air. This not only turns gigabytes of video content from fixed to flexible, but also serves as an acceptable measure to backup DVD media. Encryption in DVD discs used to be a barrier if users wanted to watch 4K DVD movies on the go, tethering the feature-rich DVD playback within yards reach. The region code barrier, on the other hand, splits DVD playback into 6 sections worldwide, making DVD user experience far from international. According to Statistic, DVD sales revenue in the United States in 2014 reached approximately 185.2 million US dollars, while subscription-base service such as Netflix and Amazon Prime Video totaled $4.02 billion, as is reported in Ibitimes. Indeed solid dics, less portable than streaming content, are seeing less popularity, yet the innovative cooperation between 5KPlayer and Digiarty's DVD Ripper are turning them much more user-friendly.
Supplying supports to DVD lovers who prefer wide-screen viewing experience, the first join-hand of DearMob and Digiarty is tentatively bridging computer DVD drives with a wireless HD display. AirPlay DVD with 5KPlayer can skip the real DVD player between them, innovatively bringing convenience to the traditional method of DVD AirPlay.