Why Can't We AirPlay DVD Files Directly?
We can simply summarize it for two reasons, one is that AirPlay does not support the DVD format and another is that copyright protection rules do not allow DVD content to be streamed.
Since AirPlay does not support DVD format files, there's no doubt that you can't directly AirPlay a DVD or any DVD file from one device to another. File format is especially required by AirPlay: MP4, M4V, MOV for videos and MP3, M4A and AAC for music.
Therefore, to AirPlay your DVD videos, you need to first convert your DVD videos into AirPlay supported formats, i.e. MP4, M4V or MOV with the help of a powerful video converter software. However, if you want to AirPlay content saved in the DVD disc, you will have to resort to a proper DVD ripper and convert it to a proper file format.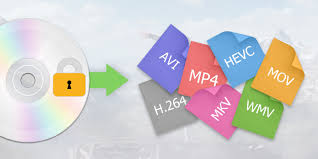 Another reason that you cannot AirPlay DVD is the copyright protection. On the one side, the default DVD player installed on MacBook doesn't support playing copyright protected or multiregional DVDs, and on the other side that the AirPlay unencrypt the video while streaming and that is in violation with Digital Right Management rules. As long as your AirPlay request hits a wall in either of these two, you cannot enable streaming DVD from Mac to Apple TV.
You may wonder whether it is illegal to decrypt the copyright protection to achieve Airplay DVD. Someone said on the forum that he moved from one country to another and took DVDs with him, he is confused that DVDs cannot be played on the region-locked DVD player, and does this mean that he has no right to watch the DVDs although he bought them?Well, the answer won't be the same if you ask different people.
To avoid clutter, the only thing we should know is that we can't say AirPlay DVD is illegal for private use, but for commercial purposes, ripping, recording and sharing the DVD content is absolutely illegal.
Why AirPlay DVD with 5KPlayer?
5KPlayer is an Airplay-enabled DVD Player application that possesses the ability to AirPlay converted DVD video/audio content of UHD format to target Airplay receivers. It keeps troubles at bay by providing fast and 100% clean service, free from virus and malware.
Besides, 5KPlayer natively supports playing multi-region and protected DVDs, you are free to play any DVD and AirPlay the playing content to Mac as you want. 5KPlayer is the best way to help you go through and tackle problems like "DVD perfectly plays on Mac but gives an error message when AirPlay" and "shows grey checkerboard pattern only", and with its powerful Hardware Acceleration tech enables AirPlay in high image quality without frames lost. It's great to see a free software with so many features to meet all your needs of video watching and to gives you a seamless experience in AirPlay DVD.