How to AirPlay DVD Videos from Mac to Apple TV?
During the exploration of AirPlay, people can encounter same problems at times just like Alan, who is really happy with his Apple TV and uses it a lot, yet doesn't know how to simply AirPlay a DVD of Star Trek episodes from Mac to Apple TV, or in a more general context, how to AirPlay DVD from Mac to Apple TV? From now on, with the 5KPlayer installed on your Mac, DVD AirPlay can easily be achieved.
Why Can't We AirPlay DVD Files Directly?
Since AirPlay does not support DVD format files, there's no doubt that you can't directly AirPlay a DVD or any DVD file from one device to another. File format is especially required by AirPlay: MP4, M4V, MOV for videos and MP3, M4A and AAC for music. Therefore, to AirPlay your DVD videos, you need to first convert your DVD videos into AirPlay supported formats, i.e. MP4, M4V or MOV with the help of a powerful video converter software. However, if you want to AirPlay content saved in the DVD disc, you will have to resort to a proper DVD ripper.
How to AirPlay DVD with 5KPlayer?
5KPlayer is an Airplay-enabled DVD Player application that can seamlessly AirPlay converted DVD video/audio content of UHD format to target Airplay receivers. It keeps troubles at bay by providing fast and 100% clean service, free from virus and malware.
How to Airplay DVD from Mac to Apple TV with 5KPlayer?
Step 1: Download this AirPlay DVD player and launch it.
Note: Airplay can only be used on the premise of both devices connecting to the same Wi-Fi network. So, make sure you have nailed it.
Step 2: Tap the AirPlay icon on the up-right corner of the main interface of 5KPlayer and select the target DVD AirPlay receiver –Apple TV, in the pop-up menu.
Note: If the button goes red, it indicates that AirPlay is successfully enabled.
Step 3: Drag and drop the converted DVD file onto 5KPlayer interface to start playing, and the display will be shown on the screen of Apple-TV connected HDTV.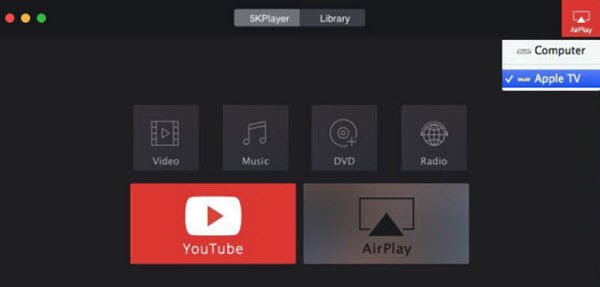 Note: There are chances that you may find the images do not match their sounds or subtitles when AirPlay DVD videos on Apple TV. Don't panic! AirPlay can suffer unexpected delays due to many invisible factors. In this case, 5KPlayer can help you tackle AirPlay video delay by synchronizing those tracks on the powerful right click.
5KPlayer also allows you to stream 4K movies easily and edit your video clips like rotating video display if your movie is recorded in portrait mode and de-interlace videos to get rid of saw tooth type edge distortion.
Home | About | Contact Us | News | Privacy Policy | Site Map
Copyright © 2017 DearMob, Inc. All Rights Reserved.
AirPlay®, iPod®, iPhone®, iPad®, iTunes® and Mac® are trademarks of Apple Inc., registered in the U.S. and other countries. DearMob's 5KPlayer is not developed by or affiliated with Apple Inc.