Content:
1. AirPlay vs AirPlay 2 vs DLNA >
2. How to Use AirPlay 2 on iPhone iOS 11.4 >
3. Your Android AirPlay 2 Equivalent >
AirPlay vs AirPlay 2 vs DLNA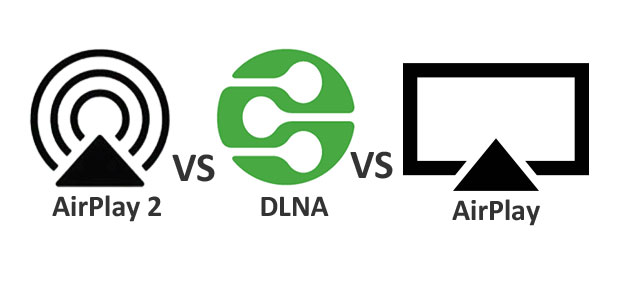 1. AirPlay vs AirPlay 2
The major difference between AirPlay and AirPlay 2 is that the latter introduces a killer feature for audio streaming - offering multi-room audio, which means that you can play back different songs in different rooms with multiple speakers simultaneously. Users can also easily control each AirPlay 2 receiver devices from the control center as a central wireless controller. As for streaming videos, the two AirPlay versions are basically the same - one-on-one device video streaming for bigger screen enjoyment. AirPlay only wins over AirPlay 2 at supporting older device models.
Verdict: AirPlay 2.0 is an obvious upgrade on AirPlay 1.0, but if your devices are incompatible with AirPlay 2 protocol, none of the advantages matters.
2. AirPlay 2 vs DLNA
DLNA provides wider device support and freedom for video audio streaming than AirPlay 2 for Android and other none Apple devices. For a long time already, DLNA server utility can let users play back different songs and movies in different rooms with multiple devices simultaneously. DLNA server utility turns your PC into a media server so that stored songs, movies can be accessed from different speaker, mobile devices and TV sets. Yet AirPlay 2 can only realize the audio part. A lot of DLNA supported speakers, clients, renderers including AT&T, Broadcom, CableLabs, Cisco, Comcast, DIRECTV, Dolby Laboratories, DTS, Ericsson, HP, Huawei, Intel, LG, Microsoft, Motorola, Nokia, Panasonic, Samsung, Sharp, Sony, Technicolor, Toshiba, Verizon, have support for this protocol and are not restricted to Apple ecosystem. The only defect of DLNA streaming compared to AirPlay 2 is that the former cannot simultaneously control all the connected devices at one go.
Verdict: AirPlay 2 cannot compete with DLNA over different video simultaneous streaming.
How to Use AirPlay 2 on iPhone iOS 11.4 to Stream Audio?
To use AirPlay 2 you will have to meet three requirements, i.e. an iOS 11.4 iPhone/iPad device + an AirPlay 2 speaker + same WIFI connection. When the AirPlay 2 sender and receivers connected the same WIFI network, your iOS 11.4 device will auto-detect all the receivers for audio streaming.
Step 1: AirPlay 2 supported iPhone/iPad & Apple TV models: Since AriPlay 2 rolls out with iOS 11.4 release for iPhone/iPad Apple hi-fi users to enjoy a more stable and better wireless audio streaming quality. Therefore, as usual, AirPlay 2 is only privileged to Apple iOS holders.
However, do remember that iDevices including only the iPhone 5S, iPad Air, and iPad mini 2 can update to iOS 11.4. And the iPhone 5 and 5C, as well as iPad 4 and the very first iPad mini, are not supported by iOS 11.4. Also note that Apple TV when running tvOS 11.4 (4th & 5th gen) can receive AirPlay 2 protocol. This might rule out a lot old iPhone users to enjoy new AirPlay 2 new features.
Step 2: As for AirPlay 2 compatible speakers, Apple Home App has already presented us with twenty-three AirPlay 2 speaker/receiver models, from its own Apple HomePod to third party speakers including Beoplay/BeoSound, Denon, Libratone, Marantz, Naim, Sonos.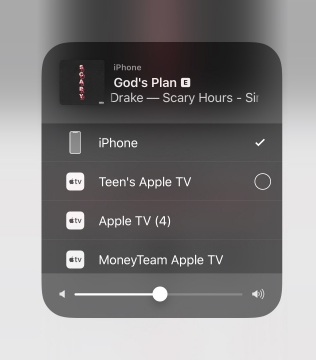 Step 3: With AirPlay 2 sender and AirPlay 2 audio receiver at hand, provided that they both connected the same WIFI network, you can start using AirPlay 2 to stream music songs from iOS 11.4 devices to target speakers simultaneously and control them separately.
Just open the AirPlay 2 speakers and go search those speaker from your iPhone/iPad iOS 11.4 devices. Tap to connect them all for audio streaming via AirPlay 2 for multiple rooms.