[Solved] Apple TV 4 unable to join a network/having difficulty finding a Wi-Fi network.
If this is the first time you connect a computer to Apple TV, chances are that AirPlay is not enabled for your brand-new set-top box. To solve, please proceed and check: Settings > AirPlay to make sure the feature is turned on.
[Solved] Computer connecting to Apple TV, playing video no audio/audio no video.
If you're experiencing problems when the AirPlay icon of 5KPlayer indicates normal, but simply there's video no audio, or the image somehow goes wrong on the display, mainly there are 2 reasons:
First, the HDMI cable connecting your computer and Apple TV is loosely coupled, thus landing weak signals sending from Apple TV box to the display.
Second, resolution setting of this set-top box isn't appropriate. To fix, please manually visit "Settings > Audio and Video > Resolution" to toggle switch it into "Auto", or the very specific resolution of your HDTV.
[Solved] Computer to TV connection successful, but audio and video out of sync.
Audio and video out of sync during AirPlay is a frequent problem, with the classy movie images unable to match the lines, the lag in connection can easily drive you nuts.
Luckily, you can fix it like this:
Step 1: Open up a video you're about to stream to the PC-connected Apple TV, start playing it with 5KPlayer.
Step 2: Right-click on the playback area, go for "synchronization", which takes you to a functional panel that fixs audio and video out of sync.
Step 3: Adjust according to your specific connection delay, and apply the settings.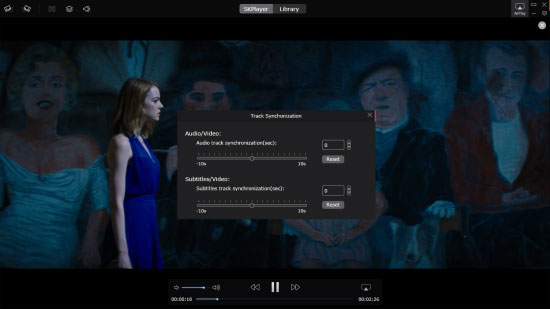 Note: Audio and video out of sync during even after your successfullt connect computer to TV may to blame the poor network environment, that being said, once you disconnect the 2 devices, better reset the synchronizations back to normal with 5KPlayer.