Part 1: How to Play iPhone 7 on TV with USB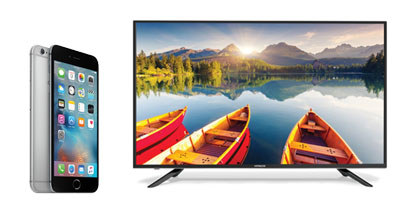 A bit of fuss may come with playing iPhone 7 on TV with USB, which also means you won't be receiving messages or checking Twitter feeds when the very iPhone is connected to TV. However, it's indeed the most economic option if you're thinking of playing videos, movies that's downloaded to iPhone 7/6s/6 Plus on TV, or directly stream iPhone's native APPs to TV - starting from $7 per HDMI-VGA cable for TV, aided by a $5.98 Apple digital AV adapter, and you're good to go with videos kept under iPhone's iMovie, Video, or Home Cinema APP.
What do you need to set up and play iPhone 7 on TV? Must are 2 cables of appropriate length, which you can get from Amazon easily. Here's what they look like so you can follow and buy the right cables, and then learn the right way to deal with the plugs and slots in order to play iPhone 7 on TV.
Cable 1 would be Apple's A/V digital adapter, with the lighting end plugged to your iPhone's slot, the HDMI end is saved for cable 2, which is an HDMI-VGA cable or HDMI-HDMI one, depending on the models of your TV sets; When you get the right HDMI cable, with one end connected to the aforementioned A/V adapter, the other helps you connect iPhone to TV so that signals from iPhone 7 so that signals from iPhone 7 will be sent to an HDTV screen easily.
So let's see how you're going to play iPhone 7 on TV through detailed steps in this way:
Step 1: Connect one end of the the Apple AV adapter to iPhone 7/6s/6 Plus, the other to your HDMI-HDMI/HDMI-VGA cable.
Step 2: Into the TV's HDMI/VGA slot, plug the very cable you have to play iPhone 7 on TV.
Step 3: Switch TV input source to "HDMI signal" or "VGA signal", and then you can start playing iPhone videos on TV.
Tips: There'll be a few debug steps involved even after the appropriate connections, but choosing the right cables means half the success of playing iPhone 7 (Plus) on TV with USB, so be mindful of choosing the right cables.
Pros: Most economic option to play iPhone on TV.
Cons: Tethered to inch-wide space when playing iPhone on TV.
Part 2: Play iPhone 7 on TV Wireless/AirPlay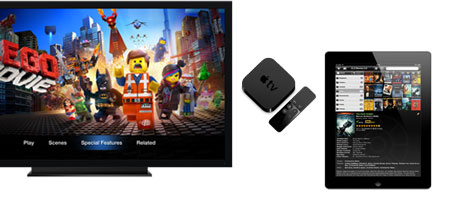 If you possesses more than one iPhone models, chances are that you already have learned about Apple's native wireless streaming technology to play iPhone on TV, which is called AirPlay. Activated under the control center of your iPhone, this technology connects your iPhone/iPad/iPod to an HDTV via Apple's set-top box called Apple TV. Playing iPhone on TV through AirPlay is by no means money-saving, in that the latest Apple TV 4 may cost you $69.99 or higher, yet the price isn't only for an iPhone to TV connecting channel, it offers much more novel-hunting APPs, options and exclusive TV programs that you won't find elsewhere.
That being said, playing iPhone 7 on TV with AirPlay after connecting the cell phone and TV with Apple TV box as an intermediary is extremely suitable for those who considering more at-home entertaining programs on TV, or would like to collect every Apple products so as to establish an entire home AV system. Now take a look at how to play iPhone 7 on TV wireless:
Step 1: After successfully setting up your HDTV with Apple TV box, connect it to the same Wi-Fi as your iPhone.
Step 2: Turn TV input source as "HDMI signal" with Apple TV remote.
Step 3: Then call out the control center of your iPhone 7 (Plus) iOS 10, tap AirPlay to get your Apple TV name in the AirPlay target, choose to connect, which enables you to beam whatever on iPhone 7 screen to Apple TV under wireless connection.
Pros: Least chances of incompatibility; Built-in AirPlay support already available from a handful of big name iOS video APPs, like YouTube, TED, HULU, etc, which enables to you stream iPhone content to TV without the lengthy downloading.
Cons: Playing iPhone on TV performance may be hindered by Wi-Fi quality.