AirPlay New Age! Video/Music AirPlay iMac 4k 5K
Written by Kaylee Wood | Last update: April 28, 2020
Apple iMac with Retina 5K screen stepped up to the plate with its best ever display effect in Apple history, with iMac 4K sufficing another group of demand as well. 27-inch and 5120×2880 screen with a PPI of 218 — written specs already speak for themselves — but far yet to convey the actual user experience of film-viewing and AirPlay iMac 4K 5K. If video display quality on high definition screen is your serious concern, this iMac 4K 5K Retina AirPlay is a must-buy.
iMac 4K 5K is Coming Soon, Now Free Trial AirPlay iMac 4K!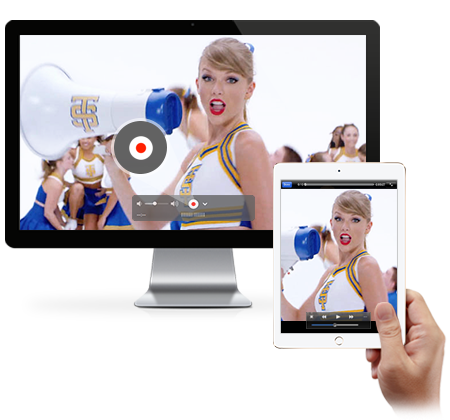 AirPlay to iMac 5K 4K from iPhone/iPad/iPod enables you to stream any media files on the iOS devices to iMac 5K without occupying the storage. With both the impressive screen and 5K/4K video resources, a sophisticated media player could ensure your the fidelity of HD streaming from iPhone/iPad/iPod to iMac 4K 5K screen. 5KPlayer really gives most users ample muscle for even 5K iMac AirPlay at full resolution.
Obtain More 4K 5K UHD Movies on iMac 4K 5K AirPlay
The new iMac 4K 5K display is impressive besides its ability to push pixels. The 3.5GHz quad-core Intel Core i5 CPU really boosts your efficiency in online video downloading. 5KPlayer has taken into account the continuity in 5K video downloading, viewing, and AirPlay on iMac 4K 5K display. You no longer have to mutilate downloading, importing, and creating play list which only adds to trouble. Easy shortcuts on 5KPlayer interface enables you to playback and AirPlay 5K/4K videos immediately after downloading from Facebook and other online resources.
Two Steps to Use AirPlay on iMac 4k 5K
Download 5KPlayer, install and launch it on your iMac with 5K display. The whole AirPlay process occupies no storage of iMac 4K 5K even with most compute-intensive playback tasks. Nothing can match HD video enjoyment with iMac 5K with 5KPlayer.
Step 1: Connect iPhone/iPad/iPod and iMac Retina 5K for AirPlay
* Please check through the General > Settings > Network on your iPhone/iPad/iPod to see if they are connected to the same Wi-Fi with the iMac Retina 5K.
* Slide from the bottom of the iPhone/iPod/iPad screen to call up the Control Center, tap AirPlay and choose to connect with iMac 4K 5K.
* Note: This tutorial on how to solve AirPlay not working provides a straightforward guide on troubleshooting AirPlay not working error all on your own in case.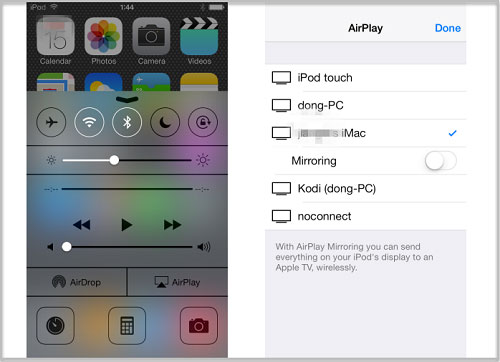 Step 2: Choose the video file for AirPlay on iMac Retina 5K
* Tap the 5K/4K video files on your iOS devices to AirPlay to iMac 5K
* You could perform the same AirPlay task when viewing films on iPhone/iPod/iPad on YouTube, Vimeo, Vivo through browsers. Please simply put the YouTube film in full screen display,tap the AirPlay icon to AirPlay YouTube.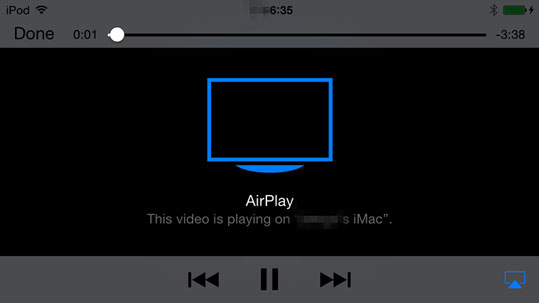 Note: Resolution is never high enough for enthusiasts, and so does the sound quality. iMac Retina 5K, iMac 4K AirPlay function will be enhanced in agility if equipped with 5KPlayer. This AirPlay integrated player is really the thing if you are expecting a weekend home theatre with iMac Retina 5k display the video, and home stereo amplifying the audio. Please refer to how to use iMac Retina 5K as the Wi-Fi audio sender.
Home | About | Contact Us | News | Privacy Policy | Agreement | Site Map
Copyright © 2023 Digiarty Software, Inc. All Rights Reserved.
5KPlayer & DearMob are brands of Digiarty Software, Inc. Any third party product names and trademarks used in this website are property of their respective owners. All the related logos and images, including but not limited to Apple's AirPlay®, Apple TV®, iPhone®, iPod®, iPad®, iTunes® and Mac® are registered trademarks of their own. Digiarty is not owned by or affiliated with Apple Inc. and any of those companies.