YouTube Error 503? How to Fix it on Computer/Android/iPhone?
Written by Amanda
Is there message "There was a problem with the network [503]" or "An error occurred, please try again later" when trying to access youtube.com? If your answer is yes, you are encountering YouTube error 503 service unavailable issue. That is to say, when Google's server breaks down, you will find you are stuck on "YouTube 503 service unavailable" and can't login, upload or watch contents. However, this error is no that terrifying, it can be fixed easily.
What is YouTube Error 503 >>
How to Solve YouTube Error 503 >>
What is YouTube Error 503?
YouTube error 503 message means "service unavailable". Generally, the error happens when the site's server is simply not available for now or when the server is overloaded and cannot handle the high volume of traffic. It can happen in any browser and operating system on any iPhone, Android phone, tablet and computer with possible 503 error message showing "An error has occured", "Playback error. Tap to retry", "Connection to server lost", "This video is unavailable" or "Something went wrong. Tap to Retry". The YouTube 503 error is usually associated with a temporary condition, but this bad service issue can also get worse. The most terrible condition is the one happening on Oct 16, 2018 that lets YouTube suffer a very serious outage and get down over one hour.
By the way, YouTube error 500 is a similar error caused by server not working and often happens along with error 503 when YouTube is down. Compared to YouTube 503 service unavailable error, YouTube 500 error is an internal sever issue that happens unexpectedly at most times.
How to Fix YouTube Error 503 Server Issue?
Sometimes, you may find that error 503 YouTube doesn't happen to all users at the same time, probably YouTube in England works well while gets down with error code 503 in the United States. Under such condition, it is possible that there is something wrong with your end. You can follow the solutions here to see if they work. Besides, not only YouTube, you could see error 503 in various forms on different platforms especially on popular and high-traffic websites. So, hope these workarounds could help.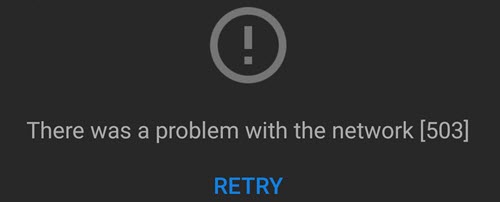 Method 1. Refresh YouTube Video Pages.
As the YouTube error 503 is often a temporary issue that caused by a sudden overwhelming traffic, often the case that you can get everything back after a refresh.
1. Right-click the YouTube page -> hit Refresh
2. Press "F5" or "Ctrl +F5" on the keyboard to refresh the webpage.
3. Just click the refresh icon the top left corner of the webpage to reload this page.
4. Try the Back/Forward buttons to get through YouTube 503 server issue.
Method 2. Check the Network
When YouTube error 503 server issue happens, there is often a "There was a problem with the network [503]" message reminding you of that there must something wrong with the network. Though this is most the server fault of the YouTube website, it is not bad to make sure your network is strong.
Method 3. Restart Router, Computer or Device
Maybe there's an issue with the DNS server configurations on your router or computer, just a restart may solve this issue.
Method 4. Wait for Official Support
If you have tried these methods but nothing works, this means it is a problem of YouTube website. You can do nothing but just wait the support team to fix YouTube error 503 service issue.
Method 5. Probably YouTube Videos Download in Advance is Better
When YouTube error 503 happening making YouTube services unavailable, often the case that you can do nothing but wait for YouTube's self-recovery. What if you want to watch an educational video for study or just follow up hot TV episodes, but YouTube service is unavailable for minutes and even hours? Maybe downloading YouTube videos to offline computer is a better choice to prevent YouTube 503 server issue under special condition.
Therefore, best free YouTube video downloader 5KPlayer is here to offer help. Any YouTube videos you find on YouTube can be analyzed and downloaded one by one or in batch as playlist. Without quality loss, you can even convert YouTube video to MP3 if the audio track is catching. Besides, you can also use 5KPlayer to play video music in HD and DLNA stream to multiple devices.
Home | About | Contact Us | News | Privacy Policy | Agreement | Site Map
Copyright © 2019 DearMob, Inc. All Rights Reserved.
Any third party product names and trademarks used in this website are property of their respective owners. All the related logos and images, including but not limited to Apple's AirPlay®, Apple TV®, iPhone®, iPod®, iPad®, iTunes® and Mac® are registered trademarks of their own. DearMob, Inc. is not owned by or affiliated with Apple Inc. and any of those companies.