How to Fix YouTube 500 Internal Server Error 2022?
Written by Kaylee Wood | Last updated: May 06, 2020
Oops! YouTube videos not playing just happened showing you an error message "500 Internal Server Error" when you headed to YouTube.com or tried to open a YouTube video? What is YouTube 500 Internal Server Error? How to fix YouTube error code 500? This guide will tell you everything about YouTube error 500 plus a video downloader to free download videos to watch offline without annoying server errors.
[Warning] YouTube music & copyright-protected contents are not supported for download.
What is YouTube Error 500?
When YouTube server is down, often the case that you will be presented with a warning "500 Internal Server Error", and will see a message saying "A team of highly trained monkeys has been dipatched to deal with this situation" followed by a long string of text. YouTube error 500 is a server-side error like YouTube error 503 of YouTube itself and its "host" servers, meaning that the problem probably isn't with your computer or Internet connection. Commonly, there is no need for you to worry about your computer or mobile devices, but just wait for the recovery of YouTube. But, if you indeed want to check out whether you can fix YouTube 500 Internal Server Error causing YouTube down by yourself or not, you can read on.
How to Fix YouTube Error 500 2022?
You may discover that the YouTube site didn't appear to be broken for all users at the same time, probably YouTube in England works well while gets error code 500 in America. Under such circumstance, it is possible that there is something wrong with your end. You can follow this checklist to see if it works for your YouTube error code 500 problem.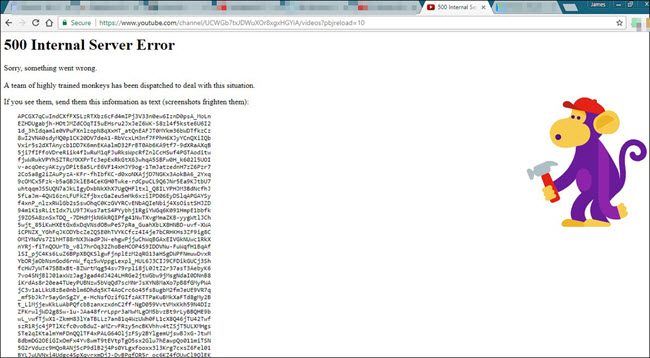 Method 1. Wait Patiently
When YouTube error 500 happens, operators of the web server site will locate, analyze and fix this error automatically and quickly. What you should do is to wait seconds and then open the YouTube site again.
Method 2. Refresh the YouTube Website
1. Right-click the YouTube page -> hit Refresh
2. Press "F5" or "Ctrl +F5" on the keyboard to refresh the webpage.
3. Just click the refresh icon the top left corner of the webpage to reload this page.
4. Try the Back/Forward buttons to get through YouTube error 500 issue.
Method 3. Remove Your Browser Cookies/History or Delete the Cache
1. Chrome: Click Settings -> Show advanced settings -> Clear browsing data -> check "Browsing history", "Cookies and other site and plugin", "Saved Password", "Cached images and files", etc.
2. Firefox: Click Settings -> Clear Private Data -> Clear Private Data section -> Cookies/Cache -> tap the Clear Private Data button -> click OK.
3. Microsoft Edge: Settings -> Clear browsing data -> Cookies/saved website data/Cached data and files -> click Clear button.
4. Internet Explorer: Settings -> Internet options-> General tab -> Browsing history/Temporary Internet files and website files -> Delete.
5. Safari: Click Privacy section of Preferences -> then under the Cookies and other website data section -> click or tap Remove All Website Data… to delete all the cookies, or choose Details... to delete website-specific cookies. Clearing the cache is done via the Develop menu. You can just tap or click Develop and then Empty Caches.
6. Opera: Click Settings -> Clear browsing data -> check Cookies and other site data/Cached images and files –> Yes.
After doing that, restart your browser and try to open YouTube again to see if this method works for YouTube 500 Internal Server Error.
Related Articles
Is YouTube Kids Website Down? Find Reasons & Solutions Hereyoutubekids.com website is down currently? Try to find out what causes YouTube Kids down error here and get solutions to prevent the youtubekids.com not working problem in the future.
How to Tackle YouTube 4K Video Problems[Solved]Watching YouTube 4K videos online can be really annoying since an array of problems will emerge now and then. This article will help you solve those 4K YouTube video playback troubles by suggesting you a great 2160p video downloader.
Home | About | Contact Us | News | Privacy Policy | Agreement | Site Map
Copyright © 2022 Digiarty Software, Inc. All Rights Reserved.
5KPlayer & DearMob are brands of Digiarty Software, Inc. All other products or name brands are trademarks of their respective holders. All logos, trademarks and images relating to other companies that may be contained wherein are applied in the Internet that are not used for commercial use. Digiarty's software is not developed by or affiliated with such companies.