How to Fix YouTube 500 Internal Server Error 2019?
Written by Christina
Oops! YouTube videos not playing just happened showing you an error message "500 Internal Server Error" when you headed to YouTube.com or tried to open a YouTube video? What is YouTube 500 Internal Server Error? How to fix YouTube error code 500? This guide will tell you everything about YouTube error 500 plus a YouTube video downloader to free download YouTube videos to watch offline without annoying server errors.
How to Watch YouTube Videos without YouTube Server Error 500?
YouTube error 500 2019 reminds you that you are unable to use YouTube now. How to watch YouTube videos at the moment? Downloading and saving YouTube videos with a YouTube video downloader on your Mac or Windows computer in advance would be the best choice when YouTube is not available. Any funny and precious YouTube videos can be collected without worrying YouTube error 500 and the deletion by the authors.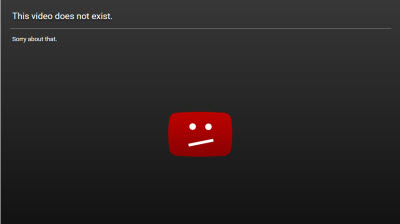 What is YouTube Error 500?
When YouTube server is down, often the case that you will be presented with a warning "500 Internal Server Error", and will see a message saying "A team of highly trained monkeys has been dipatched to deal with this situation" followed by a long string of text. YouTube error 500 is a server-side error like YouTube error 503 of YouTube itself and its "host" servers, meaning that the problem probably isn't with your computer or Internet connection. Commonly, there is no need for you to worry about your computer or mobile devices, but just wait for the recovery of YouTube. But, if you indeed want to check out whether you can fix YouTube 500 Internal Server Error causing YouTube down by yourself or not, you can read on.
How to Fix YouTube Error 500 2019?
You may discover that the YouTube site didn't appear to be broken for all users at the same time, probably YouTube in England works well while gets error code 500 in America. Under such circumstance, it is possible that there is something wrong with your end. You can follow this checklist to see if it works for your YouTube error code 500 problem.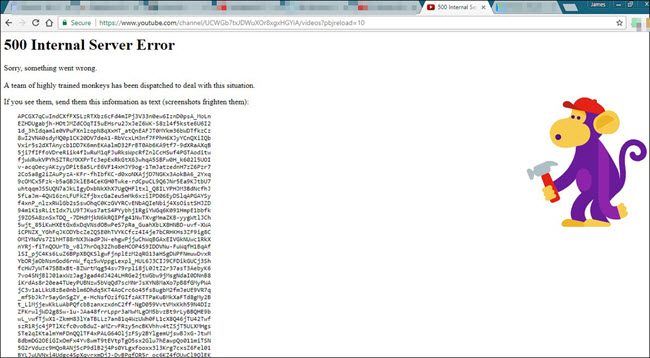 Method 1. Wait Patiently
When YouTube error 500 happens, operators of the web server site will locate, analyze and fix this error automatically and quickly. What you should do is to wait seconds and then open the YouTube site again.
Method 2. Refresh the YouTube Website
1. Right-click the YouTube page -> hit Refresh
2. Press "F5" or "Ctrl +F5" on the keyboard to refresh the webpage.
3. Just click the refresh icon the top left corner of the webpage to reload this page.
4. Try the Back/Forward buttons to get through YouTube error 500 issue.
Method 3. Remove Your Browser Cookies/History or Delete the Cache
1. Chrome: Click Settings -> Show advanced settings -> Clear browsing data -> check "Browsing history", "Cookies and other site and plugin", "Saved Password", "Cached images and files", etc.
2. Firefox: Click Settings -> Clear Private Data -> Clear Private Data section -> Cookies/Cache -> tap the Clear Private Data button -> click OK.
3. Microsoft Edge: Settings -> Clear browsing data -> Cookies/saved website data/Cached data and files -> click Clear button.
4. Internet Explorer: Settings -> Internet options-> General tab -> Browsing history/Temporary Internet files and website files -> Delete.
5. Safari: Click Privacy section of Preferences -> then under the Cookies and other website data section -> click or tap Remove All Website Data… to delete all the cookies, or choose Details... to delete website-specific cookies. Clearing the cache is done via the Develop menu. You can just tap or click Develop and then Empty Caches.
6. Opera: Click Settings -> Clear browsing data -> check Cookies and other site data/Cached images and files –> Yes.
After doing that, restart your browser and try to open YouTube again to see if this method works for YouTube 500 Internal Server Error.
How to Watch YouTube Videos without YouTube Error Code 500?
Since a 500 Internal Server Error is generated by the website you are visiting, you could see it in any browser and operating system on your computer and even iPhone/Android phones. To help you get rid of YouTube 500 Internal Server Error forever, we suggest you to use 5KPlayer to free download YouTube videos movies to save on your computer or phones to enjoy offline.
Step 1: Free Download YouTube video downloader 5KPlayer, install and launch it on your computer.
Step 2: Find a YouTube video that you want to watch when the YouTube.com is not involving in YouTube 500 Internal Server Error, and then copy the video URL.
Step 3: Click YouTube icon on the main UI of 5KPlayer to access to the donwload window, and then hit "Paste URL & Analyze" button to start analying the video URL.
Step 4: After the analyzing process, you can click "Download" button to free download YouTube videos.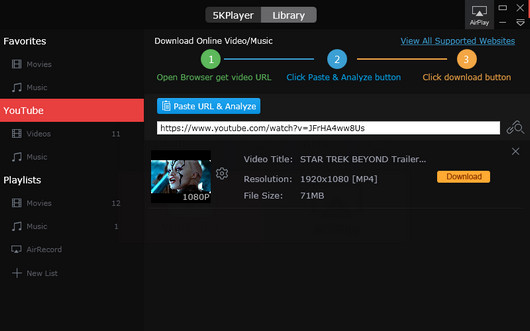 Note: If you want to download YouTube playlist videos, you can copy the video list URL and then paste it into 5KPlayer. 5KPlayer will automatically handle them and then download them in batch quickly.
Besides YouTube 500 Internal Server Error, common YouTube errors like YouTube error 404, YouTube error 410, YouTube error 501, etc will depress your YouTube playing experience. To make you enjoy YouTube videos without restrictions, 5KPlayer is here to help you free download YouTube videos to PC/Mac/mobile phones and play it with high quality. If you prefer watch YouTube videos on TV, 5KPlayer will act as an AirPlay server to stream videos music to Apple TV wirelessly.
Home | About | Contact Us | News | Privacy Policy | Agreement | Site Map
Copyright © 2019 DearMob, Inc. All Rights Reserved.
Any third party product names and trademarks used in this website are property of their respective owners. All the related logos and images, including but not limited to Apple's AirPlay®, Apple TV®, iPhone®, iPod®, iPad®, iTunes® and Mac® are registered trademarks of their own. DearMob, Inc. is not owned by or affiliated with Apple Inc. and any of those companies.