YouTube Down Errors You May Encounter and Solutions
1. 500 Internal Server Error
You may see the 500 error code when try to head to YouTube.com or open a YouTube video. The error message shows "500 Internal Server Error Sorry, something went wrong. A team of highly trained monkeys has been dispatched to deal with this situation." YouTube error 500 is a server-side error of YouTube itself and its "host" servers, meaning that YouTube itself is the ringleader of YouTube down error and you can do nothing but wait for the recovery of YouTube.
How to solve this YouTube down error: 1. Wait patiently as operators of the web server site will locate, analyze and fix this error automatically and quickly. 2. Refresh the YouTube website. 3. Remove your browser cookies/history or delete the cache and then restart your browser and try to open YouTube again.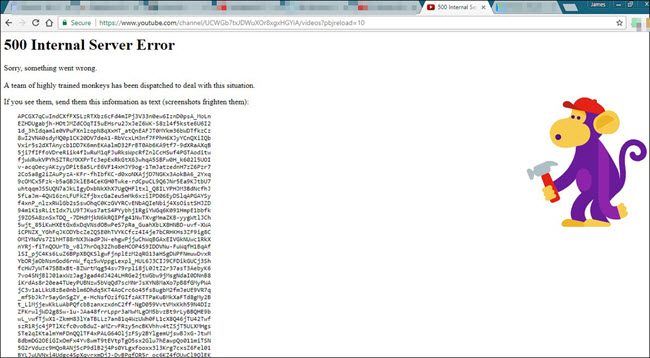 2. Network Error 503
YouTube down code 503 is one of the common YouTube errors mostly reported by users. YouTube error 503 is a common server side error for Android-based YouTube app users. Not only YouTube, you could see error 503 in various forms especially on popular, high-traffic websites: When the number of visitors to YouTube exceeds its server load, you'll receive a message YouTube error 503.
How to fix YouTube down error 503: 1. Just wait the page out as YouTube error 503 occurs because the server is overwhelmed by increased traffic. 2. Retry the YouTube URL by clicking Refresh/pressing F5. 3. Restart your router, and then your Android phone. 4. Contact YouTube directly for help.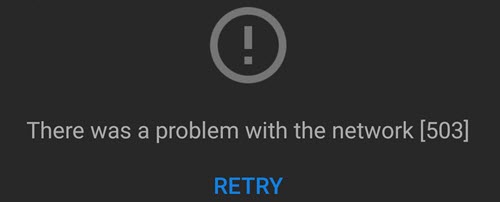 3. Total Blank Screen on YouTube Site
Caused by the YouTube down error, there is totally no video or button you can click on YouTube.com. It's happening both on Firefox and Chrome. Maybe you have try to reload the page several times to make the video title or channel display, but in vain.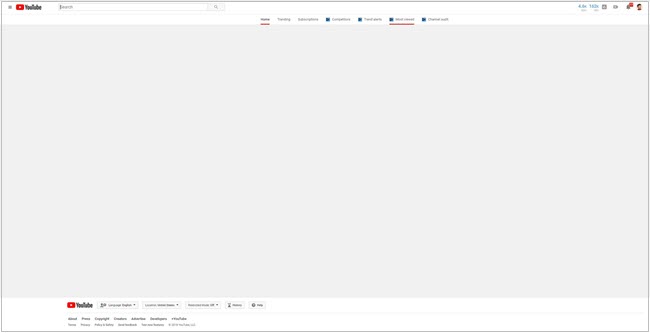 4. "Invalid response received" Error
This error happens when YouTube is down as well as during using the YouTube. Someones had responded: "I hit the home button after watching a video and all it said was "invalid response received" instead of giving me recommendations.", "I cannot upload any videos on YouTube. I always get the error "The server has returned an invalid response". I have tried differend computers, browser and video codecs (*.avi, *.mp4, etc...), but nothing helps." and "I tried to go to my channel and it says invalid response recieved so i tried refreshing the page,Turning my phone off, Signing off and signing back in and none of it worked so can someone plzzz help me out." Those confusions totally shows how frequently this error happens and YouTube will get down anytime. Besides waiting for the official support, maybe you can try to delete your cache and cookies of browser and then refresh YouTube.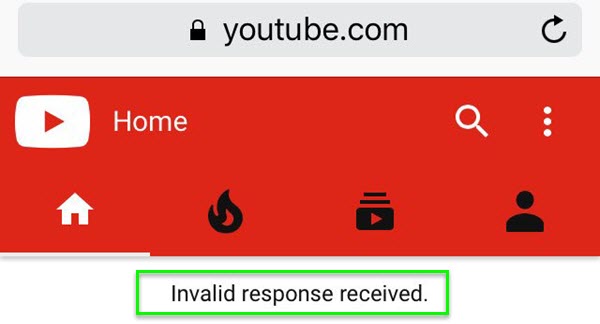 5. A Blank, Black Screen When Loading a Video
This is YouTube error happens most because of various reasons besides YouTube server down. For example, when browsing YouTube videos under poor network, YouTube video playback window may get black. The outdated Adobe Flash Player/JavaScript also cause YouTube black screen. Videos you are watching may contain illegal and unhealthy contents. To solve these kinds of YouTube down errors respectively, Google it and you will be offered various effective workarounds.