Is youtubekids.com Down? How to Fix youtubekids.com Error?
Written by Kaylee Wood | Last updated: April 27, 2020
Is youtubekids.com down error happening currently making it inconvenient for your child to enjoy the service? youtubekids.com not working temporarily is not really a big problem for your kid as you may wish that she/he can stay away from the screen for a while. But if your kid is studying something useful on YouTube Kids website, you may want it to recover as soon as possible.
Based on YouTube down errors, this article will try to explain the possible reasons like error 500 and 503 and offer solutions to solve youtubekids website down error.
Why Is youtubekids.com Website not Working Now?
On August 29, 2019, Google had announced that YouTube Kids on the web was already live at www.youtubekids.com. However, the imminent launch was quietly closed and the opening time is still unconfirmed. It didn't get popular because it had violated U.S. children's privacy laws, COPPA by collecting data under the age of 13 for ads purposes.
YouTube is trying hard to settle the problem, and we assure youtubekids.com website will come back soon. Besides the privacy problem causing youtubekids.com down problem, there may be some other errors you need to fix.
youtubekids.com Down Errors You May Encounter and Solutions
1. 500 Internal Server Error
YouTube error 500 is a server-side error of YouTube itself and its "host" servers, meaning that YouTube itself is the ringleader of the YouTube down error. If the youtubekids.com uses the same server of youtube.com, you may receive the 500 error message "500 Internal Server Error Sorry, something went wrong. A team of highly trained monkeys has been dispatched to deal with this situation" when youtubekids.com is down. If YouTube Kids website uses a different one, the error code and error message may be different. Whatever, when that happens, you can do nothing but wait for the recovery of youtubekids.com
How to solve this youtubekids.com not working error: 1. Wait patiently as operators of the website server will locate, analyze and fix this error automatically and quickly. 2. Refresh the YouTube Kids website. 3. Remove your browser cookies/history or delete the cache and then restart your browser and try to open youtubekids.com again.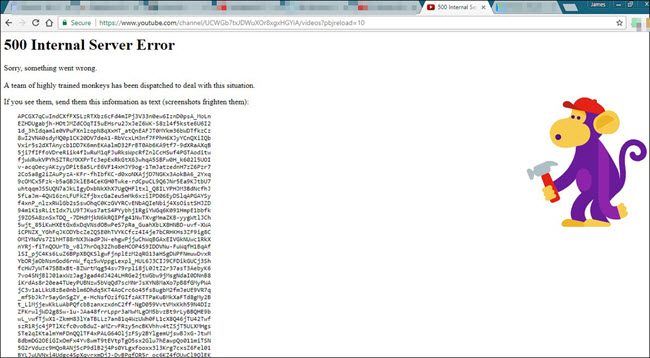 2. Network Error 503
Error 503 typically occurs on Android platforms, but it also appears frequently on popular and high-traffic websites. Without doubt, youtubekids.com website will be one of them. When the number of visitors to youtubekids.com exceeds its server load, you will see the youtubekids.com down 503 error message.
How to fix YouTube Kids website down error 503: 1. Just wait the page out as youtubekids.com error 503 occurs because the server is overwhelmed by increased traffic. 2. Retry the youtubekids.com URL by clicking Refresh/pressing F5. 3. Contact YouTube Kids support directly for help.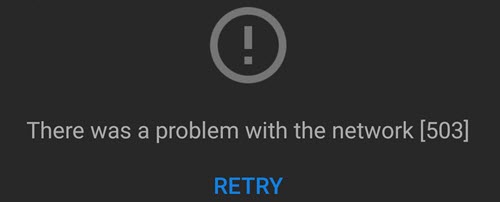 Home | About | Contact Us | News | Privacy Policy | Agreement | Site Map
Copyright © 2023 Digiarty Software, Inc. All Rights Reserved.
5KPlayer & DearMob are brands of Digiarty Software, Inc. All other products or name brands are trademarks of their respective holders. All logos, trademarks and images relating to other companies that may be contained wherein are applied in the Internet that are not used for commercial use. Digiarty's software is not developed by or affiliated with such companies.