Why VLC Media Player Is Not Safe?
Though VLC is an open source media player that everybody including the unkind has the chance to redefine it, VLC download from the official site is commonly clean without extra elements. However, it is hard to say your VLC is perfect and safe enough.
Recently, German Cybersecurity Agency Identifies Critical Flaw in VLC Media Player
From Neowin news on July 20, 2019, German Cybersecurity Agency, CERT-Bund, has recently discovered the exploit that may allow attackers to not only execute code remotely but also allows for unauthorized disclosure of information, unauthorized modification of files and disruption of service. (Read more: https://www.neowin.net/news/german-cybersecurity-agency-identifies-critical-flaw-in-vlc-media-player)
VLC from 3rd-party Download Site May Be not Safe
Whichever software you download from third-party or unauthorized sites, it may encounter security issues. It is often the case that the unknown sites will utilize VLC reputation to advertise, and even worse they make the software malicious. Therefore, you'd better not download VLC media player from such sites.
VLC is not Safe Because of Vulnerabilities
VideoLAN had reported that there were several vulnerabilities in the program in the past. Though these vulnerabilities were caused by bugs and not dangerous in themselves, they provided a possible opportunity for malicious files to damage normal media files and attack the computer. For example, VideoLAN had reported VLC vulnerabilities involving WAV audio files and CD audio tracks, which may be one of the reasons to VLC audio delay problem. Though VLC developers has tried their best to improve VLC media player, it is hard to avoid every vulnerability perfectly.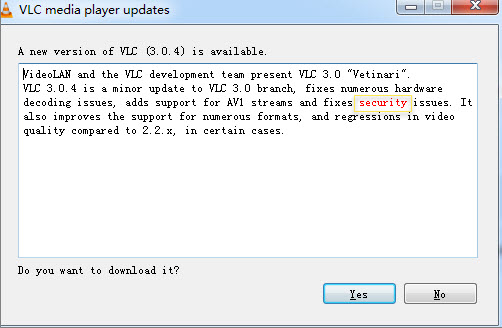 VLC May Download Hacker's Subtitles
No matter the security issue of VLC first reported with the 0.8.6d version in 2008 when there was buffer overflow exploited by mail intended individuals while loading a subtitle file, or the one reported in 2017 that VLC user has downloaded malicious subtitles which helps hacker to remote control the computer, smartphone, tablet or smart TV by manipulating the subtitle text files, it tells us that VLC is no that safe. Obviously, this is not the fault of VLC media player, but this causes the security issue of VLC indeed.