Is VLC Media Player Safe? How to Fix VLC Security Vulnerability?
Written by Amanda
Is VLC safe for Mac or Windows 10? You may have heard that it's safe and also heard it's malicious. Sadly, VLC is not safe at least in old versions. That has been proved by the VLC 3.0.4 update log which has highlighted the security issues to tell you the truth that VLC media player is not safe. Well, never mind, nothing is perfect. Now that you know the truth, you may wonder what security issues annoy and how to solve "VLC is not safe".
VLC Isn't Safe? Try Best and Secure VLC Media Player Alternative
100% green and safe, no malware and virus, DearMob's 5KPlayer is the best free VLC alternative Mac/Windows 10 for you to play 4K HD MP4 MKV MP3 etc files, download convert online videos and DLNA stream video music to multiple platforms.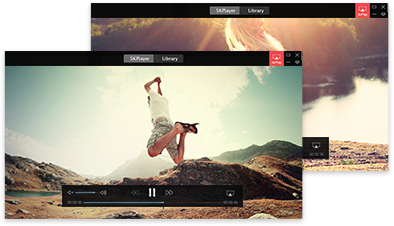 Why VLC Media Player Is Not Safe?
Though VLC is an open source media player that everybody including the unkind has the chance to redefine it, VLC download from the official site is 100% clean without extra elements. However, it is hard to say your VLC is perfect and safe enough.
VLC from 3rd-party Download Site May Be not Safe
Whichever software you download from third-party or unauthorized sites, it may encounter security issues. It is often the case that the unknown sites will utilize VLC reputation to advertise, and even worse they make the software malicious. Therefore, you'd better not download VLC media player from such sites.
VLC Has Vulnerabilities
VideoLAN had reported that there were several vulnerabilities in the program in the past. Though these vulnerabilities were caused by bugs and not dangerous in themselves, they provided a possible opportunity for malicious files to damage normal media files and attack the computer. For example, VideoLAN had reported VLC vulnerabilities involving WAV audio files and CD audio tracks, which may be one of the reasons to VLC audio delay problem. Though VLC developers has tried their best to improve VLC media player, it is hard to avoid every vulnerability perfectly.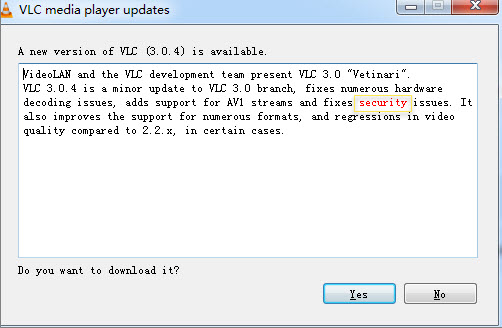 VLC May Download Hacker's Subtitles
No matter the security issue of VLC first reported with the 0.8.6d version in 2008 when there was buffer overflow exploited by mail intended individuals while loading a subtitle file, or the one reported in 2017 that VLC user has downloaded malicious subtitles which helps hacker to remote control the computer, smartphone, tablet or smart TV by manipulating the subtitle text files, it tells us that VLC is no that safe. Obviously, this is not the fault of VLC media player, but this causes the security issue of VLC indeed.
How to Solve the "VLC is not Safe" Problem?
1. Download VLC Media Player from the official site or authorized site at the first step, please. Still worry? You can have a test for the downloaded VLC with anti-virus and anti-malware programs or services to check if the downloaded VLC software is safe enough to install on your device.
2. Upgrading your VLC to the latest version is the best and easiest choice, of course. VLC has claimed that version 3.0.4 has fixed the security issues along with the fix of hardware decoding issue, support for AVI stream and improve the compatibility with numerous formats.
3. Try VLC media player alternative to prevent VLC not safe issue. Here, we recommend 5KPlayer as the best free VLC alternative that is safe for Mac/Windows 10 as well as accurate for HD 4K media playback. It is completely free and supports almost all files formats like VLC without the need of downloading additional codecs. Also, this VLC alternative supports DLNA streaming, online media download and convert, and add subtitles to videos movies.
Home | About | Contact Us | News | Privacy Policy | Agreement | Site Map
Copyright © 2019 DearMob, Inc. All Rights Reserved.
Any third party product names and trademarks used in this website are property of their respective owners. All the related logos and images, including but not limited to Apple's AirPlay®, Apple TV®, iPhone®, iPod®, iPad®, iTunes® and Mac® are registered trademarks of their own. DearMob, Inc. is not owned by or affiliated with Apple Inc. and any of those companies.