4 Confirmed Media Players for Windows 11 Free Download
Posted by Kaylee Wood | Last update: October 01, 2021 | 3 Min Read
As Windows 11 beta version has been ready for fans to download, many media player developers have added Windows 11 support to their products to welcome the release of Windows 11's official build on October 05, 2021. After ransacking the Internet, we found there are only 4 media players as of this article being confirmed to support Windows 11 OS. So, this page will introduce them to you including the default new one from Microsoft named Media Player (possible).
No.1: Media Player – New Official Microsoft Media Player for Windows 11
Though it is still private to Windows users, some beady-eyed users found this brand-new media player designed for Windows 11. From the leaked screenshot, we can assure that Microsoft is working on a new media player for Windows 11 possibly named Media Player. Or, maybe it is the replacement for the Movies & TV app. You can also notice some new media control configurations in the screenshot, including shuffle and navigation between tracks.
So, how to get this official media player for Windows 11 computer? Once Windows 11 public version is available on October 5, you are welcomed to try this new Microsoft Media Player by default.
News about new Media Player for Windows 11: https://www.techradar.com/news/microsoft-accidentally-shows-off-a-new-media-player-for-windows-11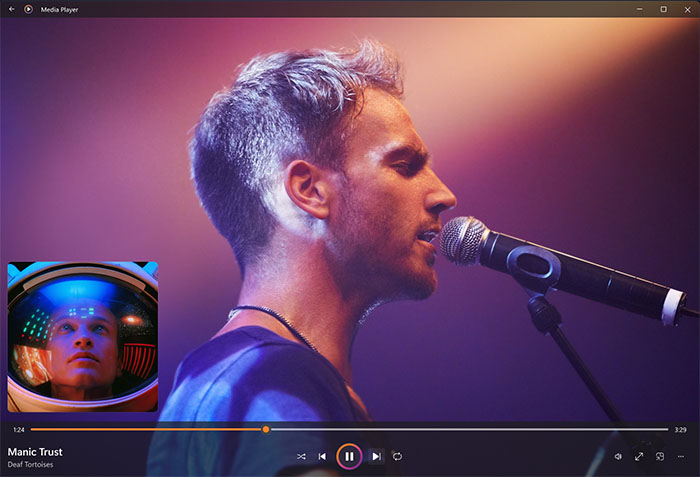 No.2: VLC Media Player – First Open-source Media Player Adding Windows 11 Support
Even earlier than Microsoft official media player, VLC media player had allowed users to experience great media playback performance on Windows 11. Lots of users said that VLC was gorgeous on Windows 11 PC due to Snap Layouts and brand-new UI. If you are interested in it, you can free download VLC Win32 app in Windows 11 Store to get this excellent Windows 11 media player.
As the most popular open-source media player with over 37 billion downloads, you can always trust it to help play multiple media files. And now, new and improved features will also make you Whoa, including new digital TV tuner, audio CD player, file transcoder, etc.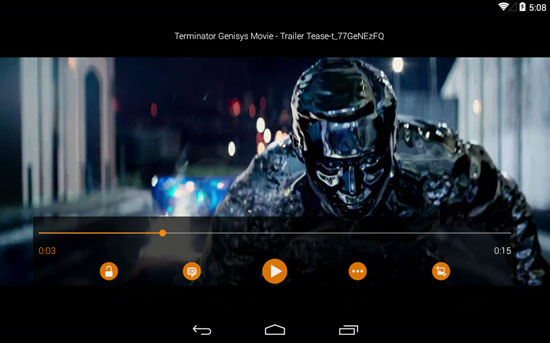 No.3: 5KPlayer – Best Third-party Media Player for Windows 11
Tailor made for 4K videos, 5KPlayer from Digiarty Software, Inc. (DearMob) is a great 4K video player that can play any common MP4, MKV, AVI, WMV, etc. videos and large H.264/HDR/AV1/ 360° files up to 4K and 8K. Powered by Intel QSV, DXVA, AMD and Nvidia Cuda GPU acceleration, 5KPlayer shows superfast performance while remaining highest quality.
More than a Windows 11 media player, 5KPlayer is also highly praised by its bonus features including DVD playback, AirPlay screen mirroring iPhone iPad, DLNA stream media and online files download. No fee needed, anyone can free download it on its official site.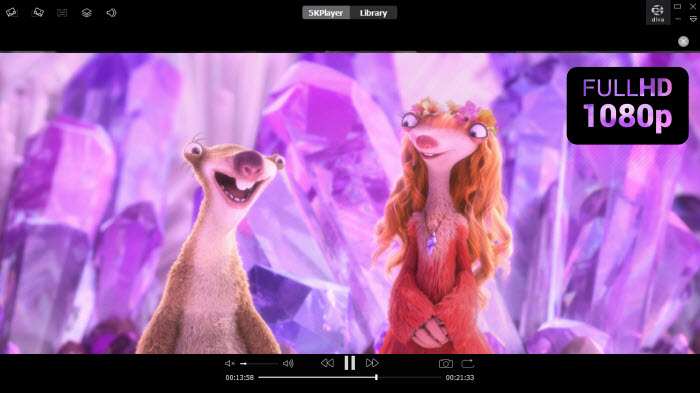 NO.4: Windows Media Player – Default Media Player for Windows 11/10/8/7
Windows Media Player should always be the first choice when playing media files on Windows OS. However, Windows Media Player not working is a long-standing headache to various users, for example, they can't play MOV, can't play Webm, or can't play MP4 with Windows Media Player. Despite the fact, you can still download and install Windows Media Player on Windows 11 to play video music.
Likewise, you take your own risk as Windows Media Player on Windows 11 doesn't perform very well as the above three Windows 11 media players. If you are out of luck, you may see error message like "Windows media player missing in Windows 11", "Windows Media Player missing codec 0xc00d5212", or "Windows Media Player missing from Windows 11" when playing DVD, MP4 and media files alike.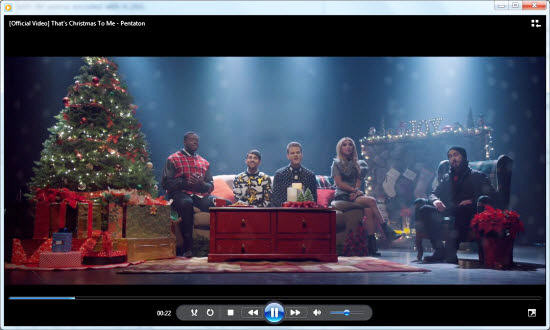 How to Player Media Files on Windows 11?
To play media contents on Windows 11, simply free download any one from the above 4 Windows 11 media players on your PC. If possible, new Media Player is built in Windows 11 and you just search it out. Go to VLC media player official website and you can free download the latest VLC. On this page, click on the Free Download to download 5KPlayer. And Windows Media Player may also be preset in Windows 11 or it is replaced by new Media Player on Windows 11.
Download, install and launch a Windows 11 media player.
Drag and drop a media file to it to play.
In case needed, you can fast forward, backward, speed up/slow down, add subtitles, etc. to customize your video. Each player will give you customizable settings.