Stop Installing Bundleware When Downloading KMPlayer
Posted by Kaylee Wood | Last update: April 28, 2020
KMPlayer has a significant amount of loyal users due to its amazing features of playing various types of container formats including DVD, VCD, MKV, AVI, MP4, QuickTime, Ogg, 3GP, etc. But recently KMPlayer has become a genuine adware that is bundled with different bloatware. You can't avoid to download KMPlayer bundleware as long as you still want to download KMPlayer, but your can absolutely stop installing those bundleware during the process of KMPlayer setup.
Download KMPlayer Alternative without Any KMPlayer Bundleware
5KPlayer is an award-winning multimedia player that can be the best free KMPlayer alternative. The similarity between KMPlayer and 5KPlayer is that they both play pretty much any video codec such as H.265, H.264, Xvid, MPEG, etc, plus adding subtitles and rotating videos. And the difference lies where the KMPlayer alternative does not have bundleware and it is 100% safe and always stick to its professionalization.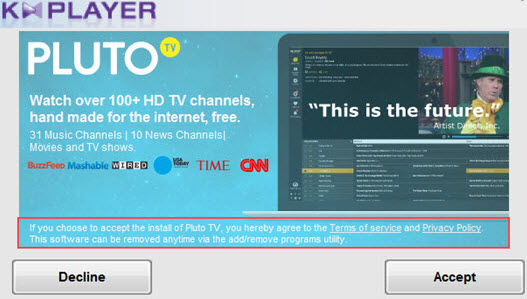 Users' miserable experience of KMPlayer bundleware
- "I find the bundled 'junkware' that KMPlayer ships with now in it's installer, to be in poor taste at best. It's shady, and unbecoming of decent software and make your product look like malware/junkware itself. The way the checkboxes work as noted, is shady at best and not forthcoming."
- "Where can I find a list of the software bundled together with KMPlayer, whether I have the option to install it or not? Checking out my list of installed programs after KMPlayer was updated, I have noticed that I now have 'yontoo llc' and 'pandora tv'. I believe pandora is a definate, included with the player, but what about yontoo?"
How to Stay Away from KMPlayer Bundleware?
When you have downloaded KMPlayer 4.1.3.3 from its offical website or from other software downloading site, there is no trace indicating that you have also downloaded the KMPlayer bundleware, but you need to pay attention during the KMPlayer setup.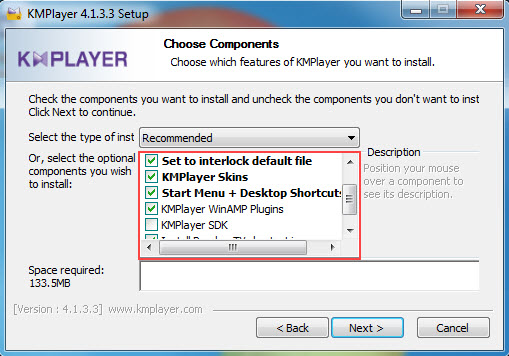 Uncheck KMPlayer Bundleware During KMPlayer Setup
There are at least 7 KMPlayer bundleware applications you need to uncheck during the process of KMPlayer installing. Make sure to click the box in front of these bundleware to cancel it, because if you don't pay attention you will install those KMPlayer bundleware all along with KMPlayer by default.
After the unchecking, you can press "Next" to come to the next step and then complete KMPlayer setup.
From my personal experience, even if I unchecked all the bundleware dring KMPlayer downloading or updating, Pandora TV installation is still inevitable. Therefore, if you want to steer clear of all KMPlayer bundleware, the best solution I think is to download the free KMPlayer alternative.
Home | About | Contact Us | News | Privacy Policy | Agreement | Site Map
Copyright © 2023 Digiarty Software, Inc. All Rights Reserved.
5KPlayer & DearMob are brands of Digiarty Software, Inc. All other products or name brands are trademarks of their respective holders. All logos, trademarks and images relating to other companies that may be contained wherein are applied in the Internet that are not used for commercial use. Digiarty's software is not developed by or affiliated with such companies.