How to Download M3U8 Files with M3U8 Video Downloader?
Written by Kaylee Wood | Last updated: May 07, 2020
Have you found an .m3u8 file or got an m3u8 playlist link on the internet, but don't know how to download M3U8 files for offline viewing? M3U8 is a HTTP Live Streaming based file format that can contain a file or a multimedia playlist including audio and videos, thus making it totally different from other media format. To download M3U8 stream playlists or files on Windows/Mac, you need a sophisticated M3U8 video downloader to that end.
[Warning] YouTube music & copyright-protected contents are not supported for download.
Best Free M3U8 Playlist Downloader and M3U8 Stream Player
No matter a single M3U8 video or an M3U8 playlist, M3U8 download software 5KPlayer can handle it at ease and help download M3U8 live streaming video link to MP4 without quality loss. If you want to stream M3U8 video links directly, 5KPlayer can also act as a M3U8 player to realize that.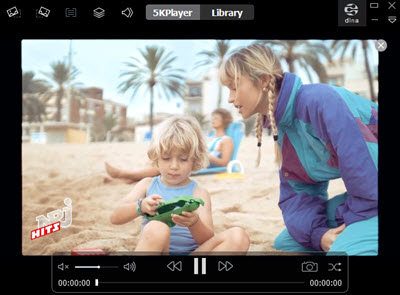 Wiki: What Is M3U8?
M3U8 often comes with the form of a live streaming playlist link, and the playlist can contain internet radios, a series of videos and songs with names written in different languages with different character sets. So, it is quite hard for a common video downloader to analyze the link, let alone download M3U8 playlists streams. Besides, the downloaded .m3u8 files are stored in a plain-text format that requires a text editor or professional M3U8 player to open. To figure out how to download M3U8 files and play them on Windows Mac successfully, you can read on.
Where to Get M3U8 Playlist or How to Extract M3U8 Link?
You may have got an M3U8 video downloader in hand, but don't know how to get an m3u8 streaming playlist link? To download M3U8, extracting .m3u8 link from a video site is what you should prioritize of course. However, the thing is quite complex, as you can't get the .m3u8 link from just copying the URL from the address bar. So, here is the method to extract .m3u8 playlist file link.
1. Open a video site that use M3U8 format on Chrome. Here we take Youku as an example.
2. Find the video you want to download and play it. Remember to skip the advertisement if there is one.
3. Right-click the video to click on Inspect to see the HTML interface.
4. Click the small phone icon to choose your phone type > refresh the web page > then choose Network > click the funnel icon > click Media > play your video > then there will pop up an .m3u8 link > just copy the link address.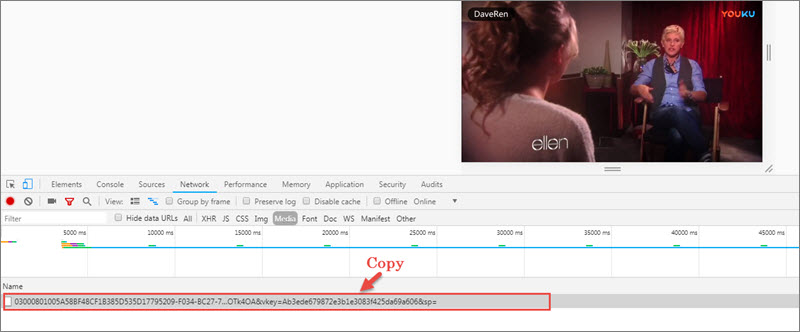 If you want to find the m3u8 link in Firefox, just right-click the video > Inspect and there would be an m3u8 link.
Worth mentioning, not all video sites adopt the .m3u8 as the video format. We have tested that most mainstream video streaming sites including Dailymotion and Vimeo don't offer .m3u8 video links. But luckily, you can directly copy the video URL from such sites to 5KPlayer and download online videos music with peace of mind.
Also Read:
How to Create VLC Playlist M3U/M3U8 IPTV >>
How to Download M3U8 Files Playlists Streams to MP4?
Actually, a powerful M3U8 video downloader and player like 5KPlayer can directly play the .m3u8 video streaming link without downloading, thus saving much of your time as well as save disk space for your computer. But if you insist on M3U8 playlist download in case needed, 5KPlayer will offer an easy guide.
Step 1. Free download 5KPlayer, install and launch it on your computer.
Step 2. Find the .m3u8 video link, and click on YouTube icon on the main UI of 5KPlayer to "Paste URL & Analyze".
Step 3. After the parsing process, click on the download button and 5KPlayer will automatically download M3U8 files playlist to MP4.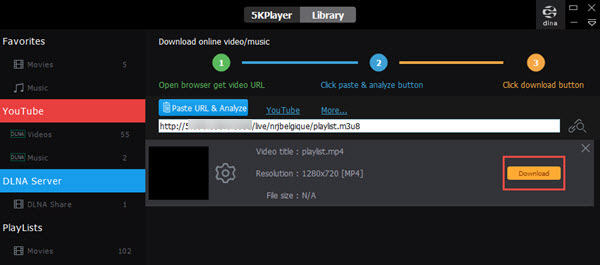 Disclaimer: 5KPlayer does not advocate downloading copyright content for any commercial purpose and suggests referring to the copyright laws in your countries before doing so.
5KPlayer will become your new helpmate to M3U8 download with multi-thread downloading, auto M3U8 to MP4 conversion and playlists support. It reaches the point and does what it promised. For anyone who isn't tech-savvy, 5KPlayer is easy to handle.
Wonder how to play .m3u8 playlist stream link directly with 5KPlayer? Just copy the .m3u8 link > click on Live on the main interface of 5KPlayer > input the URL and click on Play. Never end with that, 5KPlayer's DLNA streaming function also allows for M3U8 DLNA across platforms to enable you to enjoy M3U8 files on bigger screen.
Home | About | Contact Us | News | Privacy Policy | Agreement | Site Map
Copyright © 2022 Digiarty Software, Inc. All Rights Reserved.
5KPlayer & DearMob are brands of Digiarty Software, Inc. All other products or name brands are trademarks of their respective holders. All logos, trademarks and images relating to other companies that may be contained wherein are applied in the Internet that are not used for commercial use. Digiarty's software is not developed by or affiliated with such companies.