How to Enable HLS Streaming M3U8/IPTV Playlist URLs on Computer?
Posted by Kaylee Wood | Last update: May 31, 2021 | 5 Min Read
Put succinctly, HLS streaming is a quite popular streaming service that lets you send live or on-demand videos over HTTP from a web server with the ordinary network. HLS streaming indeed ease the way that you enjoy broadcasts, online TV shows, live streaming sports events, IPTV channels, etc on TV or computer. If you want to know something about HLS streaming and how to use it, read on to find more.
Best Free HLS Streaming Player to Stream M3U8/IPTV Playlists
4K video player 5KPlayer is also a qualified HLS streaming player that can stream live stream or on-demand videos in the form of .m3u8 from IPTV or other online sites with minimum delays. In case needed, 5KPlayer also offers the possibility for you to download HLS streams to computer for collection.
Wiki: What is HLS Streaming?
1. General Summary
HLS (HTTP Live Streaming) is a media streaming protocol for delivering video and audio for viewers over the internet. Apple originally launched the HLS streaming protocol and it ends the time that online media delivery was dominated by Adobe Flash. HTTP Live Streaming (HLS) supports live broadcasts and prerecorded contents stream over the internet, thus you can view various online resources without download.
2. How Does it Work?
HLS streaming contains 3 parts: HTTP protocol, M3U8 file and TS videos. More specifically, HLS (HTTP Live Streaming) protocol splits video files into short segments with the .ts file extension that are contained in an M3U8 playlist file, and then HLS delivers the M3U8 playlist through HTTP to realize HLS live streaming.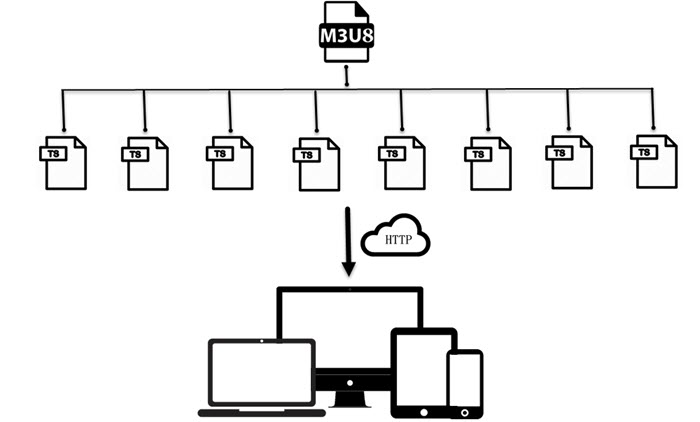 3. The Advantages
HLS streaming is compatible with a wide range of devices. It is originally limited to iOS devices like iPhones, iPads and the iPod Touch, but now all Google Chrome browsers, Safari and Microsoft Edge on iOS, Android, Liunx, Windows and macOS natively support HTTP Live Streaming protocol.
The great adaptability of bit rates allows for intelligent switching of streams in response to network bandwidth changes. Namely, HLS protocol will allow the HLS streaming player to play HD when the network is strong, and play a lower-quality resource to reduce the bandwidth if the network is unstable or weak. Thus, there would be less buffering, stuttering and other problems during HLS streaming.
The M3U8 playlist streamed through HLS can also be distributed by several servers, so that you don't need to worry about the failure of servers.
4. The Disadvantages
The only bad point of HLS (HTTP Live Streaming) is that it has a relatively higher latency than some other protocols that may reach up to 30 seconds.
Best Free HLS Streaming Player for Computer Recommended
Now that you have known that HLS streaming is delivered by means of an M3U8 file, you need an M3U8 player to help you play HLS M3U8 streams or IPTV playlists easily on computer. 5KPlayer, the best free 4K video player can also act as a HLS streaming player to help stream HLS M3U8 playlists of broadcasts, TV shows, sports events or IPTV channels on computer with minimum delay.
5KPlayer has a very smart built-in URL analyzer that can fast detect and parse the video URL you throw at it, and accurately display the contents after a while. No matter the live streaming or the videos on demand, 5KPlayer handles them in a piece of cake.
How to Enable HLS Streaming to Watch M3U8/IPTV Contents?
Step 1. Get the M3U8 playlists URL you need to stream from online channels.
Step 2. Free download 5KPlayer on Mac or Windows, install and launch it.
Step 3. Click on the Live icon on the main user interface of 5KPlayer, input the .m3u8 playlist URL to the box and then click on Play. 5KPlayer will automatically start the HLS streaming after seconds of preloading.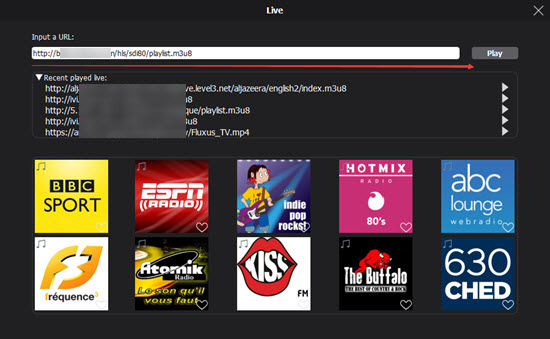 Depending on the HLS streaming feature of 5KPlayer, playing IPTV, M3U8 and any other HLS Live Streaming contents is never easier. If interested, you can also free download M3U8/IPTV contents to computer for offline watching. Being a web-based multimedia player, 5KPlayer also enables RTSP stream and internet radio playback seamlessly.