How to Play MP4 on Windows Media Player 12?
Still cannot play MP4 files on Windows Media Player 12? Remember, MP4 is a contain format that may contain many codecs which cannot be played by your Windows Media Player 12. Therefore, you should first know about what are the codecs of your MP4 files supported by Windows Media Player 12.
Tell Which Windows Media Player MP4 Codecs are Installed on the Computer
Do the following to see the MP4 codecs supported by your Windows Media Player:
1. Find the Help menu on the menu bar, and click "About Windows Media Player".
If you cannot find the Help, click Organize and navigate to Layout, and then select Show menu bar.
2. On the About Windows Media Player dialog box, click Technical Support Information.
Then your default web browser will open a page that includes information about the supported video audio codecs, plug-ins and other things installed on your computer.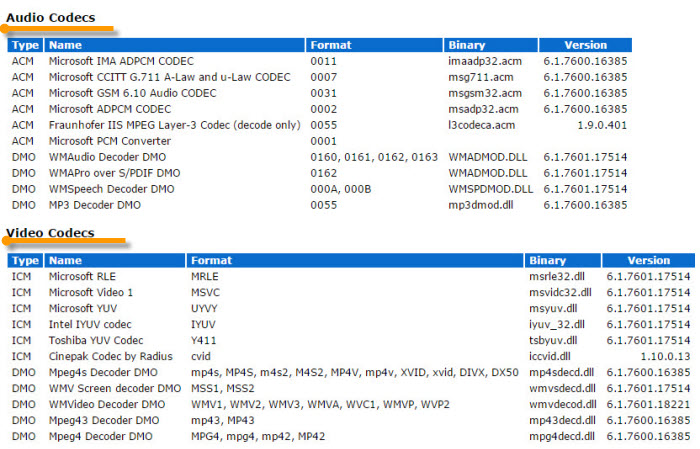 It is obvious that Windows Media Player 12 supports MP4 video and audio files, including .m4a, .mp4, .m4v, .mp4v, .3g2, .3gp2, .3gp, .3gpp, but codecs like HEVC H.263/H.264/H.265, MPEG-4 ASP, H.264/MPEG-4 AVC,H.263, VC-1, Dirac, MPEG-2/4 (HE)-AAC, AC-3, Apple Lossless, ALS, SLS, Vorbis(with private objectTypeIndication) may not be supported by your Windows Media Player. Therefore, if you are holding a MP4 file encoded in H.264, your Windows Media Player 12 cannot help you out.
Windows Media Player upgrade can only help you get partial MP4 files open successfully. If WMP upgrade cannot solve MP4 playback issue, you may have to consider other approaches.
I. Windows Media Player MP4 Codec Pack Download
Windows Media Player MP4 codec pack can be downloaded from its official website as well as online sites: Softonic and CNET fast and easily. However, in case of MP4 codec incompatibility that may cause the instability of WMP functions, we suggest the following more stable and easy ways to play MP4 instead of Windows Media Player.
II. Windows MP4 Converter.
Why not convert the MP4 into Windows media player supported format like WMV, AVI? WinX HD Video Converter is recommended here for quality and speedy conversion.
Play MP4 on Windows Media Player Alternative –5KPlayer
Everything has its limitations, but we can gather their merits for the most efficient usage. Windows media player may not support some MP4 codecs, but 5KPlayer can make up that defect and offer a lot more utilities. It plays almost all file formats including MP4 (HEVC H.263/H.264/H.265, AAC), OGG, WMV, MKV, FLV, AVI etc and can even convert MP4 into MP3/AAC formats. From the above codecs you can see that HD/UHD/FUHD videos are also supported by 5KPlayer. Click for more alternatives to Window Media Player playing MP4.