[Solved] MP4 Not Playing on Windows 10 (VLC/Windows Media Player/QuickTime)
Posted by Kaylee Wood | Last update: April 28, 2020
Since system upgrade, MP4 not playing on Windows 10 problems happen more frequently than ever before. Some .mp4 files working perfectly with Windows 7 can no longer open. Playing MP4 no video/sound, MP4 codec error... different problems occur now and then, challenging your patience to extreme.
This page collects respective solutions to VLC not playing MP4, as well as Windows Media Player and QuickTime Player won't play MP4 on Windows 10 problems, just dive for the easiest solution here.
MP4 Not Playing on Windows 10? - Windows 10 MP4 Player
Using 5KPlayer - the free & green MP4 player for Windows 10 enables you to play MP4, MKV, MOV, AVI files on Windows 10 by simply clicking the mouse. Why ravel out those MP4 codec theories now that you have an all-in-one solution? Download the free MP4 player below to help you play MP4 videos files easily.↓↓↓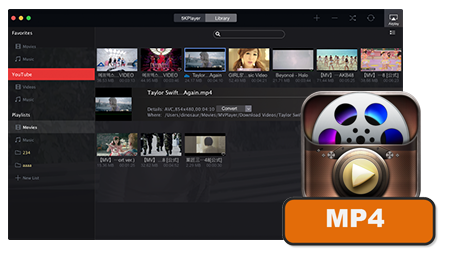 Content:
1. Solve VLC Not Playing MP4 on Windows 10
2. Solve Windows Media Player 12 on Windows 10 Not Playing MP4
3. Solve MP4 Won't Play on QuickTime Windows 10
The reasons for MP4 not playing on Windows 10 can vary: There are cases where some of your MP4 files work fine on Windows 7, but won't open anyhow after your upgrade to Windows 10; also some video files with the extension *.mp4 are force-changed from other format media files, whose digital media container is not MP4 by nature.
That being said, you need to make sure the file type of the MP4 file is in accordance with its extension by "right click > properties > Type of file" to make sure what causes MP4 won't play on Windows 10 is not the media side problem but the fault of a MP4 video player. (If the titular MP4 file is in MKV, AVI... or other formats, you may want to learn how to convert video format) Then check out the content below to troubleshoot your corresponding problems:
1. VLC not playing MP4 on Windows 10
Though VLC for Windows 10 is programmed to play a wide variety of video codecs from your media archive, it can only bite its nail with MP4 files wrapping H.265 video inside. Scarcely though, you may run into MP4 corrupt on Windows 10 with VLC, if the video file you through at it contains too many audio/video tracks for VLC's hardware decoding function to perform normally. There's no need to worry, follow the steps below:
Part-1. Disable VLC's hardware decoding function:
Launch VLC -->Tools --> Preferences --> Show All Settings
--> Input / Codecs --> Video Codecs --> FFmpeg
--> Uncheck "Hardware decoding"
Part-2. Convert MP4 (H.265) file for VLC
You need another MP4 video converter to convert the MP4 which won't play on Windows 10 into a more common profile which can be easily recognized by VLC. WinX HD Video Converter is just a case in point.
2. Windows Media Player Won't play MP4 on Windows 10
Unlike VLC, with which you don't need to worry about the scope of codecs, Windows Media Player won't play MP4 on Windows 10 happens most likely when you don't have a 3rd-party MP4 codec pack that boosts it to do so. Aside the MP4 problems, here below is a list of formats which WMP 12 won't play natively:
h.264, h.265
dvd media, iso, vob, vcd mkv
rmvb, rm, swf, webm, etc.
K-Lite codec pack and CCCP codec pack are 2 of the most trustable tools to get rid of WMP not playing MP4 on Windows 10, but make sure you download the pack from a clean platform.
Note: Please clean up the previous codec packs with CCCPI in case any conflict is caused.
Part-1. Install CCCP to solve MP4 not playing on Windows 10 in Windows Media Player 12
All-the-way following CCCP's installation wizard is everything you need to do.
Download the static Windows version of ffmpeg and check your MP4 file with ffprobe.exe. It will output a bunch of information about that file, including the codecs used inside it. Knowing these codecs is a first step on the way to a solution.
3. QuickTime Player Not Opening MP4 on Windows 10
If your default MP4 player is QuickTime 7.7.9 for Windows (if not the latest vesion, upgrade first), its shouldn't be quite often that you run into MP4 not playing on Windows 10, in that MP4 is of the QuickTime video formats.
If the problem actually happens, probably the MP4 file itself is to blame: An MP4 file, if compressed improperly, suffered from an abrupt termination when being recorded, or a sudden stop when transferred to the Windows 10 computer from an iPhone/recorder, may result in damage in structure, thus not playing in QuickTime for Windows 10.
That being said, please repair the video file first.
How Play MP4 on Windows 10 Once and for All?
Staying with the competent 5KPlayer is just the easiest way out if MP4 not playing on Windows 10 is driving you nuts. You may directly download it below 100% clean and free.
Guide: Play MP4 on Windows 10 with 5KPlayer
Step 1: When installation of this MP4 player for Windows 10 is completed, double-click to launch it.
Step 2: Choose any of the following method to play an MP4 video file:
1. Click "Video" > Navigate to the MP4 file in your media library > Double-click
2. Drag and drop an MP4 video to 5KPlayer's main panel
3. Hover your mouse over an MP4 file, right click > open with > 5KPlayer.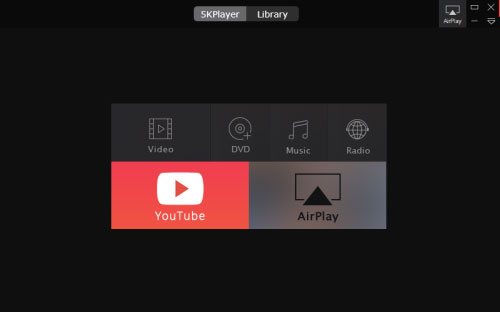 Similarly, you'll need to check the properties of the video file, since force-changing the file extension into .mp4 won't help a video player to recognize it. Lucky enough, 5KPlayer plays pretty much everything you throw at it, including MKV, DVD, and VOB.
Note: As one of the best free MP4 players for Windows 10, 5KPlayer capitalizes its function to play videos and music of all formats without MP4 not playing problem on Windows 10, such as MP4 AVI MOV MKV VOB. Unlike the abovementioned VLC, which is highly-compatible with plenty of codecs indeed, yet ebbs with demanding, high bitrate MP4 files, you may rest assured, for it's a piece of cake for it to play 4K, H.265 and H.264 MP4 videos. Now give it a spin!
Home | About | Contact Us | News | Privacy Policy | Agreement | Site Map
Copyright © 2023 Digiarty Software, Inc. All Rights Reserved.
5KPlayer & DearMob are brands of Digiarty Software, Inc. All other products or name brands are trademarks of their respective holders. All logos, trademarks and images relating to other companies that may be contained wherein are applied in the Internet that are not used for commercial use. Digiarty's software is not developed by or affiliated with such companies.