Top Four Free 4K Movie Players | Play 4K 2160p UHD Movies
Posted by Kaylee Wood | Last update: August 02, 2019
You are gradually familiar with 4K Ultra HD video because there are not only numerous online 4K movies sharing on various video sites like YouTube, but also appears constantly growing number of movie clips made by gifted professionals and amateurs. However, with those affluent 4K movie resources, here is the last question – how to play 4K movies with all quality intact and no stuttering or crashing error? In this article we will recommend you the top four 4K movie players which can offer you the extremely clear and delicate picture and smoothly viewing experience.
Choose the Best 4K Movie Player to Play Any 4K Video Movies Smoothly
Design-wise, the flat shape and obvious buttons show a device that was clearly built to be played with - you need 5KPlayer, helping you play 4K 2160p UHD videos at any screen in the highest quality freely and stably. As a remarkable 4K movie player with Hardware Decoding technology, it also enables you to free download and stream 4K movie videos quickly and smoothly.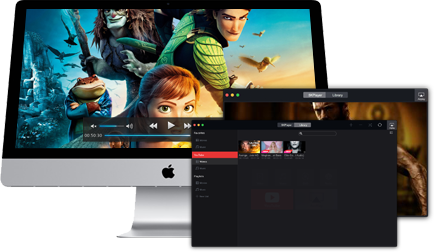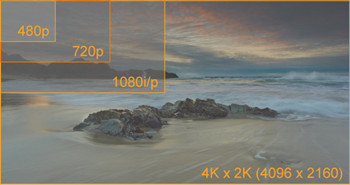 Why Need A Professional 4K Movie Player?
- Resolution: 4K (4096*2160), generally doubling the horizontal and vertical pixels offered by 1080p (1,920 by 1,080 pixels), that's the first reason why need a cutting-edge and precise 4K movie player to show you the delicate 2160p pictures.
- File size: 4K movies are extremely huge. For instance, a 15mins 4K movie may need 800 MB space. So if you play 4K video movies with a common media player, issues like stuttering in playing and difficulty in loading may disturb you all the time.
- Decoding: 4K movie videos recorded by HD or digital camcorders are not only the MP4 format, but also MKV, MOV, TS, MTS etc. Some video media player can't support for decoding those video formats and this is where shows the advantage of owning a reliable and competent UHD 4K movie player.
The Best Free 4K Movie Players to Play 4K Movie without Any Hassle
Top 1: 5KPlayer.
Finding a feature-rich 4K video player without any cost can always be hard. This free media player for 4K is aimed to play any 4K video with the highest possible quality instantly and seamlessly. As a lightweight and smart UHD 4K movie player, it just only needs a little space which can't cause any problem in loading and playing. In other words, with this 4K video player, the 4K movie files can't take a long time to open and run. Plus, it's compatible with any 4K video codec (*.mts, *.m2ts, *.mkv, *.mpg; *.mpeg, *.mov, etc.) and also available for both Windows 10/8/7 as well as Apple's iMac 4K/5K and MacBook/MacBook Air/MackBook Pro. It's 100% free and clean.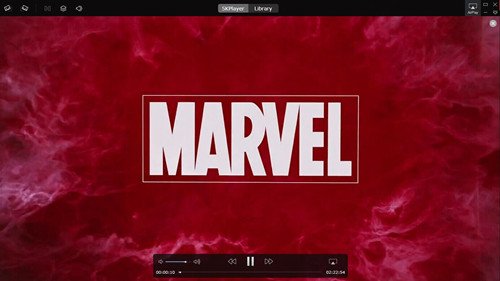 Better still, there is an extra bonus of this movie player for 4K UHD – it can download and stream 4K movie videos freely. It 360° support for downloading 4K video movies in a fast and safe way from 300+ video sharing sites including Vevo, Facebook, daiymotion, etc. And this UHD 4K media player is an AirPlay/DLNA receiver and sender to provide you stream service with only simple clicks. 5KPlayer is beyond unthinkable.
Top 2: VLC Media Player (VideLAN Player)
It's a powerful open source cross-platform 4K movie player that plays any 4K UHD video with high standard visual and audio quality on your PC. And it's also available on Mac OS as well as iOS and Android system.
The latest version 2.2 has fixed bugs and improved the playing quality, and for sure new functions and features have been added as well. Now this video movie player for 4K can handle almost every format including the rear ones and enables you to drag and drop subtitles. And for most users, "resume" function is the most popular one. For instance, it can pick up playback of a 4K movie from wherever you stopped. VLC has more speed control and playback function, and you are also able to stretch or compress audio to keep the original pitch.
Plus, this media player for 4K UHD has a unique trait that is streaming ability. Just need to paste a 4K video's URL into "Open Media Stream", you are free to streaming video movies if access is allowed.
Nevertheless, it will get the VLC not working error when selecting multiple video files sometimes and it always cost too much time to launching and loading.
Top 3: AllPlayer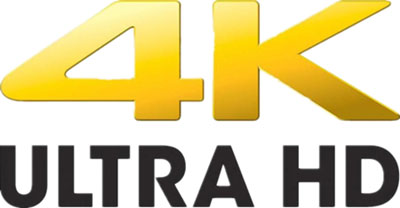 This 4K movie player is well-known for the ability of playing any kind of file including unwonted formats like RMVB, APE, DivX, XviD, MKV, M2TS, 3GP, MPG, WMV, FLAC which fits in well with its name.
As for the custom setting service, this 4K movie player allows you to use your own codecs for movies. And it has built-in subtitle engine which helps watching movies with matching subtitles and adjusting the speed of subtitles to cater for your viewing habits. For your convenience, this 4K video player has remote APP controls function and it can control from your Android device.
However, this 4K movie player has some flaws that are the extra setups and the translation error. During installation, AllPlayer may download some additional plug-ins or software so we must remind you be aware of those programs and check it before downloading. In addition, some play menu can't be translated fully which is a little trouble for users. In such cases, maybe you can try the best AllPlayer alternative.
Top 4: DVDFab Media Player Free Version
This is another fabulous free 4K movie player featured with the high level of 4K movie image audio quality and it's extremely light to play any 4K UHD movies and HD videos, DVD, VOB, blu-ray ISO image folders and all the other video formats without requiring any codecs on Windows system.
With its streamlined and clean interface, it also has lots of settings. Say, if you're watching a 4K movie and want to change the aspect ratio, DVDFab has video stretching tools for you. The bar on the bottom helps you control the all the videos and the chapter menu is also list in here to allow you to skip ahead or turn back to a chapter.
But here comes the cons – although it's a free version, after 30 days it will ask you to update to Pro version which is chargeable. And when you play blu-ray videos by this 4K video player, it requires a network connection. Luckily, 5KPlayer can enable you to play blu-ray videos offline.
All above are the best free UHD 4K movie players which can fully support for 4K 2160p movie playing, as well as video audios of other formats resolutions and codecs freely and easily. Certainly, everyone has their views and needs, we select and compare the best movie players for 4K among the vast media products to give you our suggestions and we hope every user will find your favorite.
Perfectly works as an 4K movie player to play 4K 8K UHD HD SD videos and freely play any music, 5KPlayer is also a remarkable UHD HD video downloader to help you free download any video like 4K, 8K, 1080p, 720p videos in MP4, AVI, MOV, WMV, MKV etc from Vevo Vimeo and other over 300+ online video sharing sites. Better still, it also help you free stream video audio to TV with built-in DLNA server.
Home | About | Contact Us | News | Privacy Policy | Agreement | Site Map
Copyright © 2023 Digiarty Software, Inc. All Rights Reserved.
5KPlayer & DearMob are brands of Digiarty Software, Inc. All other products or name brands are trademarks of their respective holders. All logos, trademarks and images relating to other companies that may be contained wherein are applied in the Internet that are not used for commercial use. Digiarty's software is not developed by or affiliated with such companies.