Best ISO File Player for Opening and Playing ISO Videos
Posted by Kaylee Wood | Last update: April 28, 2020
How to open and play an ISO file directly on Mac or PC without mounting to a DVD drive or burn it to a blank disc? If you want to play a movie in ISO format only, you need to find the best free ISO media player for Windows or Mac. However, some freeware utility is not able to work on Windows 7 or some other OS. In order to provide the best ISO movie playback experience to everyone on any computer Operating System, we recommend you 5KPlayer – the best free ISO player.
5KPlayer Plays ISO Video Files Hassle Free!
5KPlayer is one of the best ISO player that opens ISO files directly on your Mac or PC as easy as playing an MKV, MP4, WMV file. It is the best free ISO player to play movies in ISO format without installing any decorder and perfectly with no screen blurring or blanking.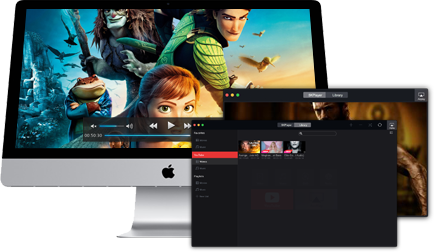 What Is ISO File?
According to Wikipedia, "there is no standard definition for ISO image files. ISO disc image are uncompressed and do not use a particular container format, they are a copy of the data on an optical disc". And ISO images are expected to be copied exactly as they were stored on the disc.
So the commonest way to open an ISO file is to mount the ISO image file to a virtual DVD drive like a physical disc was loaded in your computer's optical drive. And then play the virtual DVD with a media player. So, we cannot open ISO file directly without mounting a virtual disc or burn it to a blank disc? Not really! It depends on what ISO player you are using!
Why Do You Need a Professional ISO Player?
1. First and foremost, ISO is not a file format that Windows can open natively, not on Windows 10, Windows 8, Windows 7 and neither as Mac OS.
2. As aforementioned, a professional ISO player decides in which way you watch your ISO videos or movies, tedious indirect way or enjoyable direct way.
Hence, if you want to play a movie in ISO format, please download and run 5KPlayer. Because 5KPlayer is the damn award-winning ISO file player, which can open ISO file directly on both Mac and Windows. This ISO player also plays region free DVDs, multi-regional DVD discs and almost all video and audio formats including MKV, FLV, MP4, AVI, H.265, MP3, AAC, FLAC, etc. 5KPlayer is great ISO player not only because it is able to play ISO movies and DVD movies in good quality on Windows and Mac, but also because it is very easy and simple to use, adding subtitles, rotate videos, etc. pretty cool actually.
It's awesome right? And just so you know, this ISO player is absolutely free and safe, and it is also an AirPlay send which can stream ISO video from PC to Apple TV. Schedule your download now!