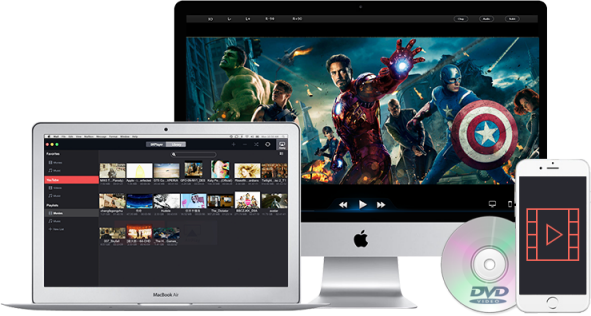 DearMob's 5KPlayer Reveals Multi-language Version of Software User Interface
DearMob's 5KPlayer, the free universal media player finally approaches world customers in multi-language UI revealed with version 3.3 for Windows and Mac. The release of cross-language UI of 5KPlayer marks a milestone both domestically and internationally, and every user may relish 5KPlayer's all-round media library with foreign subtitles..
News: Giveaway of World's No.1 fast DVD software will available for 5KPlayer users by January 20, 2016 at:
For Windows: https://www.5kplayer.com/software/dvd-video-converter-giveaway.htm
For Mac: https://www.5kplayer.com/software/dvd-video-converter-giveaway-mac.htm
5KPlayer further ventures into Japanese market with its international availability this time. In the light of an upsurging demand for a universal media player on both Windows 10 and Mac, DearMob proactively bestows first-class 4K and 8K videos playback, streaming and movies free download functionality to it for good.
5KPlayer setup with its English version only has achieved early success at 1,600,000 downloads in 2015 alone. Among all the promising HD media players in Japan, 5KPlayer speaks louder than the rest with its streamlined UI and full-fledged functions.
Being the birth place of NHK and Beauties À La Carte, the world's NO.1 8K video, Japan's intensive and mature 8K shooting and coding technology can't stop 5KPlayer from becoming a popular 8K player for Windows 10 and iMac 8K player in market. Consolidating 8K playback performance, while further uplifting support for a wide catalogue of codecs to play H.264, H.265, MKV, AVI, WMV MP4, as well as play VOB videos , the debut of 5KPlayer in Japanese really lives up to the anticipation of media moguls.
Alongside a revamp of language options in User Interface, 5KPlayer is equally capable if you want to add subtitles to foreign movies. Users can not only stick to the 300+ online video sharing websites, they may find it as smooth as cream to add external English subtitles to favorite Chinese or French movies. Now all Windows Media Player subtitle format, including .srt, .ssa, .ass, .json, .aqt .sub can load without faulty with video images in 5KPlayer, with another audio and video out of sync setting ready in case of punctual issues.
Overview of 5KPlayer Functionality:
1. Play multi-media content. Support videos from 4K to 8K, audio in MP3 AAC and more format, also support playing VOB videos and DVD disc.
2. Download online videos when legitimate.
3. Configure AirPlay to stream video and music from laptop to Apple TV wirelessly.
Other useful features: fast forward, rewind, snapshot, de-interlacing, music equalizers.
As one promising media player in the overwhelming trend of glocalization, 5KPlayer makes this leap for the sake of resolution-sensitive users from all circles of the world. The new-born multi-lingual 5KPlayer is the fruit of its popularity in Japan, and also a new start point where cutting-edge media technologies from all sides will act in unity to make the software even effective, practical, and user-friendly as a whole.
DVD Software New Year Gift Availability
Get the free licensed copy and other highest discount of DearMob DVD software Gift by January 20, 2016:
https://www.5kplayer.com/software/dvd-video-converter-giveaway-mac.htm(for Mac version)
https://www.5kplayer.com/software/dvd-video-converter-giveaway.htm(for Windows version)
About DearMob Inc.
DearMob Inc is a vigorous software company with cutting-edge DVD and video software developing outlook which never loosens the efforts in developing new software as well as revamping 5KPlayer's ability. In the upcoming 2016, DearMob, Inc is ready to enable and support dynamic growth in the fast-moving mobile software market by delivering more convenience and entertaining helper to all the Mac/Windows/iOS/Android users. For more information about the company, please visit: https://www.5kplayer.com/