Best Windows 10 DLNA Client to Turn Computer into a DLNA Server
Posted by Kaylee Wood | Last update: April 28, 2020
This page introduces a Windows 10 DLNA client fully-capable of rendering 2-way DLNA streaming no quality loss: Wirelessly streaming video and music from Android to computer, or stream PC to Samsung TV can be easily achieved with the self-integrated streaming media player – 5KPlayer. Now read on to find out how to turn computer into a Windows 10 DLNA client without hassle.
Media Files Won't Show in Old DLNA Client? – You Need 5KPlayer
Classy 5KPlayer has managed to make itself a Windows 10 DLNA client for flawless DLNA streaming – Frequently happened streaming problems like DLNA client showing you only empty folders gets addressed for good with this DLNA client software, it's also 100% compatible with the Windows 10 platform, now click to download it below.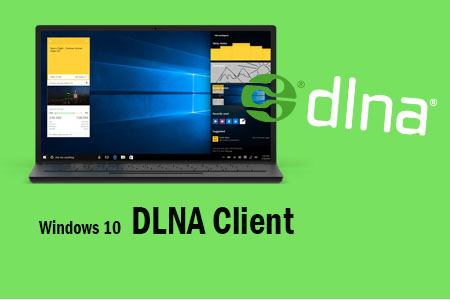 Windows 10 DLNA Client Software Review
5KPlayer Version 6.0 for Windows 10
5KPlayer is the streamer-duo that can work with two of the most popular streaming protocols: AirPlay mirroring and DLNA streaming: which means you can use this Windows 10 DLNA client software to (1) stream videos music from iPhone to computer wirelessly after enabling DLNA media share (2) turn on AirPlay to mirror iPhone to Windows computer.
By adding Upnp support to the above-existed AirPlay protocol, Android users who have Samsung, Google Pixel, OnePlus or HTC may now enjoy the privileges of cross-platform streaming from Android to Windows 10/8/7 computer, from computer to the rest of DLNA-compliant devices without cable, or turn computer into a DLNA server for Windows 10.
5KPlayer outshines other DLNA client software thanks to its all-in-one design: It's virtually the most comprehensive DLNA client Windows 10 that combines the utilities of DLNA controller, DLNA client & DLNA server for good.
5KPlayer has fortifies itself to be one of the best DLNA-compatible player to help turn your computer resilient for wireless streaming by way of DLNA, which means DLNA streaming movies, videos in 1080p HD or music in MP3 AAC across Android phone or smart TV is completely out of question as long as you have the free DLNA streaming tool.
First take a look at how to access media files on the Windows 10 DLNA client from Android devices:
By using 5KPlayer to turn your computer into a Windows 10 DLNA client, you can experience more stable than ever wireless streaming of video and music either from Android to PC or from DLNA APPs to PC. This page focuses more on how you can enable DLNA on computer to turn it into a Windows 10 DLNA client, you may also be interested in more tutorials like how to stream Android to PC or stream Samsung phone to PC.
Related Articles
How to DLNA Streaming Video Music?What is DLNA streaming? How to use DLNA streaming? This guide tells everything about DLNA that helps stream video music.
Stream Android Video Music to PCFree DLNA streaming service is what you should choose to stream Android video music to PC and other 4 billion DLNA-compliant devices.
Best DLNA App for AndroidBest DLNA app for Android is prepared here for DLNA streaming Android phone to PC and DLNA-certified smart TV at will.
Home | About | Contact Us | News | Privacy Policy | Agreement | Site Map
Copyright © 2023 Digiarty Software, Inc. All Rights Reserved.
5KPlayer & DearMob are brands of Digiarty Software, Inc. All other products or name brands are trademarks of their respective holders. All logos, trademarks and images relating to other companies that may be contained wherein are applied in the Internet that are not used for commercial use. Digiarty's software is not developed by or affiliated with such companies.